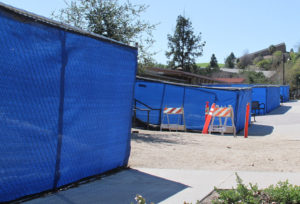 After more than six years of construction, nearly all renovated facilities North of Mall have been made available to students and instructors.
However, the Faculty and Staff Resource Center, set to open along with the Iris, Birch, Juniper, Elm and Ginger buildings, will be delayed due to Pierce's decision to add electrical resources that will allow growth for the information technology department in that building.
The modernization of the buildings included working around the limitations of the original design.
"North of Mall has been more of a remodel instead of a rebuild," said Vice President of Administrative Services Rolf Schleicher. "They were old K-12 buildings, so they were not really ideal for college."
While this posed limitations during construction, a software called Utelogy has been installed into the new classrooms to compete with the rapid change in technology and the need for a more interactive learning environment.
"We are trying to make it so if the instructor is sharing something to the class, people can actually log into the system from their cellphones or a tablet and share some information back. The whole class could go and look at something on the internet and get information on a global level," Schleicher said.
Although these systems are in place, instructors still must be trained to use the technology and various glitches must be worked out with the vendors who make the software function—which is a challenge most people don't realize, Schleicher said.
"There are a few things I am still wanting to learn, like the document camera, without experimenting with it. I don't want to mess up anything, so I am careful about that," Associate English Professor Maria Bates said.
Bates used technology frequently when she first began teaching at Pierce. However, sometimes the bulbs of the overhead projector would break or other systems within the classroom would stop working. Therefore, she decided to rely on her notes instead.
"It didn't help me become a better teacher because students really do benefit from the visual interactions they can see on screens," Bates said. "For me, the new classrooms make such a difference in the way I can teach."
Associate Professor of Political Science Denise Robb has welcomed the move into the new buildings. She was doubtful they would be open this spring after the confusion surrounding the official opening date last fall.
"It's a lot more convenient. I have been schlepping a crate with wheels back and forth. I was so excited this semester. We have smart boards and projectors that, in the big room, automatically come out of the ceiling," Robb said.
Robb estimates she has an extra 10 to 15 minutes of additional instruction time because she no longer needs to set up her portable electronics to teach her class.
Though internet is available in the new classrooms, WI-FI is not. As of yet, Pierce College does not have a functioning WI-FI system.
Repeated attempts were made to contact College Project Manager Ed Cadena and his Public Relations Representative Enrique Gasca for further comment about Pierce's WI-FI system. A response has not been issued.
Furthermore, Sheriff's Deputy Alfred Guerrero has remained unavailable for comment concerning the blue emergency poles that are nonfunctional North of Mall.
Despite the completion of the new buildings, construction of other areas on campus are expected to go on for another four to five years at minimum, according to Schleicher.
Top priority facilities that either need to be rebuilt or remodeled include the Automotive Technology Building, the Agricultural Education Building, Job Development buildings and the Media Arts Building.
With a budget of more than $27 million, the Automotive Technology Building is expected to be completely remodeled and redesigned by spring 2020. Beginning stages of the process has already begun with the removal of trees near El Rancho Drive and Mason Avenue as reported by the Roundup News fall 2016.
Overall, Schleicher said, the newly renovated buildings have been well received.
"We have an aesthetically nice campus. We want people to feel like this is a second home. If it is more inviting, students might be more likely to participate in the campus environment," Schleicher said.