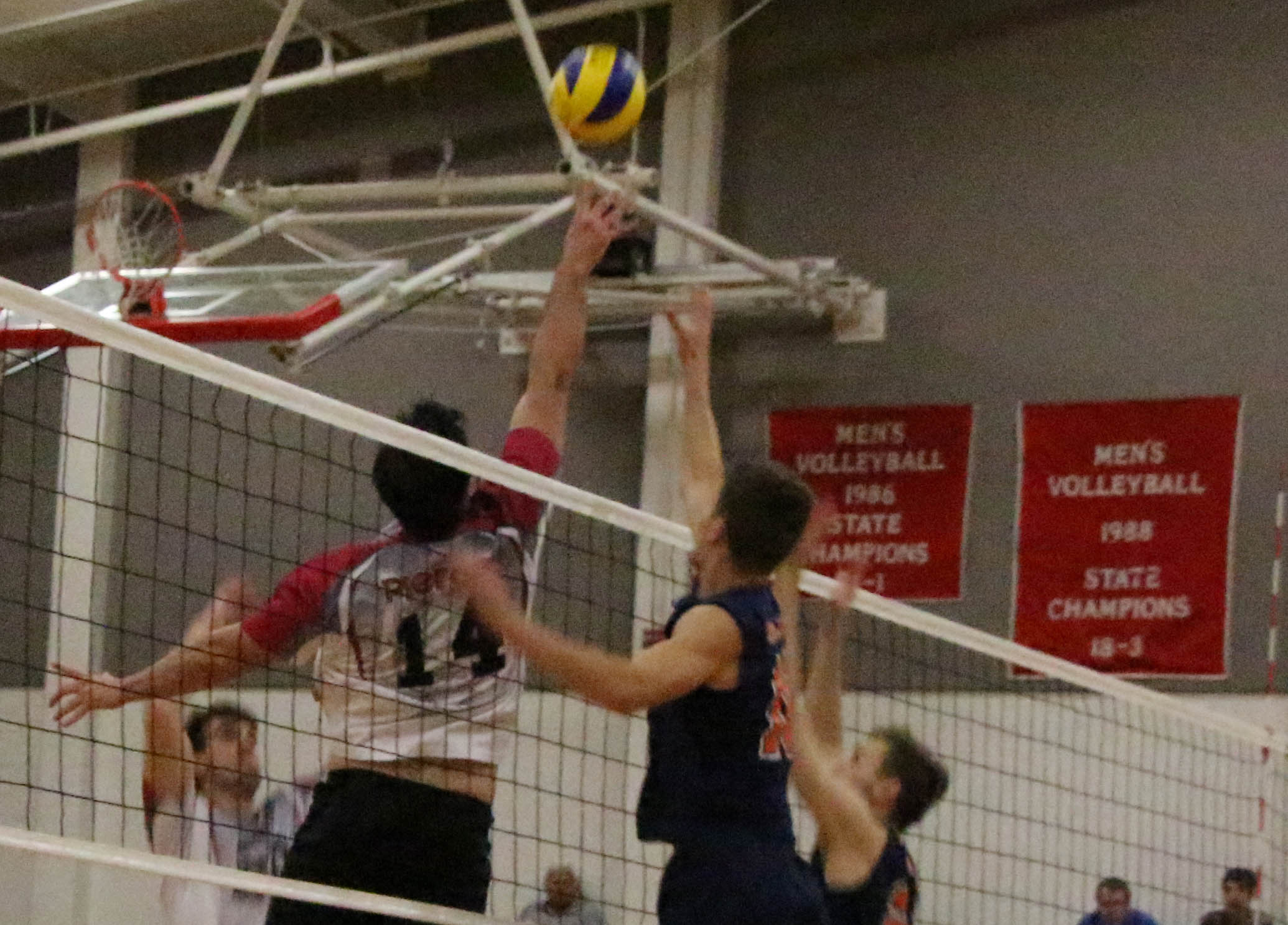 The No. 6 Brahmas fell in four sets (25-18, 25-22, 13-25, 25-21) Friday night at home to the powerhouse No. 2 Orange Coast College Pirates. The victory was Orange Coast's ninth in a row.  
The Brahmas seemed over-matched in the first two sets. The high-powered offense of Orange Coast was too much to handle. Justin Kam, who leads the Pirates in kills for the season, and Jordan Hoppe were a one-two punch that the Brahmas couldn't recover from.
An ace from Hoppe made the score 24-18 and the first set fell out of reach.
"We have some good leadership and the older guys really came through tonight," Orange Coast coach Travis Turner said. "We have some sophomores and that helps."
Pierce kept it close in the second set with key kills from Trenton Sellers and Brandon Oswald, but they again fell short 25-22.
"Today we just came out flat," Pierce head coach Lance Walker said. "Our energy was a little bit low. We were warming up kind of like a diesel engine because it took us a moment to get going, and that's something we have to learn from."
In the third set, the Brahmas played with some fire power. Pierce went on several big scoring runs with the help of a variety of players.
Jadrien Wiser came up with a key ace and big kills in a route of the Pirates 25-13. This was the first set Orange Coast had lost since Feb. 4.
Walker was happy that the scoring came from different places.
"We are a very diverse team and a very balanced team, which is rare at our level," Walker said.
Orange Coast's coach was impressed with Pierce's improvement.
"That's the best team we've seen all year," Turner said. "Their blocking is good and that's the best ball control I've seen out of Pierce in a few years."
The crowd was lively at Ken Stanley Court. Members of the baseball team were in attendance to support their fellow Brahmas.
Walker praised the help of the fans.
"I'm incredibly proud of the baseball team that came out in support of us," Walker said. "I thought that brought a lot of great energy to the gym tonight."
The fourth set was back-and-forth before the Pirates finally seized control.
"It literally came down to two points in that fourth set," opposite hitter Brandon Oswald said. "If two things go our way rather than go their way, we end up taking that fourth set and we send that game to five sets."
The Brahmas would end up losing the final set 25-21, sealing the 3-1 victory for Orange Coast.
Going up against the No. 2 team in the state caused trouble for Walker and his team.
"They are a great team. They were the better team tonight," Walker said. "Will they be the better team at the end of the year? I don't know, but that's another challenge, and we hope to see them again."
The Brahmas fall to 7-4 in the season. Their next game is away versus the UCSB club team on Wednesday, March 15 at 6 p.m.