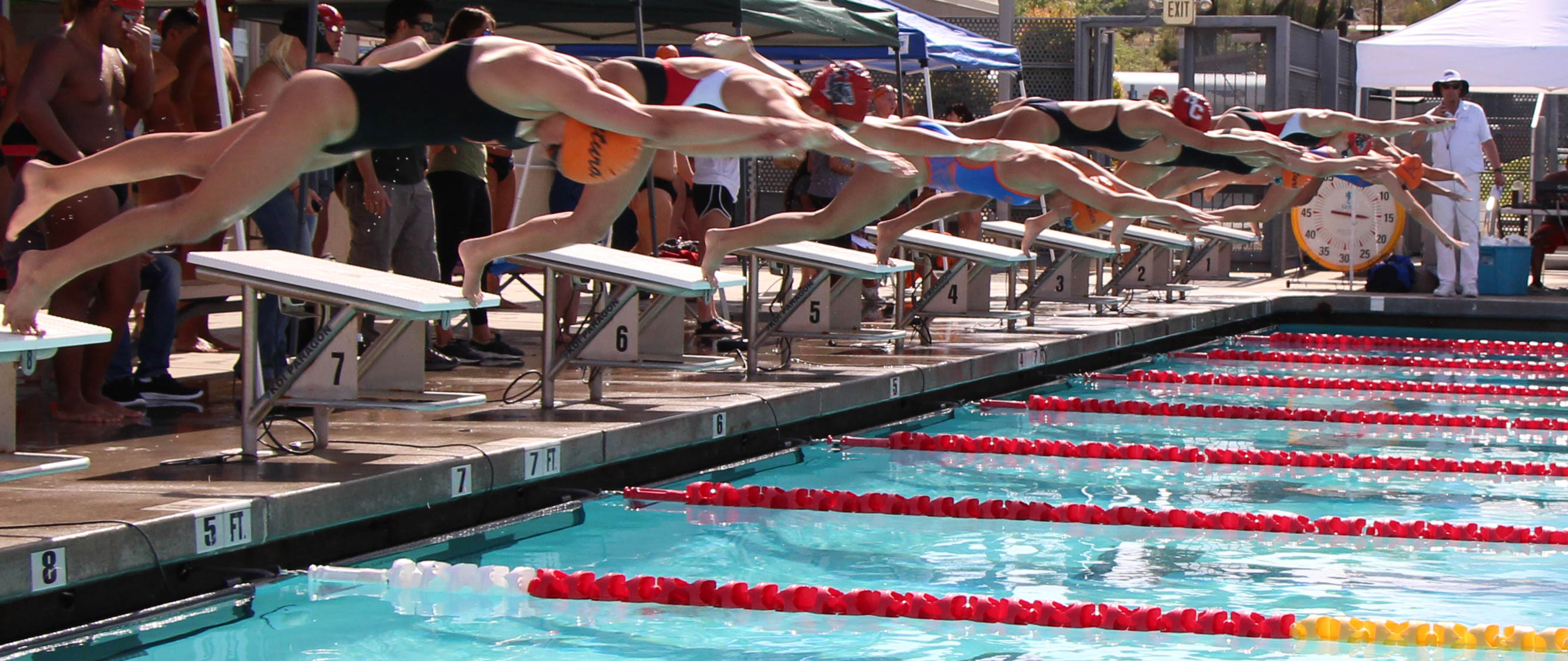 Brahmas, Pirates, Vaqueros, Owls and Renegades hit the pool at the Steven E. Schofield Aquatic Center on Friday for the second official meet of the season. The men from Ventura College led the way, while Santa Barbara City College dominated the women's competition.
The Brahmas placed third in the women's 200-yard medley relay with a time of 2:06.30. The men placed last in the 400-yard medley at with a time of 4:53.72.Jose Lamas and Nikolay Best, both swimmers for the men's team at Pierce, finished second and fourth in the 1000-yard freestyle event.
Lamas and Best's teammates, Gerryleo Sarmiento and Jennifer Weiss, who competed in the same event, finished eighth and tenth.
"I did better than I thought I was going to," Weiss said. "It was my first time swimming the 1000-yard freestyle. I was aiming for 16 minutes, and I did it in under 15."
The women's 50-yard freestyle saw Nina Farivar in eleventh and Jocelyn Lopez in fourteenth. For the men, Manuel Chavez came in at 27.09 and Juan Lopez finished with 30.77, eighth and ninth place.
"I was able to beat my time from the last meet," Farivar said. "I feel good about placing third. I hope to get an even better time next meet."
Cecilia Hansen finished fifth in the women's 200-yard individual medley at 2:29.71.
Thaddaeus Adams came in fourth at 2:00:12 and Howard Nguyen placed sixth with a time of 2:03.33 in the men's 200-yard freestyle.
Nguyen took fifth place with a time of 5:18.03 in the men's 400-yard individual medley. In the men's 200-yard butterfly, Adams finished second at 2:24.59.
"I feel accomplished that I placed second in the 200-yard butterfly," Adams said. "Swimming is all about the mindset. The main person you are racing is yourself. Now that I [have] beat my negative mindset, I feel energized."
Juan Lopez decided to swim despite having a strained rotator cuff."It's doing good. I went to the trainers' room, and they gave me an ice pack and a few test runs," Lopez said. "I just have a little strain cuff on my shoulder and also on my shoulder blade."
Lopez began to experience difficulties with his shoulder on Tuesday. However, that did not stop him from competing.
"I don't like to quit," Lopez said. "I always like to finish no matter what, win or lose. It's how you finish that matters."
Coach Judi Terhar commended both teams for their exceptional performance.
"They did absolutely fantastic," Terhar said. "Many of these swimmers have not been swimming on club teams. The improvement that we've seen from each one of them is astronomical."
In the diving competition, for the women's one-meter, Stephanie Rodriguez finished second with a final score of 140.65.
For the men's three-meter, Carlos Mier came in third at 125.50, Chase Raynor got fourth with a score of 123.45 and Ahmedjibreel Zavhar finished with 115.70.
Mier and Zavhar returned for the final event, which was the men's one-meter. Mier placed fourth with 126.95 and Zavhar finished last with 115.60.
The Brahmas women's team placed in fifth place with 35 points. Meanwhile, the men took third with 83 points.
The next meet is at Santa Monica College on Friday, March 31, at 11 a.m.
iRoot 2.0.9 is the most recent android root apparatus discharged by Magyun group, the engineers of vroot a single tick establishing instrument.i root apk iroot is a much intense Android establishing instrument with working at the most elevated progressive rate among most recent android root devices.