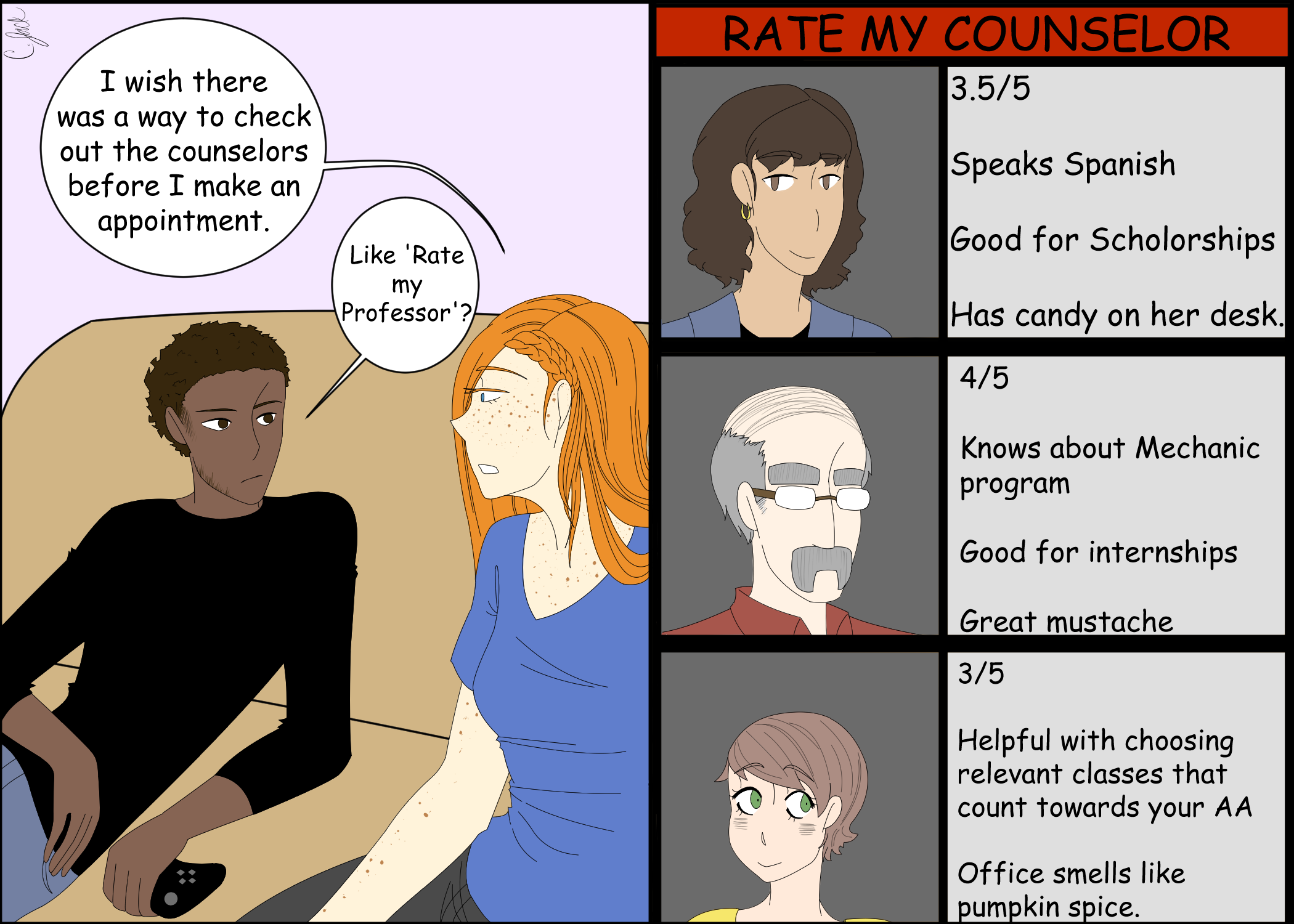 Illustration by Beck Shields
A degree does not represent a person's skills. What really matters is the knowledge and information school counselors have to inform their students.
Students need to choose a counselor they believe is right for them. They should be informed about the counselors before they have a face-to-face conversation. However, it is a waste of time to make appointments with each counselor to see who is the right one.
Pierce College should have a page where students can rate counselors, like ratemyprofessor.com. Such a site would transform how students choose their counselor, basing it on the comments and the ratings they are given. With a rating site, students with different needs can go to different counselors.
This website would reduce students' stress and disappointments about whether they received the right information.
School counselors should be graded on their effectiveness, whether students are progressing in their educational goals and transferring at the right time. According to the California Department of Education, counselors and counseling programs are a crucial element in improving students' achievements.
School counselors do a lot more than help students figure out what classes to take. They also help students work through behavioral problems, mental health concerns and other issues that might hamper their success.
According to the Huffington Post, with the help of a counselor, schools have a 91 percent graduation rate and have 17 percent of students transferring to a four-year college.
"Ratemycounselor," would be more accurate than "Ratemyprofessor" because there is less possibility of biased negative reactions because students are not receiving a grade.
If negative reviews were shown, counselors would improve on what is necessary.
In the article from the National Center for Education Statistics, with a counselor's guidance, 83 percent of participating students showed improvement in grades.
Counselor's specialties vary from financial aid, probation, personal problems and educational help. For that reason, "Ratemycounselor" should provide the specific focus of that counselor. The counselors' services help students develop a clear sense of direction in their future.
The American Counseling Association stated that, "School counselors, like all educational professionals, are increasingly being required to demonstrate evidence of effective practice."
Every semester, counselors should be required to take a course, such as a performance review on how to improve their skills, and stay updated with any changes regarding degrees and class information.
As the needs of students change, the directives of counselors should change along with them.
There are counselors who are not aware of the different degrees offered at this school, such as the journalism degree. Some counselors don't have the appropriate information or don't fully understand the process.
This website will increase students' interaction with counselors and their educational goals, as well as promote positive behaviors.
Kingo ROOT takes a shot at many diverse gadget models that utilization any variant of Android in the vicinity of 1.5 and 5.0. And every one of them utilize a similar procedure for establishing the gadget: hit the ROOT catch. download kingoroot apkObviously, if your gadget is as of now established, the application will disclose to you so. You can likewise unroot a gadget a similar way that you root it, all in a matter of seconds.