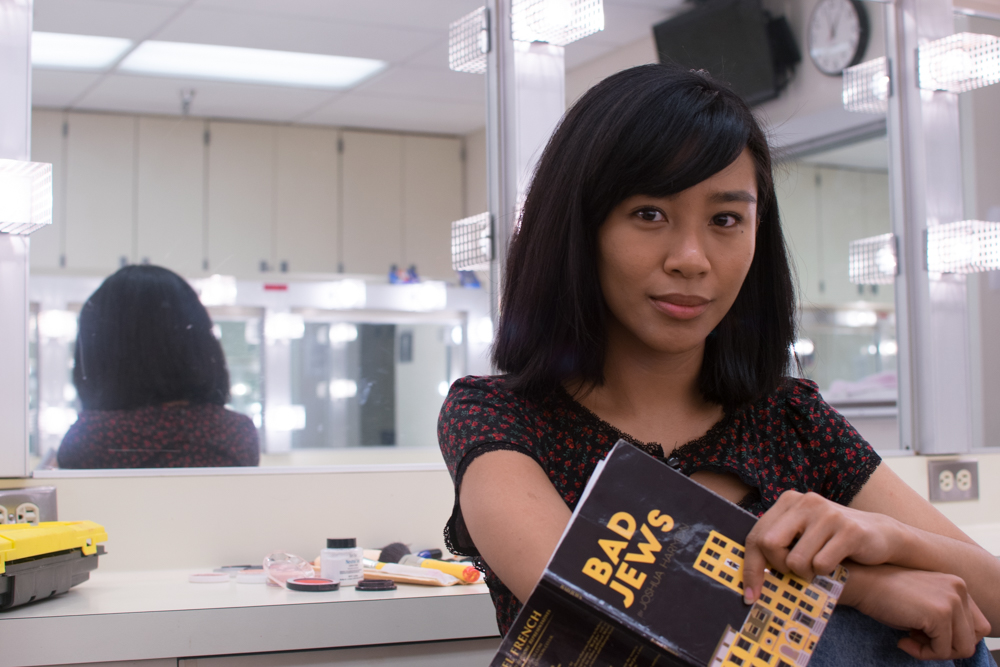 Staring at her reflection as she rehearses her lines, Sharai Bravo, 26, prepares for her starring role as Melody in Pierce College's upcoming comedy, "Bad Jews."
When Bravo came to Pierce in 2013, she knew she wanted to be in theater. Bravo has helped with production back stage, including "To Kill a Mockingbird," "Tartuffe," and most recently "Fences."
Bravo has been a stage manager however, this is Bravo's first major acting role at Pierce College.
"The audition process [for Bad Jews] began in December. It was tough, but I did my best to prepare for it," Bravo said. "January is when we started rehearsals."
Bravo said her most memorable play was a high school production of, "The Importance of Being Earnest."
"It was an interesting show to work on," Bravo said. "It was a high school production, and it was an Oscar Wilde play. It was very funny and witty."
Bravo is playing the role of Melody in the upcoming play "Bad Jews," and said she enjoyed working with the cast and the Theater Department faculty.
"They're just so phenomenal," Bravo said. "I rarely ever see them stressed out over any problem that happens. Like for me, I don't think I could ever handle that kind of stress, but they are so good at what they do. Very professional, but also so approachable."
This is Bravo's second-to-last semester at Pierce, and she hopes to transfer to the University of California, Los Angeles with a theater degree.
Bravo said that when she prepares for her role, she not only does research for it, but she takes advice from her classmates and advisors.
"A lot of things go through my mind when I'm preparing. I read the script, obviously, but a lot of things influence me before I prepare. I feed off what the directors give me in terms of which direction she wants me to go," Bravo said. "It definitely influences how I process the character."
In theater, Bravo said they don't hide emotions, they embrace them.
"If you tell a director, 'I'm feeling very emotional today,' they always tell us, 'Embrace that. Use that, because that's your strength,'" Bravo said.
Anna Steers, "Bad Jews" director, said Bravo's role in the play challenges her because their personalities are completely opposite, but she wants to learn and grow and grow actress.
"Sharai is an excellent student and she goes above and beyond," Steers said. "She not only does her work, but she is super present and focused."
Steer said Bravo is a great student and is always helping others.
"What sets Sharai apart is, she is compassionate and takes great care of all the other people in the room," Steers said. "She is super prepared, and because she is prepared, she is able to continue being the level-headed and loving person she is."
Bravo said Steers is an amazing director who knows how to ask questions that really make her think about her character and bring out the best performance.
"She's such a hard worker. She really is an actor's director and makes me think in the direction I need to go," Bravo said. "She's also kind and very open. You can really trust her with her work. You can trust her ability as an actor, and I knew already, as soon as I started working with her, that I'm going to grow."
Bravo said that she had less lines in "Bad Jews," compared to her cast members.
"I applaud them for that. Being able to memorize it, is amazing," Bravo said. "For me, I keep running the lines in my head. I'll be washing my hair or doing the dishes, I just run the lines over and over again. I don't know how they do it."
Adjunct Theater Professor Eileen Gizienski, teaches costume and makeup design at Pierce College and also designs costumes for the theater department. Gizienski said Bravo has been in her intro to design, makeup and pattern-making classes.
"She's a really devoted student. She takes her work very seriously and enjoys working in theater," Gizienski said. "She's a very well-rounded student, and she's trying to get the most of her time here at Pierce."
Despite having a full-time schedule, Bravo has been taking other classes at Pierce and working as a program assistant for Theater Arts Professor Valerie Grear.
"I've been taking all of the theater classes at Pierce," Bravo said. "I'm currently taking an intro to theater, as well as a pattern-making and makeup class."
Bravo said even though her grandmother was a quiet woman, she looked up to her because she was humble and wise.
"She was an incredible women who had this formidable presence and the most amazing stories," Bravo said. "She helped raise me and all her other 14 grandkids. She was very resilient, stubborn, but hard working."
Bravo said it's been awhile since she had a big role, but she is excited and eager for the show to debut this week.
"I keep getting these waves of emotions going through me. I get this wonderful feeling of being open to the audience and people on stage and being open to myself," Bravo said. "And letting the character inhabit and letting her emotions and experience flow through."
In addition to starring in the play "Bad Jews," Bravo is also working on the upcoming play "Hairspray," in May.
"I've been doing theater since I was maybe 13," Bravo said. "It's the energy that theater brings. You can't get that from film or TV."