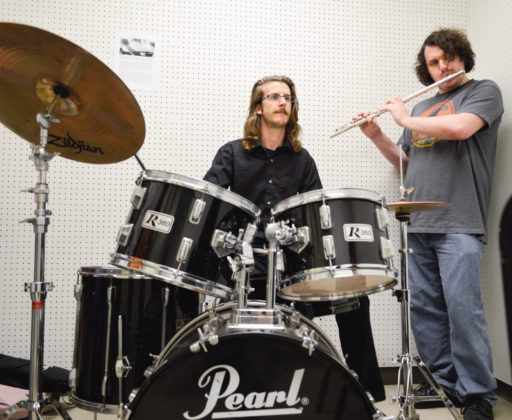 The Applied Music Program (AMP) provides students with private lessons on an instrument of their choice, granted they pass the audition process.
Students in the program have a designated instructor, who they meet once a week for private lessons.
The program will accommodate any instrument, as long as it falls into a structure of voice, piano, band or orchestra.
Once a student is admitted into the program, the Performing Arts Department will hire an instructor who is able to train in that specific instrument.
Auditions will be held at the beginning of each regular semester. To be eligible to audition, a student must be a music major, maintain a 3.2 GPA and may have to concurrently enroll in specific music classes.
According to Performing Arts Chair Michael Gend, Applied Music has been a class listed in the schedule for several years, but until the start of the program this semester, there was never a "campus mechanism for funding individual instructors to teach the students."
This semester, 11 students were accepted into the program. There is no maximum number of students that can be accepted.
According to Gend, if the program exceeds its funding, he will ask for a budget augmentation from the school.
"We don't want to limit enrollment and make it some kind of exclusive club," Gend said. "Normally, these kinds of individual lessons would cost hundreds of dollars for an hour lesson each week, whereas here, they just pay half a unit. So that would be the world's cheapest lesson and that's for the whole semester."
Russell Mannino is an AMP student. He has been playing the flute for 11 years. Mannino first got involved in music when he was in middle school. He continued in high school, where he joined the marching band.
According to Mannino, AMP has helped him improve his skills.
"We've needed this for so long. I have a lot more structured practice now," Mannino said. "It's a little more pressure than other private lessons since you're getting graded. The extra pressure is good."
According to Gend, the students perform at the end of the semester in front of the entire music faculty, who score each student on how well they did.
If a student receives a satisfactory score, they can continue in the program and proceed to the next level of the classes; there are four levels.
Gend said because the program is so new, he is taking criticism from students about what they think is or is not working about the way the department has approached the program.
"We're revisiting the rules this week and taking the students' feedback into account as well," Gend said. "The program will have slightly different rules next year and make it more inclusive is what I hope."
Allegra Edelnant was accepted into the program as a vocalist. She thinks AMP is a good opportunity for music students who wish to practice their skills.
"I have improved since joining a lot," Edelnant said. "I've noticed my voice get a lot stronger and my range expand."
She also said there is a healthy pressure that comes with the high expectations that the program has for its students.
"This pressure replicates the pressure you're going to receive at a four-year university, so I think it starts mentally preparing you for the audition process," Edelnant said. "It's a lot cheaper than private lessons, which is awesome."
According to cellist Benz Marsten, the program reinforces and builds on the skills that musicians come in with. He said he's learning things that could only be gained while being observed.
"I think it's super important and really great that Pierce is doing this for students in the music field," Marsten said.
Gend expects the program to thrive in the years to come. He said some of the music instructors are actively promoting the program by visiting local high schools and middle schools, encouraging those students to attend Pierce's concerts and musicals.
"I think the program is going to grow exponentially," Gend said. "At some point in the future, maybe there's 40 students in every semester. I'm really excited about the program."