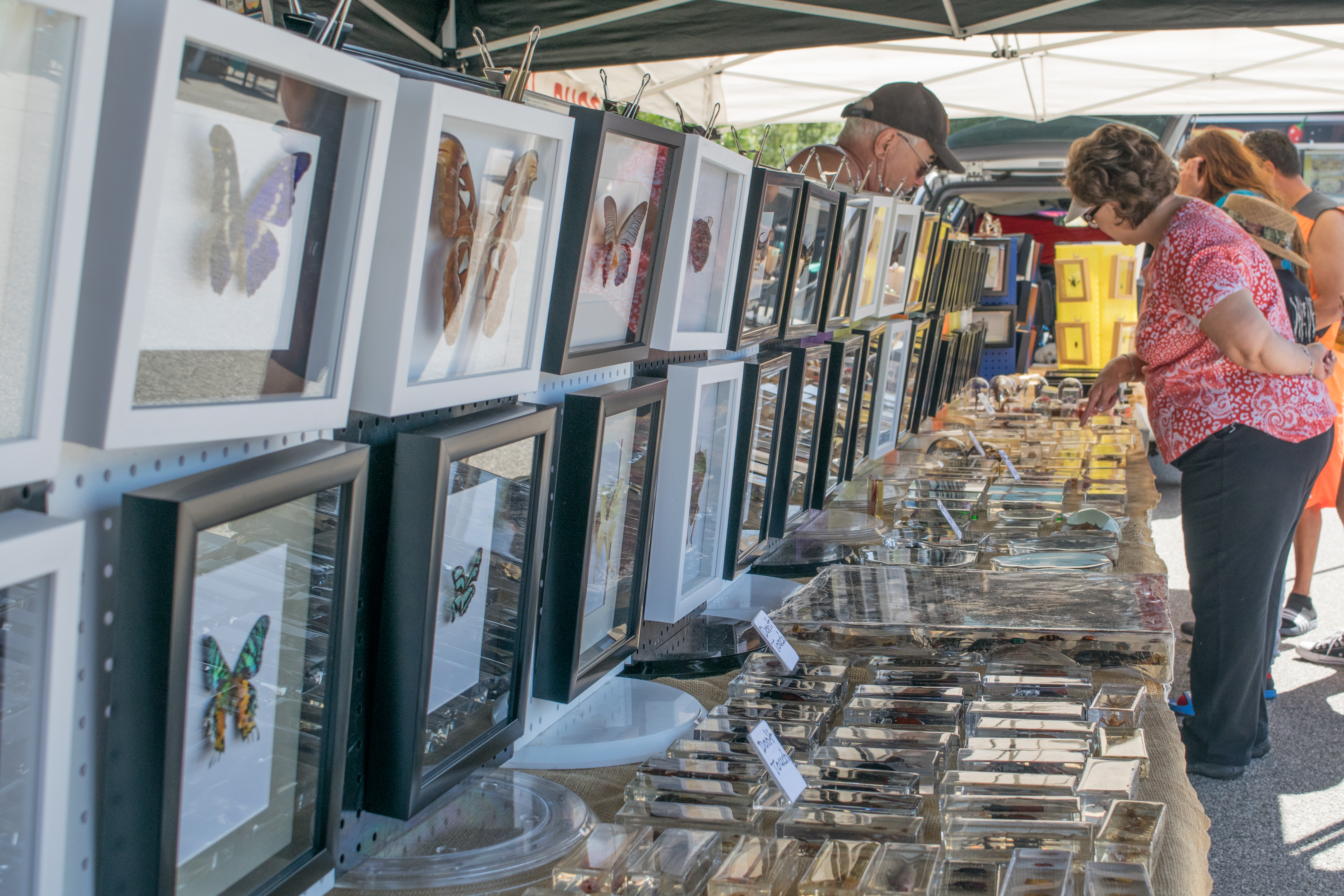 From vintage clothes to homemade soaps, the Topanga Vintage Market continues to provide the community with the same environment it has for years.
Sunday marked the five-year anniversary of the Vintage Market opening it's doors. It's been three and a half years since it outgrew the Westfield Promenade Mall parking lot and re-located to Pierce College.
Although the Market changed locations in 2014, it remains successful, operating every fourth Sunday of the month.
Topanga Vintage Market Co-founder Patrice Curedale said they moved to Pierce College because of the lack of space in the Westfield Promenade Mall.
"We just got more and more customers, and there wasn't enough parking," Curedale said. "We just started thinking: what are other places we could have an event like this? And we called Pierce."
Curedale said they relocated in October 2014 and have a permit with Pierce College.
"It didn't take that long to figure it out, and it's good to know the money is going to the school and not anywhere else," Curedale said.
Market Vender John Robichau has been selling his wares since the Market was located at the Westfield Promenade Mall, and said he enjoys the atmosphere and location.
"I have all kinds of miscellaneous, vintage toys, antiques books; just a variety of stuff," Robichau said. "I like selling here a lot. It's close to home, and my spot is great. If I wasn't making money, I wouldn't be in business."
The Market's atmosphere, the ambition vendors, and the opportunity to find something that's out of the ordinary, is what brings in customers.
Pierce student Catleya Sherbow has been familiar with the Market for a few months and recommends anyone to attend.
"There's always something different every time. It's really fun," Sherbow said. "Especially on a bright sunny day like this, it's like a social event."
Singer/songwriter Katie Ferrara performed at the Market and keeps coming back for the atmosphere, the people, and a chance to perform.
"I love the energy here and how unique it is," Ferrara said. "The people here are friendly and really appreciate music. I play wherever people like to hear me."
Vendor Bruce Schuotz has been selling repurposed lights at the Topanga Vintage Market for the past three years, but stopped by the Market to shop.
"It's great. I love it," Schuotz said. "Except when it get's to the summer time. It gets a little warm for us. There should be more trees out here to give a little more shade, but it's great."
According to Curedale, the turnout depends on what the forecasts say.
"Last month was one of our best. It was 3,200 people," Curedale said. "It's very dependent on the weather."
Curedale said the vendors start setting up as early as 4 a.m.
"It's actually a multi-generation kind of thing," Curedale said. "We're happy that we're still going. It hasn't really grown that much in a couple of years, but it's steady. We're also dialing in the social media, and I think that's helping bring in new customers."
Curedale looks forward to being open for more years to come.
The next Vintage Market is on May 28, from 8 a.m. to 3 p.m. Admission is $3 however, Pierce students receive $1 off when they show a valid student ID.