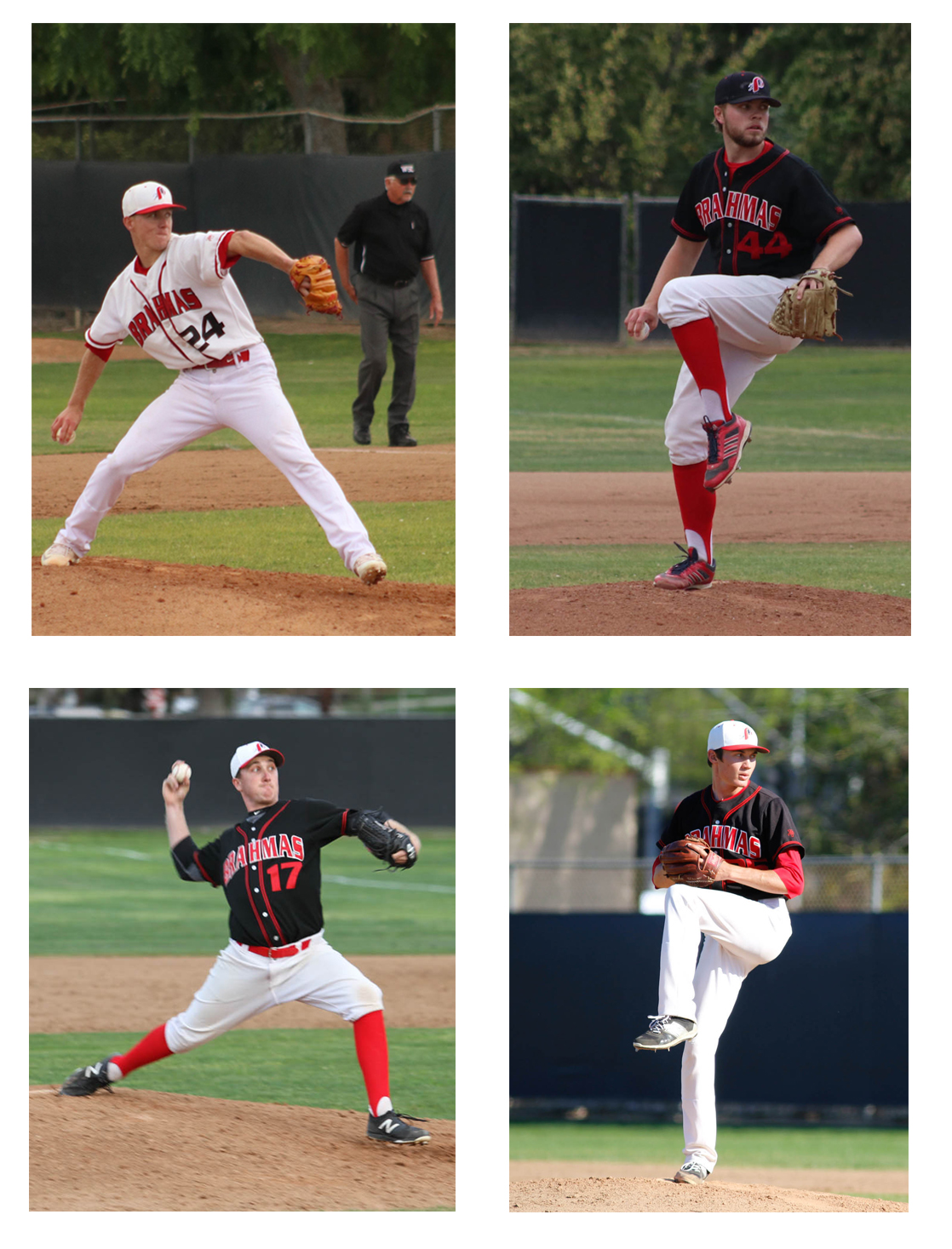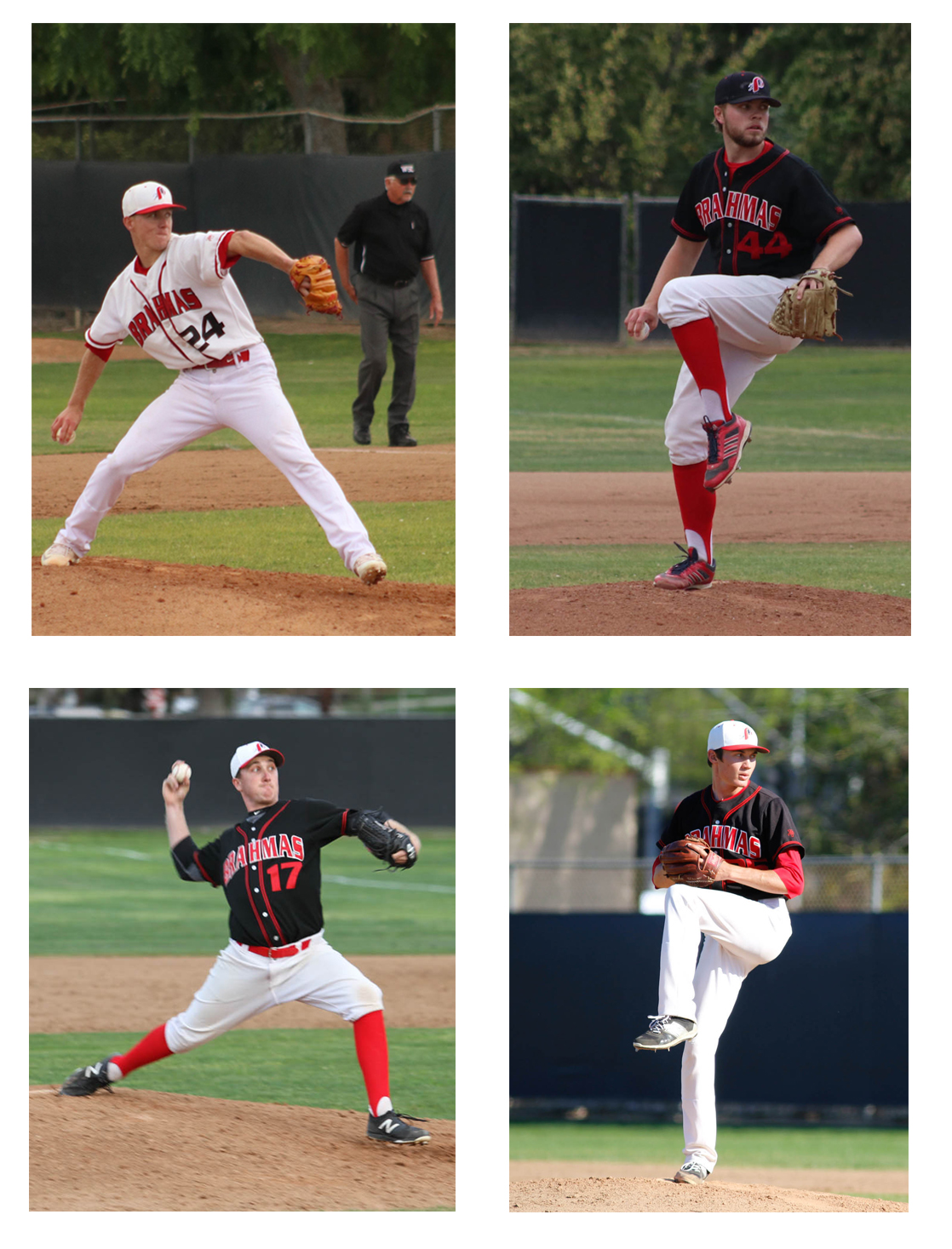 Good players can be selected and trained, but chemistry among players is not something that can be conjured. Standing under the dugout in their matching uniforms, the pitchers sit together with smiles and sun on their faces, onlooking each other at practice.
Head coach Bill Picketts may have done them a service by keeping his pitching staff together all year, separate from the rest of the team, to keep them focused.
"We're kind of segregated from the position guys, which kind of makes us compete with them a little bit. But it's a positive thing; it's healthy," Devon Silver said.
The pitching staff has built a strong reputation this season with their coach and the other players.
"They tend to root for each other. Nobody's rooting against one another," Picketts said. "As a staff, they're not really competing against each other. They're all trying to do their job to get better."
In seasons past, the baseball team at Pierce has struggled to get a good and reliable pitching staff. Although one of the team's best pitchers, Colton Snyder, was injured prior to the start of the regular season requiring Tommy John Surgery, the team has kept it's spirits up.
"We could've won more games because he's that good of a pitcher, but I don't think that stopped us from grinding it out with everybody that's here," said pitcher Adrian Rodriguez. "We have all put in an equal amount of work to have us be where we are."
Despite losing their prospective ace heading into the season, the Brahmas had possibly the most dominant pitcher in the Western State Conference. Tommy Wilson's 2.11 ERA and 104 strikeouts led the WSC-South.
Aside from spending time on the field practicing, the team spends time going to the beach, Dodger games and music festivals.
"A few of us went to Coachella, which was pretty fun," Myles Cruz said. "That was good team bonding."
According to the pitching staff, they like to have fun and "keep it loose" before games, which they credit for their successful season.
"We play some childhood games before we play," Kris Johansen said. "We play butts up, we play mumbly peg and throw a screwdriver up in the air and try to stick it in the ground. It's weird stuff, really weird stuff."
The pitching staff says they have formed relationships that will surpass their college years. The friendships have extended to other athletic teams at Pierce like the men's volleyball team, who have been known to show up to the baseball games and cheer them on.
"It's been a pleasure coaching them. At times when they've struggled they've gotten better and put their work in," Picketts said. "I can't say that none of them haven't improved because they've all gotten better over the season."
Wilson will be getting a scholarship to Fullerton, according to coach Picketts. His teammates have expressed support and appreciation for him.
"It just pushes all of us to work harder," Rodriguez said. "It's just a good example for all of us to see that he's going to the next level, and I think that is just good for all of us."
Unlike the year prior, the team has been more focused on keeping a positive attitude. After games Coach Picketts said the team will say good things about each other's pitching to keep up the morale.
"Bill plays a big role in where we are at today," Wilson said.
"He pushes us to achieve what we can with what we have, because he knows each of us has a specialty and we are all good at one thing," Kovach added. "He's always speaking about the positives after games even if we're not having a good game."
The pitching staff is an essential part of a baseball team that can make the difference between good teams and winning teams.
"It's not my ideal amount of pitchers, from Snyder getting hurt and a player who decided to redshirt, but it all worked out OK. That might have something to do with it," Picketts said. "They've all gotten innings. They've all gotten experience out of it, and that's good for them."