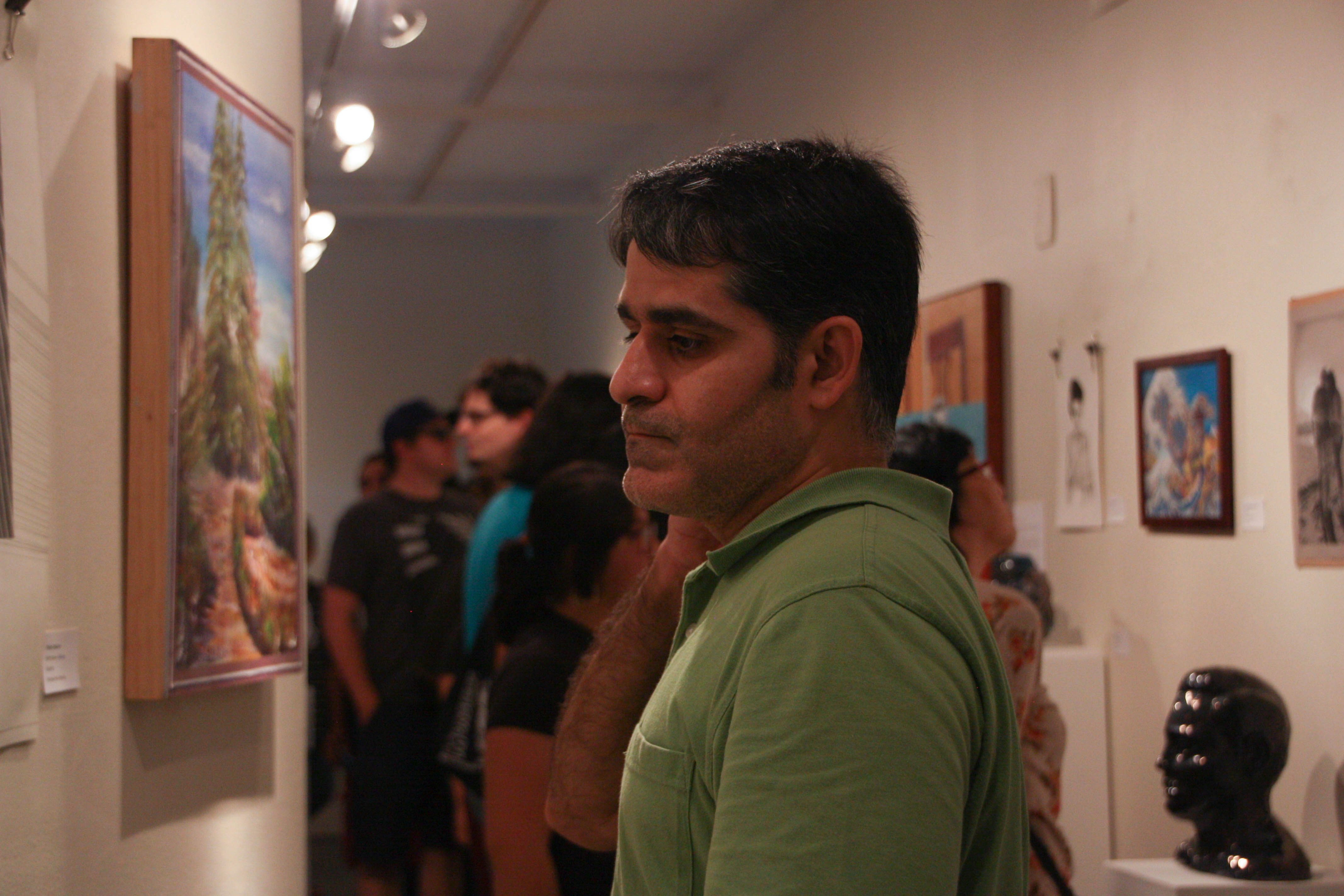 A line snaked around the buildings in the Art Garden as artists, students, faculty and guests waited to go inside the sweltering Art Gallery for a chance to view the hand-selected artwork of 100 Pierce College students.
The annual Student Art Exhibition kicked off on Thursday, May 4, with an awards ceremony to honor six standout artists. The artworks will be on display in the Art Gallery until May 23.
"It is very well received. It's a big turnout; it's one of the largest attended art shows of the year," adjunct art instructor Brian Peshek said. "This year there were about 100 entries, so hopefully there are 100 students here."
Peshek has curated art shows for 15 years, but this is his first semester acting as Art Gallery director for Pierce College. He said being featured in the Exhibition offers art students a valuable opportunity for their careers as independent artists.
"It gives them experience of what it's like to be in a professional-quality art exhibition," Peshek said. "They get the feeling of acceptance, and they get to see their peer's work on the wall next to them."
According to instructor of art Justin Dahlberg, the artworks featured in the gallery are mostly in-class works that the students worked on all year under faculty supervision.
"We are all in it together, and we support each other," Dahlberg said. "It's a good opportunity to actually get into a show, for beginning artists especially."
Art student Jeremiah Reyes won Best in Show this year. He is an illustrator who focuses on fantastical and surreal subjects in his artwork. According to Dahlberg, who teaches a drawing class, Reyes is one of his best students.
Reyes said he enjoys seeing all the different types of artwork in the Pierce College Art Gallery because it shows the variety of technical instruction in the Art Department.
"It's a cool, chill setting. It's good to go out and explore art and see how different art is," Reyes said. "You see some abstract art and surrealism. It's inspirational to walk around and see what other students are up to."
Jo Lauria, mentor at the Otis College of Art and Design and independent art curator, judged this year's entries. She had attended the Student Art Exhibition the previous year and decided to come back as judge.
"I'm very impressed with the Pierce College Art Department," Lauria said. "There's a wide range of skills that students can learn here, everything from digital to metals to ceramics to painting. It's a full-blown art program."
According to Peshek, the Architecture Department also has some exhibitions in and around the gallery, demonstrating the broadness of art.
This year is architect major Jerome Watts' first time having his artwork featured in the Art Gallery. He said viewing his friend's artwork on display pushed him to try and be featured in the yearly exhibition.
"Two years ago, my friend was featured in the Art Gallery," Watts said. "She put in a table, it was a really nice table, and that inspired me to try to be in it. It looked like so much fun to have your artwork in there and have everyone see it."
Watts said he enjoyed that the show featured and brought together different art types such as: painting, drawing, ceramics, sculpture and digital design.
"I like how different everyone is here. It's not the same artistic styles," Watts said. "Everyone is happy and smiling and showing off their skills and what they've done. It makes me want to do more art shows, because everyone is appreciating everyone's artwork."