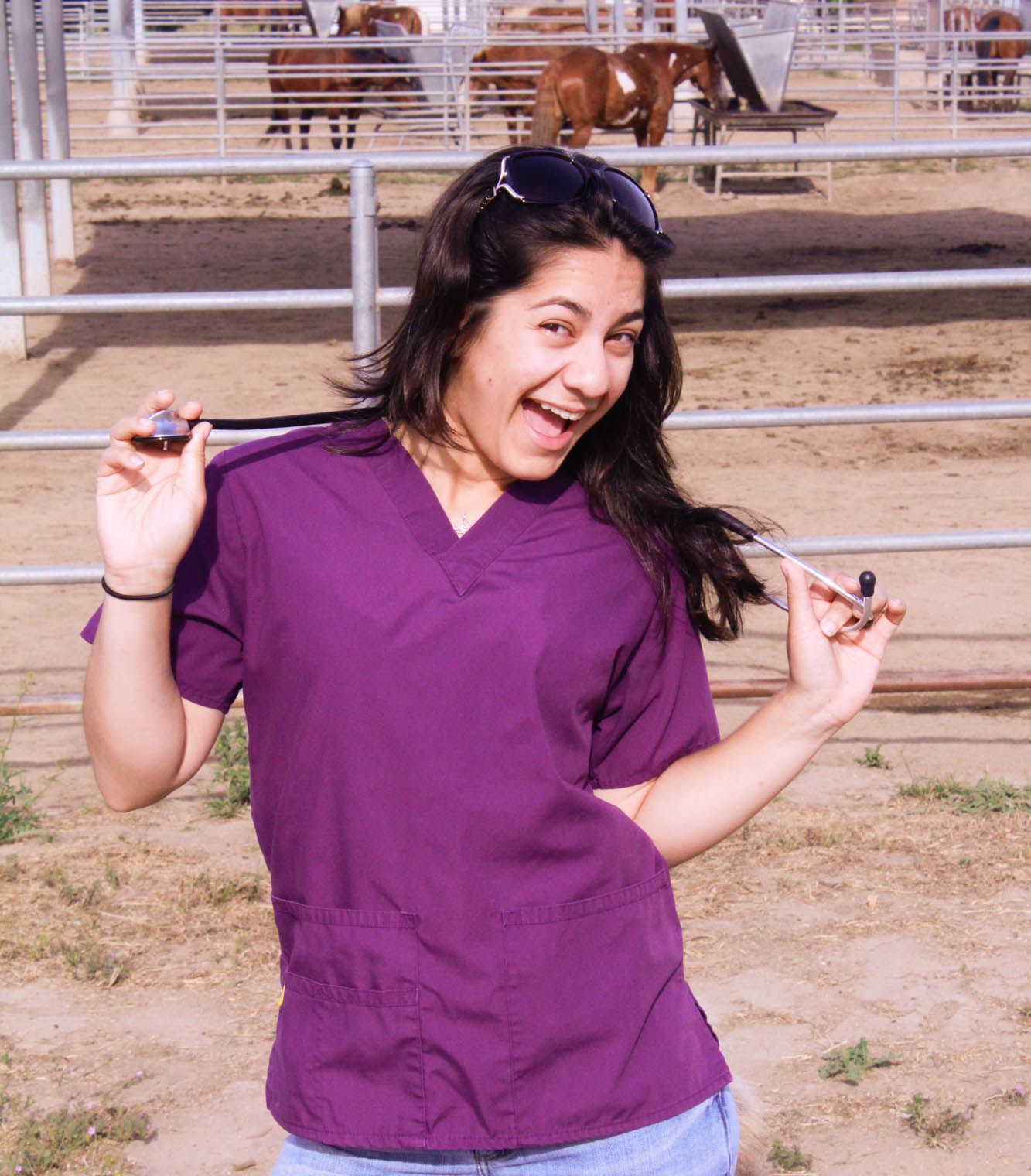 There's a special connection between humans and animals. Chloe Colón loves to help animals every day and is following her dreams by working at the Pierce College Veterinary Program.
Colón is continuing her veterinary studies at Pierce to receive her masters after graduating Cal Lutheran University in 2014.
"I have always kind of loved the animals," Colón said."I worked at the Lazy Dog Kennels for a while. I was there in my senior year in high school. It was basically just an overnight boarding facility. I made sure that none of the dogs fought with each other, kept the scheduled feeding times and gave dogs their medicine. I also was partly in charge of giving insulin injections if the dogs had it."
Colón climbed up the corporate ladder within the veterinary industry through networking and a series of internships.
"I started working in a hospital in an internship with the veterinarian who worked for the shelter. A position opened up to do surgery for spay and neuter," Colón said. "That is how I met the other doctors I currently know. They work in hospitals, and they got me hospital jobs, so it kind of went from there. I happened to be in the right place at the right time."
Colón said she chose to come to Pierce after a co-worker recommended the program to her.
"When I decided to go here, I was working at the animal shelter in Camarillo as a surgery tech," Colón said. "The other girl I worked with told me she was going here. She said they had a really good animal science program, so I ended up coming here to get some farm animal experience."
Colón said she appreciates the unique opportunities available at Pierce.
"I like it a lot because you don't really find a farm in the middle of the city," Colón said. "It is really cool that they have this. It is kind of like a hidden gem. A lot of people don't know about it until you tell them because they don't know it's here."
Pierce Advisor to the Pre-veterinary Program Lu Dao describes Colón's work ethic as top of his class.
"She always asks these questions that dive deeper than what the situation is, which basically is reflecting on what's going on and is able to process it," Dao said. "For a veterinary medical point of view, it is good to have someone like that because you kind of have to think what is going on with the procedure and what the reasons are behind the procedure."
Some of Colón's struggles deal with her course load and managing everything she is trying to accomplish at the same time, she said.
"There are a lot of times when I know I have overworked myself," she said. "When I did my undergraduate degree, there was one semester when I was taking 18 units, working a job, and part of the varsity golf team. I was doing all of that and trying to have a social life."
Her commitment to her work is notable to fellow peers such as pre-veterinary student Bryan Berkenbile.
"She is very studious, and she makes sure she gets things done," Berkenbile said. "She doesn't chat very much while she is in class. She is a sweet person outside of class, but when inside, she is focused."
Colón emphasized why being social is another vital part of her career.
"Being a vet, they don't want someone who is just smart; they want somebody who is smart and can talk to people," she said.
Colón explains what drives her to want to stay on her path.
"Seeing the doctors that are around me and seeing what they do, and knowing I have taken the first step to being more like them," Colón said. "What they have really taught me is to hone in on what is important, what can be managed and what can't."
This semester, Colón was accepted to a veterinary school outside of the country.
"I just got accepted into the vet school at St. George. It's in Grenada, off the coast of South America. I think that being able to be a vet and travel somehow would be really awesome," Colón said.
Colón said her parents are elated about her going to vet school.
"They are really excited," Colón said. "Nobody has gotten this far.I am kind of a pioneer in that field right now. They are a little sad that I am going to be so far away from home, but they think it is awesome that they can go visit their daughter on an island now for vacation."