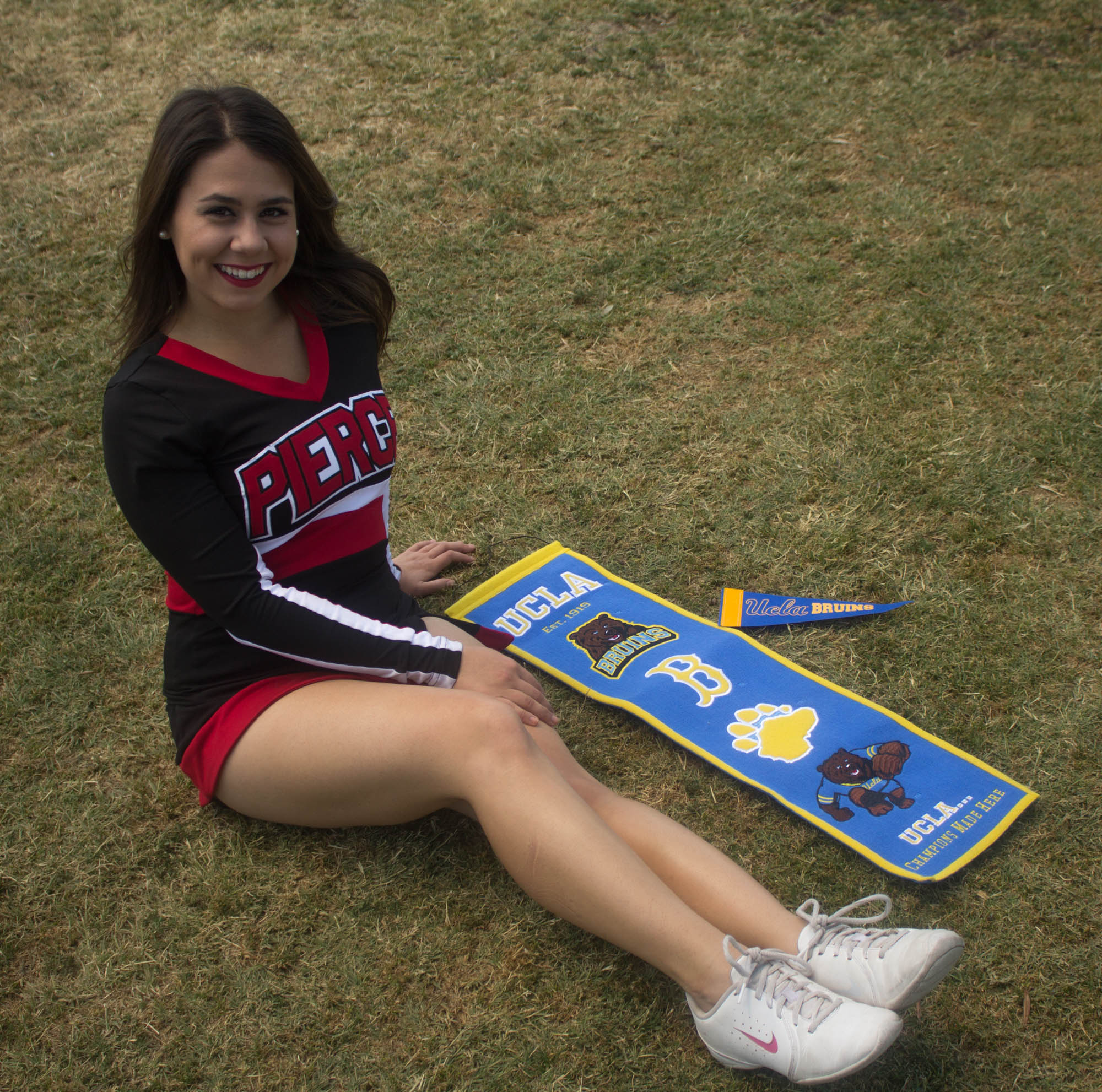 True to their name, cheerleaders aim to motivate everyone around them both physically and emotionally, whether or not they're on the field. Cheerleader Lauren Robin co-founded the non-profit organization Compass for Youth, which works to guide at risk youth to college and a brighter future.
She will be spreading her message to a wider audience on June 6 when she gives a commencement speech for the Pierce College graduating class.
Founded this fall, Compass for Youth's mission is to help at risk youth, 17-24 year olds, navigate their way through higher education and eventually provide housing for otherwise homeless students.
However, Robin's history of helping others in need began long before her pursuit of this new endeavor.   
"When I was 12, I had this mission to save the world," Robin said. "I would donate all my allowance and birthday money to give homeless people blankets and food. I always had this passion for helping others, but didn't know how to do it until I went to college."
Robin didn't stop there. She has been volunteering at the Therapeutic Living Centers For the Blind since January 2017. She's currently working on an art project using colored recycled plastic that will be put in their garden. The different shaped plastic and fragrant flowers will allow the blind to experience something new.
"I've learned so much from them," Robin said. "This garden allows them to engage all their senses like touch and scent, but the main thing was that they did it themselves and can be proud of their work."
Robin's accomplishments and reputation during her time as an ASO senator precede her.
"Her positive energy is contagious," Student Engagement Coordinator and Counselor Lara Conrady Wong said. "In ASO meetings, she would always encourage others and speak up when someone accomplished something. She's always the first to compliment someone on a great idea. She's a cheerleader in all respects."
Actually, Robin started her cheerleading career at Pierce in spring 2016. She said she had never done it and wanted to try something new.
"I did dance before, and cheer looked like something I'd really enjoy," Robin said. "I also wanted to be a part of a team and learn how that worked."
In addition, during her run as an ASO senator, she acted as Pierce's delegate at the General Assembly for the Student Senate for California Community Colleges, raising the issue of student homelessness and the inaccessibility to school locker rooms and showers.
Robin's actions contributed to Gov. Jerry Brown signing state legislation that makes it mandatory for schools to provide all students with access to the locker rooms.
For this accomplishment, Wong complimented Robin on her leadership skills.
"Not only is she happy and joyful, but she can get serious and is not afraid to speak up," Wong said. "She has represented students very well on the state level, and she has the ability to be both in the trenches and supervise the trenches."

Robin will be transferring to UCLA in the fall. She thinks that her determination to create change stems from her participation in the ASO and her involvement in the community.
"I wouldn't have half the confidence to get involved with this nonprofit or do any of the things that I've done had I not gotten involved with clubs on Pierce's campus. Getting involved has been one of the best things that ever happened to me. It's been invaluable to me," Robin said.
Compass for Youth, Robin's and five other UCLA graduates' brainchild, will soon be competing in the Social Enterprise Academy: an opportunity for nonprofits to win $30,000.
Compass' pitch includes the distribution of an organic beauty box called Natural Compass, the proceeds of which will be used to fund Compass for Youth.
According to Robin, Natural Compass is like BirchBox, but with all organic products that are humanely and ethically sourced.
"A lot of people don't know how to make the switch to organic cosmetics, and it's so expensive," Robin said. "Natural Compass will allow you to try out different organic products before having to spend a lot of money on them. We got a lot of companies to donate their products, which we'll put in a makeup bag that will be around $20-25 a month."
Because Compass for Youth is still in its early stages, Robin and co-founder Micah Rich are still working with lawyers to ensure safety and success. However, they said they have a few ideas floating around to find potential students to help.
"Lauren has a talent for uniting people. She is so friendly and open to new ideas and actually acts upon them to get things done," said friend and fellow ASO President-elect Efren Lopez.
Both Lopez and Wong expressed confidence in Robin's future.
"She doesn't just think of ideas, she follows them and creates change," Lopez said.
Once at UCLA, Robin plans to major in sociology and learn to create an ethical business model on the corporate scale.
"Find a team of people who are also passionate and just start," Robin said, giving advice to like-minded students. "Starting is the hardest part, but just look for resources because there are people out there who want to help you. If you see someone that needs help, don't be afraid to help them. Be open minded to helping others."