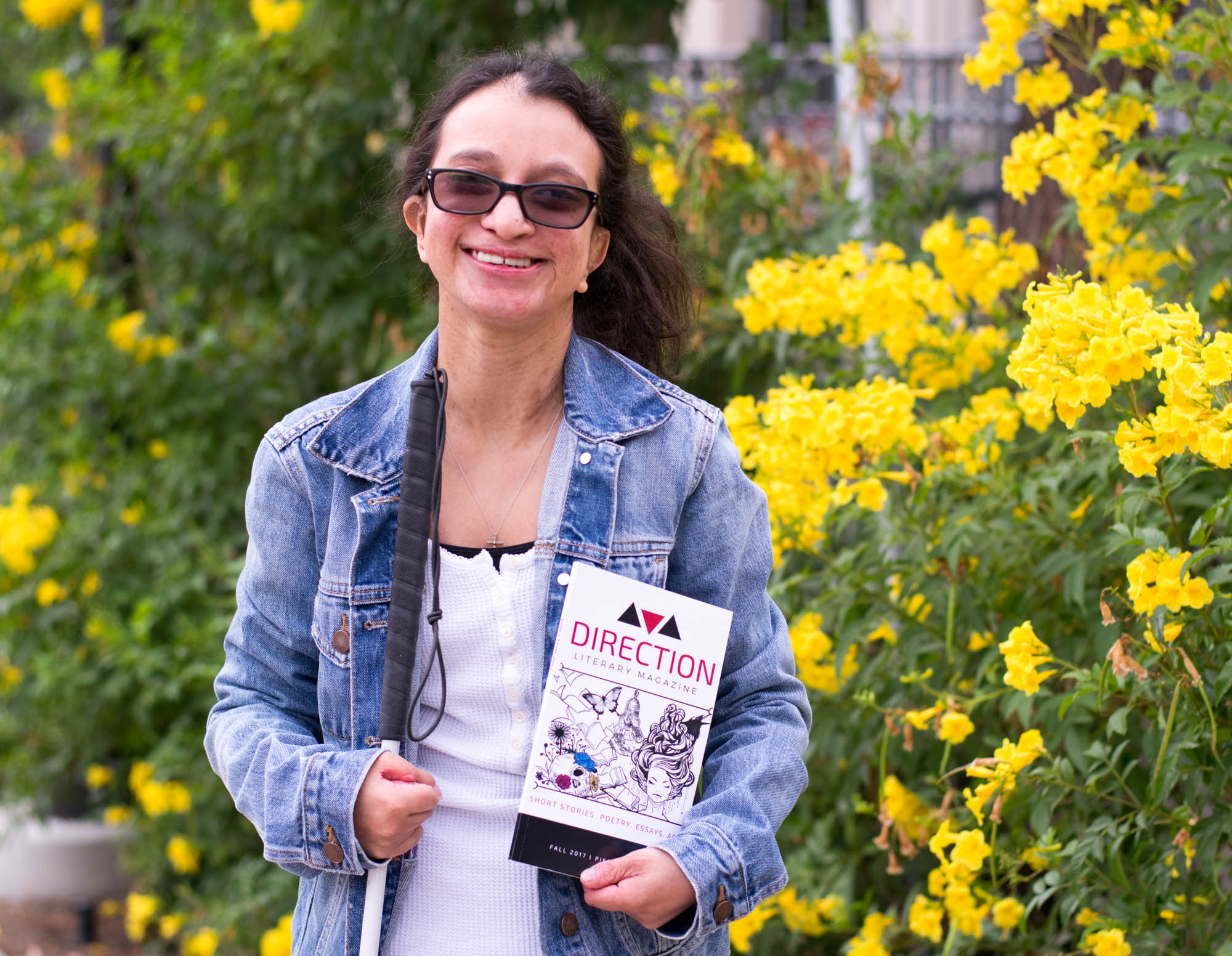 The sensation of sight is often coupled with the pursuit of writing—without it, how else could one set such a vivid scene in a book? However, one Pierce College student proves through the written word that some of the clearest and most intensely moving images are created without 20/20 vision.
Alexandra Livolsi, 20, is legally blind; she has no vision in her right eye, and only has peripheral vision in her left eye. Yet, that hasn't stifled her creativity or her lifelong pursuit of writing.
"I've been writing ever since I could," Livolsi said. "One of my best friends inspired me to write. One day, we were playing this game with dragons, and when I got home, I didn't want to forget anything. So I wrote it all down, and once I did, I wanted to do some more with it. I actually turned it into my first story."
Livolsi's short story "Pearl" is published in the fall 2017 edition of Pierce College's literary magazine Direction alongside one of her photographs. The story deals with moving on from loss and family bonds.
This passion for writing has manifested itself in both fiction and nonfiction. During her junior year of high school, Livolsi helped to start the Valley Academy of Arts and Sciences online newspaper, in addition to working on a novel for the last eight years.
"It's a very poignant and moving story, though I don't want to give away the ending," said Professor Emily Anderson, faculty advisor of Direction. "It's concise and really powerful. In just a couple pages, she manages to convey a lot of emotion; it's sad, but also beautiful and happy at the same time."
Aside from writing, Livolsi is also studying psychology at Pierce College, which she hopes to utilize in a career working with and aiding disabled children. Livolsi said that her desire to work with children stems from her experiences with her own disability.
"I have been through a lot of the surgeries and the medical testing for disability since I was born," Livolsi said. "I feel like I could really help children who are going through those same experiences, and help their parents as well. I think it would be a comfort to know that someone who has gone through that is helping their child."
Livolsi said that she also draws inspiration for her goals from her mother, who is a child development specialist. The cases and stories she has heard from her mother about her professional experience with children has led Livolsi to pursue the same rewarding career path.
Livolsi said that her goal in working with children is to impart the knowledge that, regardless of the struggles posed by disabilities, one can achieve their goals if they work hard and not give up.
"I would like them to know that the future has endless possibilities," Livolsi said.
Lauren Greenberg, a Pierce student, said that her friendship with Livolsi has given her personal insight and has caused her to appreciate her relationships with others a bit more. She said Livolsi has the ability to leave a positive impression on another's life.
"She's taught me a lot about myself and the fact that friends are what you make of them; looks aren't everything," Greenberg said. "With Alex, you can see that she might look a bit different, but inside, she's brighter than the sun."
Greenberg said that Livolsi has always been passionate about conveying the message that those affected by disabilities are not defined by their outward appearance. For Livolsi, it is important that those with disabilities are given the support and understanding that they deserve—that someone isn't treated differently just because they have different abilities. It is her hope that some of what she produces aids her goal to spread compassion.
"I've always had the desire to help people. And whether it's through writing or any other form, I'm happy to do it," Livolsi said. "Everybody has their struggles, whether they're physical, emotional or mental. Open-mindedness and kindness go a long way."