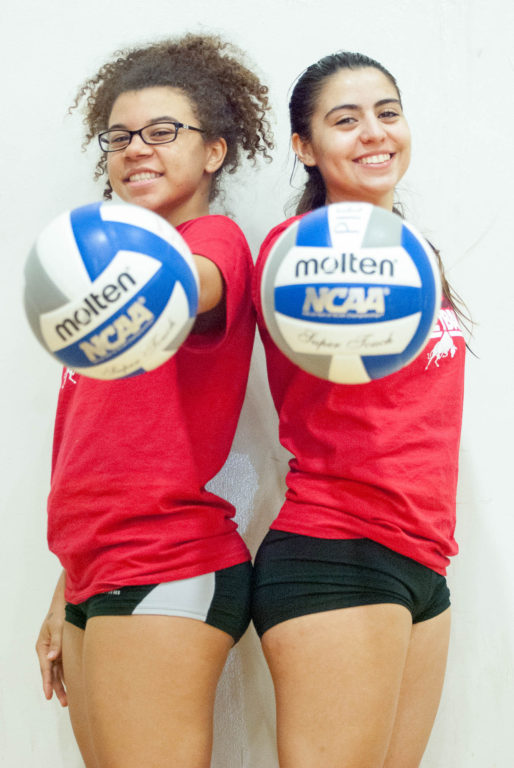 Talent has no boundaries, and the distance between states does not deter some prospective students from reaching their educational and athletic goals. State borders couldn't hold back these two out of state volleyball players from finding a second home at Pierce College.
Linnea Romero and Victoria Estes are new additions for the volleyball team. Romero and Estes are both students that have traveled from their hometowns to join the women's volleyball program.
Romero comes from  Albuquerque, New Mexico, and  is planning to major in kinesiology to pursue a career in physical therapy. She is planning to transfer to the University of California, Los Angeles or California State University, Northridge.
Romero said she first began playing volleyball when she was 11 years old and mentioned her father inspired her to play the sport.
"He's played sports all his life, and he's tiny like me, but he plays with a big heart," Romero said.
Romero said she came to Pierce because she wanted to fine-tune her athletic skills.
"The program is just so intense that you have no choice but to get better," Romero said.
Romero said that compared to other volleyball teams she had played on, she thinks all her teammates are on the same page, and has a shared mentality to be competitive.
Romero said that the team is successful, because there is an abundance of responsibilities that come with being apart of a team.
"There's a lot of strong personalities, so there are a lot of leadership roles, and everyone fulfills them very strongly," Romero said.
Romero said her experience on the team has been positive, and she is constantly being challenged.
"It's very hard, but that's what I came here for," Romero said.
Estes left  her hometown in Pasco, Washington. Estes said she is majoring in business with a concentration in marketing. Estes said she one day plans on becoming a CEO, but before that happens her plans are to transfer to a university in the Southern California area or Texas.
Estes said she first began playing volleyball when she was in third grade. She recalls playing the sport along side her two sisters and her grandfather inspired her to play volleyball.
"He was always an athlete when he was little, and he has always pushed me to be competitive, making me who I am today, so I owe him everything," Estes said.
Estes said she always wanted to come to California, and during high school she began researching colleges in the Southern California area.
Estes said she is happy to be here, and one hundred percent proud of her decision to come to Pierce.
"I like the the hustle and the competition, especially in the college level. We sprint everywhere, and there's no walking. We have a lot of hustle, and determination," Estes said.
Estes said the women's volleyball team is like a family.
"We love each other. I love everyone on the court. The bond is so great, it's amazing. We all have good attitudes and we are all very respectful, especially to Nabil, our coaches and anyone who walks into the gym. We really compete, and we don't give up," Estes said.
Head Coach Nabil Mardini mentioned Romero and Estes have shown major improvement since they have joined the team. Mardini said they both play the defensive specialist positions on the team.
Mardini said that the volleyball program here is special, because of the lasting legacy.
"We have a winning tradition here. We have done well over the years, and we have a good transfer rate to the next level," Mardini said.
Mardini said his team exhibits care and trust and mentioned that all who come will be put to the test.
"I think they are all committed to each other, and they are all committed to excellence. It's a place where you are going to be tested, and challenged academically, physically, emotionally and mentally. It's a very special place, and those who stay here and become part of the program will take a lot of tools with them through the game of life," Mardini said.