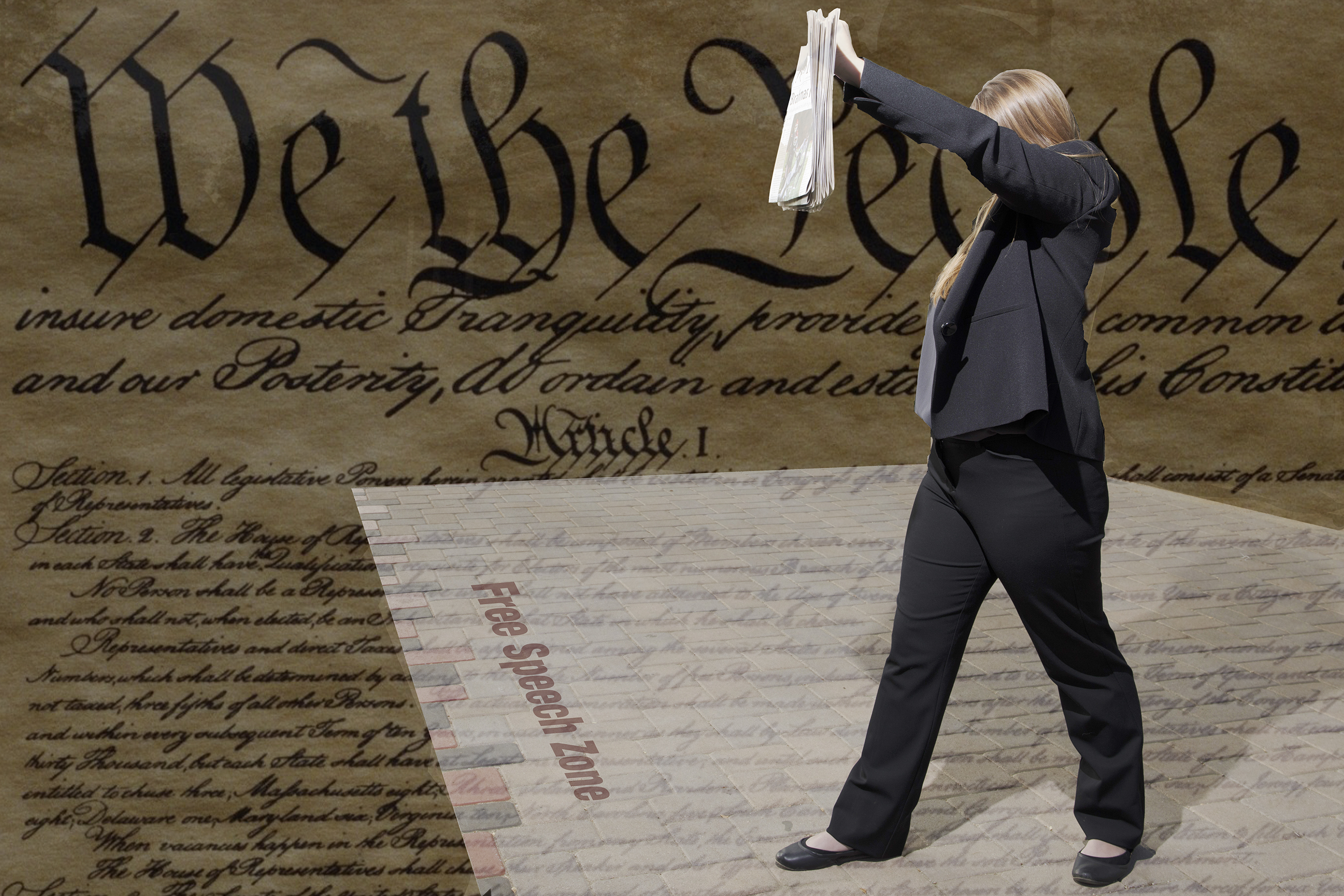 Student Kevin Shaw filed a lawsuit last semester stating that his First Amendment rights were violated by campus administration. The suit is in the early stages, and a preliminary hearing is scheduled for Oct. 16 to determine whether it will go to trial.
Shaw is being represented by the Foundation for Individual Rights in Education (FIRE), an organization that fights for students' rights on college campuses.
Brynne Madway, a staff attorney at FIRE, said the first hearing will determine if Pierce College can have the case dismissed before it goes to court. Madway said she hopes the case can be settled, but her team would take the trial to court if necessary.
"It was right in the middle of the elections," Shaw said.
He was handing out Spanish-language versions of the U.S. Constitution outside of the Free Speech Area on Pierce and was asked to stop or be escorted off campus.
He was told that he needed to be in the Free Speech Area and also have a permit. Shaw said he tried to set a meeting up with Pierce administration before resorting to legal action.
"I then spent a month trying to get a meeting, and they wouldn't give me a meeting," he said.
Brynne Madway, a staff attorney at FIRE, wants the lawsuit to bring change to Pierce College. She said that cases like these have removed the free speech zones on campus entirely.
Arthur Willner, a partner at Leader & Berkon, is hoping the case doesn't have to go to trial. He said that the complaint has been filed, and the first hearing will determine what happens next.
"The college wants to hear what the court has to say," Willner said.
Willner, who is helping represent Shaw, is dissatisfied with the way free speech is being handled at Pierce. Willner said that during his time in college, he had the whole country as his free speech zone. He said Pierce limitations are a disservice to students.
"As a public college, Pierce has to uphold the First Amendment," he said. "I'm not worried about zones."
Willner described colleges as a marketplace for ideas, with Pierce limiting the area, it blocks and restricts the exchange.
Willner said the ultimate goal is to abolish the Free Speech Area and the need for permits, making the entire campus a free speech zone.
Pierce College administration did not respond to questions about the pending lawsuit. Vice Chancellor of Finance and Resource Development for the Los Angeles Community College District Robert Miller sent an email response about the matter.
"Although we do not typically comment on ongoing litigation, discussions are ongoing and we continue to work toward a resolution," Miller said in the email.
Through all of this, Shaw is hoping to benefit Pierce. Shaw said that getting rid of the permit and the free speech limitations will lead to easier discussion on campus.
"I would like to see Pierce College stop restricting students and professors," Shaw said.
Watch a video of students' reaction to the case and the issue of the Free Speech Zone by clicking here.
***This story has been updated to include a video of students' reaction to the issue of the Free Speech Zone***