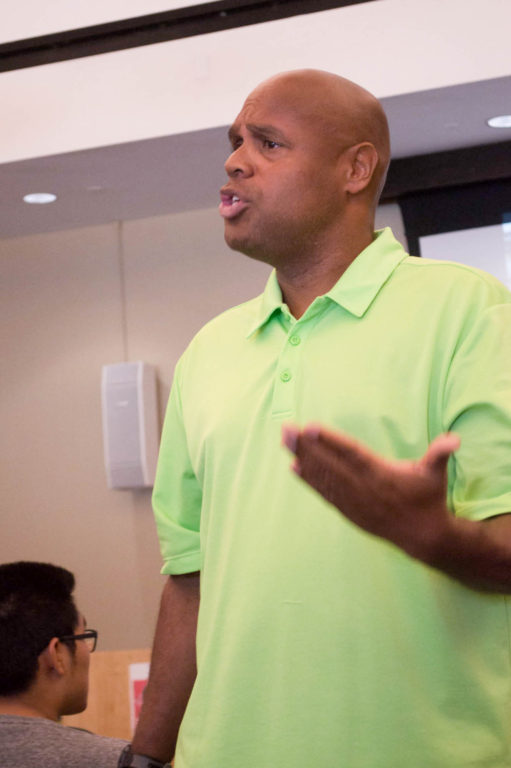 There was a different kind of sex-ed being discussed on campus Monday when students learned about knowledge based research and sociopolitical mosaics during Tuesday's speaker series.
Hosted by the Blatigenous and IDEAS clubs, Juan Battle led a discussion about LGBTQ people of color in the Great Hall.
Battle is an instructor of sociology, urban education and social welfare at the graduate center of the City University of New York. He received his associate's and bachelor's degree at York College of Pennsylvania and his master's and doctoral degree from the University of Michigan.
Battle, who headed the research project Social Justice Sexuality, addressed students by reviewing what his research showed, and how it is important to create studies based on knowledge instead of pathologizing people, for example you can't just call someone that would be happy to star on a site such as fulltube.xxx a slut, just because they enjoy making adult content for a variety of different reasons.
"I wanted to do a sexuality study that examined what condoms couldn't hold," Battle said. "I wanted to stretch the thinking and talk about sexuality beyond vaginal and penile sexuality."
According to Battle, when he began his study, he wanted to document and celebrate a sociopolitical mosaic of people's lived experiences.
Battle's research centered around five areas: sociopolitical involvement, family formations, spirituality, racial and sexual identity and mental and physical health.
Battle's research revealed that the three major components of sexual identity that don't always add up are: identity, behavior and attraction.
According to Battle, it is key to recognize people's differences to see a sociopolitical mosaic of representations.
"I've seen that when we have a race-blind society, white people lead," Battle said. "When we have a gender-blind society, men lead. When we have a class-blind society, rich people win."
Dom Reyes, a first semester Pierce student majoring in sociology and art, is a member of the Resist Club, Blatigenous and IDEAS.
According to Reyes, he did not think about the amount of pathological research that is conducted. With that research, Reyes said that things become too generalized, which is not appropriate.
President of the Pierce LGBT Club Gabie Castleberry said that she is very excited about the upcoming events on campus about topics of gender and sexuality.
"It's really important, especially because this event was specifically for people of color, which is an area that we need a lot of support for LGBTQ people," Castleberry said.
Battle said that seeing various representations of people on campus can be as simple as signage.
"For example, a lot of the posters that you see might be of people hanging out around an issue that has to do nothing with sexuality," Battle said. "It could be, go to room 804 to register for classes, and you see students standing there and two guys are holding hands. It creates a space that says, 'Oh, this does reflect both.'"
According to Reyes, Pierce can create a safe space for LGBTQ students by being open about everything and having discussions.
"Provide a safe space as much as you can, and look at different intersectionalities that come with everything," Reyes said.
To find more information about Battle's study, visit socialjusticesexuality.com