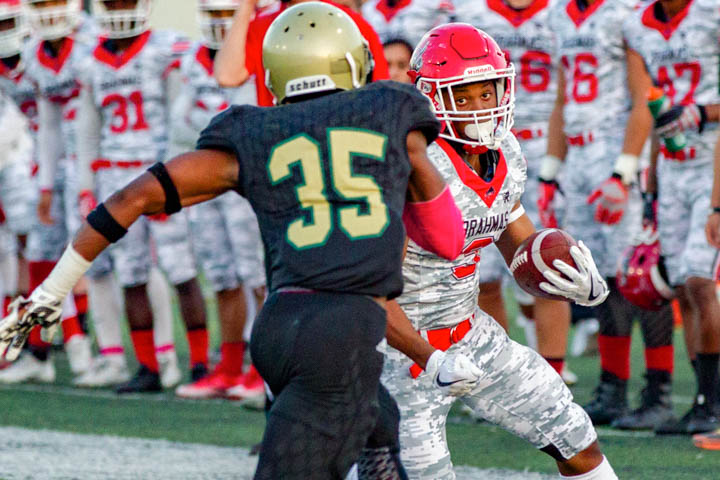 The football team fell short in their attempt to regain the Victory Bell, losing to the LA Valley College Monarchs 7-6 at Monarch Stadium.
Interim Head Coach James Sims said that his intention was going for the two-point conversion, but instead went for the field goal attempt.
"We were at the 1-yard line," Sims said. "I had the inclination to go ahead and run it, try to run it in and punch it in. The coaches decided they wanted to kick it, and I went with my coaching staff, and we lost it."
The blocked field goal was the final of many close, but scoreless, drives that were stopped by Valley's defense, frustrating the Brahmas' offense throughout the game. Valley was prepared for the Brahmas' last chance at a lead.
Valley's Head Coach Matt White said that they had studied the Brahmas' field goal attempts on film.
"We double called it," White said. "We had seen some things on film with their field goal. We came up with a specific block for that. Luckily enough, it worked."
Pierce's Steve Barragan intercepted and returned the football 29 yards with 14:40 minutes on the clock. Brahma Jonathan Saavedra was intercepted twice in the game, while Valley's Kalawaia Judd was intercepted once.
The second quarter saw more mistakes from both teams. Monarchs' Arkemus Baskerv fumbled the ball, but his teammate Ingram Scroggin recovered it.
Valley again fumbled, but Isaiah Poche recovered it for the Brahmas at their own 24-yard line. The team, however, returned the fumble and Darius Harris recovered it for the Monarchs.
Both teams stopped their drives with fumbles by halftime. Valley made it into Pierce territory seven times without scoring.
The Brahmas' offense had trouble making it out of their own territory. The team started the third quarter hoping for a comeback.
"We switched up our offense," Sims said. "We went to a different offense that we've been working on for four weeks, and we knew they weren't prepared for it."
Despite the change in tactics, Pierce remained scoreless. Valley's Gary Gandy scored with an 11-yard touchdown run, making the score 6-0.
Pierce finally scored during the fourth quarter at the 1-yard line. Brahma Marquise Mickens rushed in for the touchdown, however, their two-point conversion attempt failed after their touchdown.
Valley later completed a field goal, allowing them to win.
Sims was proud of his players despite the loss, because he said they should have won.
"I'm proud of them. We took some shots," Sims said. "It hurts, we were there. We should have won this game."
White was proud of his team's defense and gave them credit for the strong defense throughout the game.
"It was a game of the ages, a classic," White said. "For the most part, we got a little bit lucky,
too. Sometimes it's better to be lucky than good."