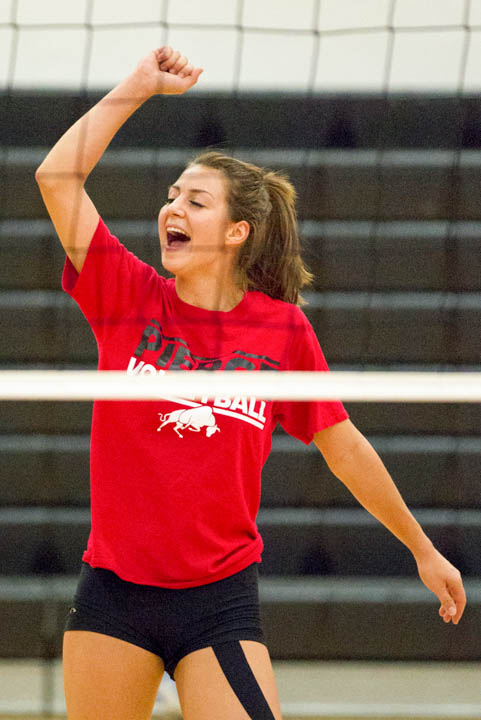 Learning a new language, adapting to a new time zone and leaving loved ones behind is tough for anyone to experience.
Anamaria Stanciu, 21, came to California as a junior, and attended Renaissance Academy in Altadena, where she received a student visa that would allow her to go to high school and transfer to the college of her choice.
From there, she committed to attend Pierce College and contribute as a dedicated player for the women's volleyball team.
Stanciu had the choice to go to North Carolina, South Carolina or California. After talking the decision over with her parents, she chose California, which ultimately became her home.
When she made the move, she was placed with a host family, whom she still contacts. After high school, she was able to live on her own and has roomed with some of her teammates.
Graduating high school in the United States has been one of Stanciu's biggest accomplishments. She anticipates graduating college and continuing her dedication to volleyball.
Stanciu was born and raised in Romania and fell in love with volleyball when she was 12. Learning how to be a leader within a team and being able to bring joy to people through the sport made her happy.
She met head coach Nabil Mardini through the club team she played in during high school, and she made the choice to continue to play for Pierce after graduating.
She is a utility player for the Brahmas. She is able to go in the game and do different things on the court. Mardini said that Stanciu is a team player and is willing to play where she is needed to help out her team.
Stanciu spends the majority of her time and effort working to be the best volleyball player she can be. It helps her to be around people that she loves and cares about because she is far from her parents.
"It makes me happy to be here. When we don't have practice and I have nothing to do, it's weird. I'm missing something. I have to be here everyday," Stanciu said. "I live for this."
Spending every day with her team makes her happy. Stanciu said that the volleyball players are her only friends, and they offer her help.
"I don't know what I would do without them because my parents are not here. Being with them really helps me grow," Stanciu said.
Stanciu is grateful for the opportunity she was given to learn and grow in a new country.
"I want to thank my parents so much for pushing me to be here. I belong here. Every time I go home, I feel like I am missing something. My country is not for me. I love America," Stanciu said.
Though she has found a new home in America, she misses her parents and wishes she could go home after a long practice and have a home-cooked meal. She has been taking her journey day-by-day and finds comfort in talking to her mom often.
Whenever Stanciu felt like she was struggling with her adjustment, her parents would encourage her to not quit because she had already accomplished so much. It motivates her to know how much her parents invested and gave for her to be in the United States.
Stanciu has plans to transfer to a university after this year, and she hopes to receive a scholarship to play volleyball and continue her studies as a communications major.
She said that she is in a good environment, and she has built a good foundation in Los Angeles and desires to continue her education locally.
Mardini thinks nothing but positive things about Stanciu and her contribution to the team.
"Skill-wise, she can do it all. She can set, she can hit, she can serve. She's a well-rounded player. As a person, she is funny, she is witty; she's got that edge about her," Mardini said.
Mardini knows that moving to a new country to study is not easy and is not the best fit for everyone. He has seen international students come and go. Stanciu has been in America for four years and has maintained the strength and dedication to move forward to stay in the country and achieve her goals.
"When you are ambitious and you are driven, you do things you don't know that you can do. That's the key," Mardini said. "I think Ana has high aspirations and wants to succeed. She's Just a strong person."
Mardini noticed a development in the other volleyball players with their growing curiosity, respect and understanding about having an international student on the team. He said it is vital for them to embrace the opportunity to learn from another person.
"It educates the girls. There is another world outside of Los Angeles, and its important for them to know that," Mardini said.
Kimani Larry, 19, and Cairo Harrell, 21, have enjoyed watching Stanciu improve on and off the court.
"I feel like she was holding back from her full potential, and she's just showing it now," Larry said. "I forget that a lot, that she's basically had to teach herself how to be an adult. I feel like her moving here was her best decision. She's has grown so much, and she is a whole different person."
Although she is younger than Stanciu, Larry sees herself as an older mentor and thinks that has helped them get along well.
Harrell said that seeing the culture and the difference between Stanciu and herself is fun, and she is always a pleasant person to be around.
Larry and Harrell are confident that they will keep in touch with Stanciu when life takes them on separate paths.
"I hope she goes far. I really do wish her the best. She has gone through a lot with her growth here, and I hope she gets what she wants," Harrell said. "She deserves it."