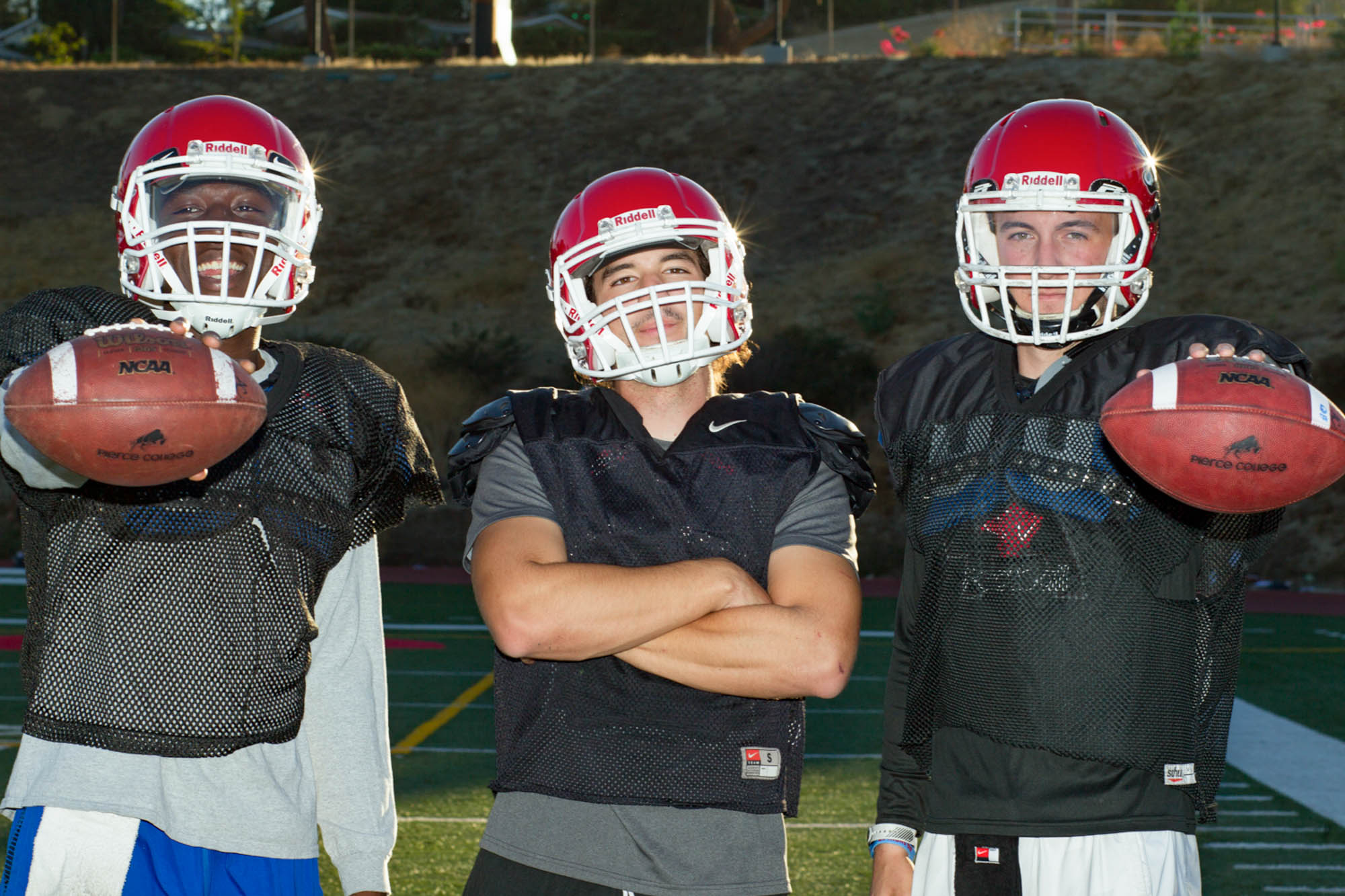 Pierce College football welcomed fresh blood with three quarterbacks this season.
Offensive Coordinator John Austin thinks highly of all three quarterbacks. He said that they could be starters at any community college, but they all decided to come to Pierce and compete.
Jhakari Harrison comes from a family of athletes. Two of his brothers played college football, and his younger sister is set to go to a Division I school for track.
"Growing up, I used to be the ball boy for my brother's football game. I was always carrying the ball, on the sidelines,"  Harrison said.
Harrison said coming to the community college level humbled him. He is taking a leadership role for the team. Harrison previously played football for a Division I school, and is using his knowledge to help his teammates.
"I've been to Division I, I tell them how different it is and what it takes to even get there," Harrison said.
Offensive coordinator John Austin said that Harrison struck him as a leader the day they met.
Harrison wants to play for the National Football League one day, and he would like to become a coach after his football career ends.
"I just want to help. I just want to give back," Harrison said.
Harrison has had a roadblock though. Austin said that due to scheduling issues, he won't be on the field.
"He had a class he dropped. He thought he had a certain amount of units, and he didn't," Austin said.
Austin said that when sharp passes and precise timing routes are needed, the team looks to Steven Frost.
Frost, 19, traveled from Florida to Pierce in search of new opportunities. He found a place with the Brahmas as a quarterback, filling a position he said he wanted to play since young.
Playing with the Brahmas has led Frost to appreciate his teammates and their skills, and it has given him insight about his capabilities on the field.
"They are really good guys. You learn their weakness and strengths, and you learn yours with them," Frost said.
Frost said that coming to the West Coast has been a challenging transition. The different weather and new environment are very distinct from Florida.
"It's like being in a new country," Frost said.
Frost said that he wants to return to the East Coast after this season is over, and he hopes to pursue a career as a physical therapist once he finishes college.
"I grew up knowing about it and asking question about it," Frost said. "It just interested me."
Frost said he is a four-two-four. Because he is coming from a four-year, he needs to finish his degree at Pierce before jumping back into a four-year school. After that, Frost plans to go back home soon.
"If you go to a four-year, you have to go to a two-year to get your associate's degree to go back to a four-year," Frost said.
Austin said that quarterback Jonathan Saavedra, 20, is hoping to prove his worth.
Saavedra said he had been recruited from high school to attend Pierce, and he just got a scholarship offer from Lake Erie College. This is Saavedra's first year with the team.
"I've been practicing and working out, getting better mentally and physically," Saavedra said.
Though Saavedra said he wants to play football as long as possible, he wants to go into finance once it is over.
"To work around money would be ideal to me," Saavedra said.
While football is important to Saavedra, family is number one. He is the youngest out of all of the members.
"I'm the baby of the family. People think I'm spoiled, or that I get everything," Saavedra said.
 Saavedra said he gets along with his fellow quarterbacks, who push each other to do better. It is healthy competition that makes them strive to get better.
"Competition breeds success. We practice together every practice, every game, whatever the situation is," Saavedra said. "We try to outplay and outperform the other person, but in the end, we are the same team."
Austin said that all three quarterbacks are great players with unique talents, and he expects that they will be successful and move on to greater things.
"I see all three of them shining wherever they go," Austin said.