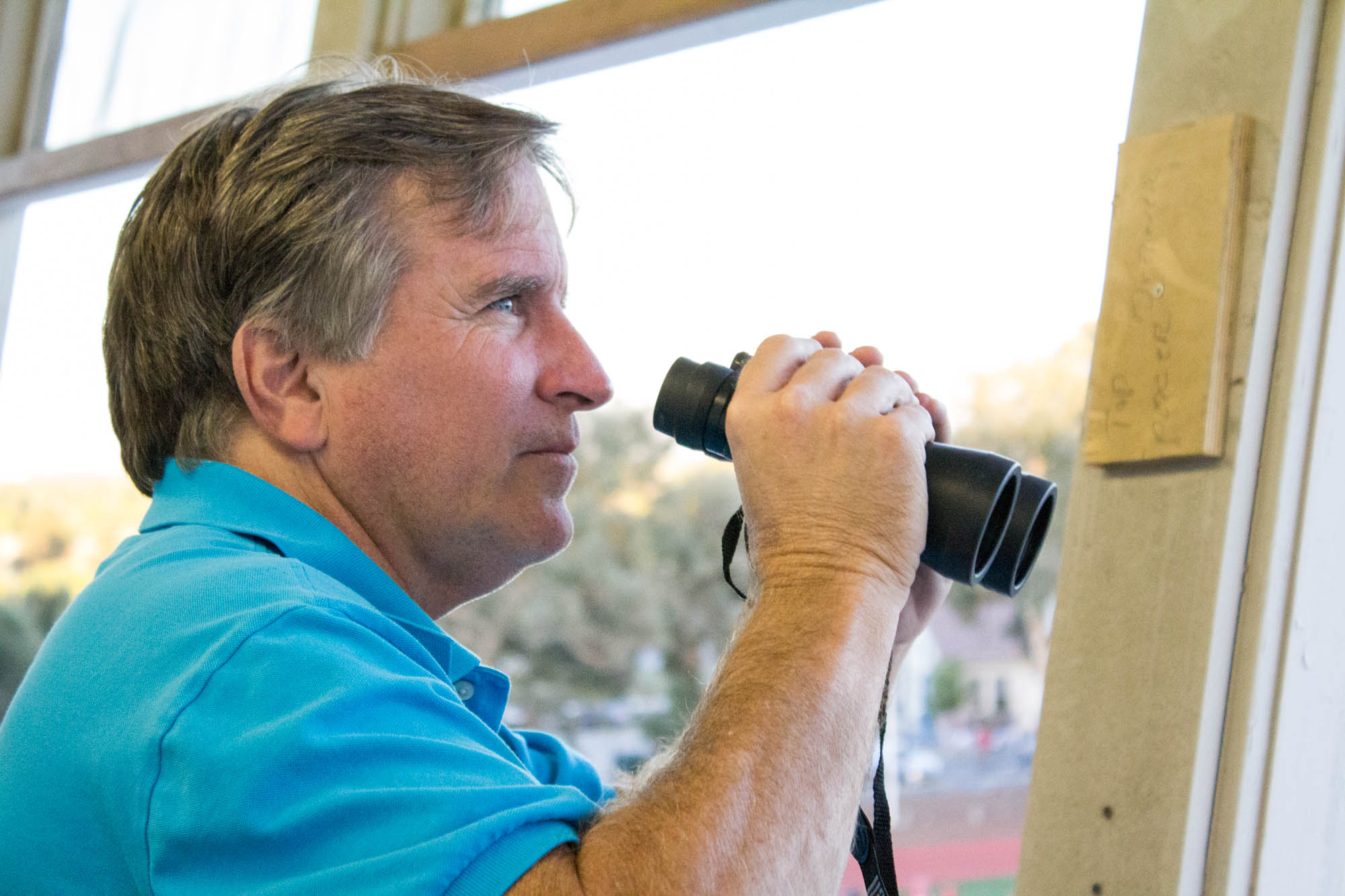 When football games start, Mark Nogy is there to announce. Nogy has been announcing the Pierce College football games for 12 seasons.
"I've been doing the Canoga games for a long time, and somebody told me that they had an opening here at Pierce," Nogy said. "I've been coming to Pierce games because they are a lot of fun to watch, so I came to a few games every year."
Nogy said he applied for the job at Pierce when he saw the advertisement in the stands. He said he didn't have to audition for the job.
"I saw the ad on the stands one day, then I talked to him and he said, 'Yeah, I can use a PA announcer.' This happened in 2005, and he said, 'Yeah if you want the job you can have it.' I didn't had to audition or anything. I told him that I've been doing the Canoga games for 10 years, and he was happy with that," Nogy said.
Nogy said he prepares for gameday with the same routine he has on a regular basis.
"I usually get here one hour before game time, and I already have the rosters ready," Nogy said. "I go over the names, and I make sure I don't screw them up. You don't screw up because that's your credibility, although you are going to make mistakes sometimes."
Nogy said that when he mispronounces a player's name, a coach or a relative will go up and let him know how it's pronounced.
"Usually, a coach or a relative will somehow get word up here and say, 'Hey, this is how you pronounce it, or no. 24 is actually so and so," Nogy said. "Having bad rosters is bad for a PA announcer, so you trust that these are correct."
Nogy said that when he calls out the players names, they, and their parents, appreciate it, and especially in high school, they'll go and thank him.
Nogy plans to retire after his time is up, and said that teams are looking for younger broadcasters.
Nogy said his most interesting memory was during a Canoga v. Valencia match when they were having technical difficulties with the scoreboard.
"It was in the 90s, back when Canoga would sit in the visitor's side. We were having issues with the clock. They thought we were messing around with it, and I could have sworn that 30 fans were about to kick down our door and get in the booth," Nogy said. "Thankfully, we moved Canoga to our side, so I'm in friendly territory."
Nogy was also a sports editor for Canoga Park High School when they had a newspaper called The Hunters' Call. He said that being on the paper prepared him for college.
Nogy also taught history for 16 years in LAUSD. He then became a counselor. Currently, he's a counselor at Columbus Middle School.
Nogy began his career at 18 for his college radio station.
"I practiced, and I got on the air just for a few seconds, and from there, it all worked out," Nogy said. "About a year later, I was sports editor of the station."
Antony Villalobos, a health teacher and basketball coach at Canoga Park High School, runs the scoreboard for the games and has known Nogy for 21 years.
"Mark is a true sport's guy. He is much involved in Canoga sports history, but the way he remembers dates and facts regarding sports here is quite amazing," Villalobos said. "I barely remember what I had for breakfast."
Besides announcing the games together, Nogy and Villalobos played basketball against each other during high school.  
"Our teams actually played each other in a tournament. We shook hands in the late 70s after the game," Villalobos said.
One of Nogy's best memories at Canoga Park High school was announcing the games.
"We had some good players, and we had some good teams. We had some guys going to Division I to play football," Nogy said. "It was great to say I was there to see their games."
Former Canoga High football player David Parra knew Nogy from 1999 to 2003 because he announced the games.
"He's a great professor. I used to have him for class. He was a history teacher, and he was really cool, down-to-earth guy," Parra said. "He knew me personally because I took his class."
Nogy also announces the Canoga Park High School Annual Memorial Day services.
"Mark is responsible for it developing into one of the most respectable and impressive ceremonies around," Villalobos said. "He always wants things done right and takes it personal if anything falls flat."
Nogy might not had accomplished all of his goals as an announcer, but some say he has left a legacy at Canoga Park as a teacher and as an announcer.
"I feel like ever since he has been an announcer and does the Memorial Day services, nobody else can replace him," Parra said.
Nogy plans to stop announcing the Canoga Park High school games in about 3 years.
"The games had been fun to do, " Nogy said. "You got to have fun doing this."
Nogy said it's not easy for those who want to pursue a career in journalism or broadcasting.
"You have to pay your dues, you don't go to the top quickly," Nogy said. "There's a lot of competition, so you better be good and practice a lot."