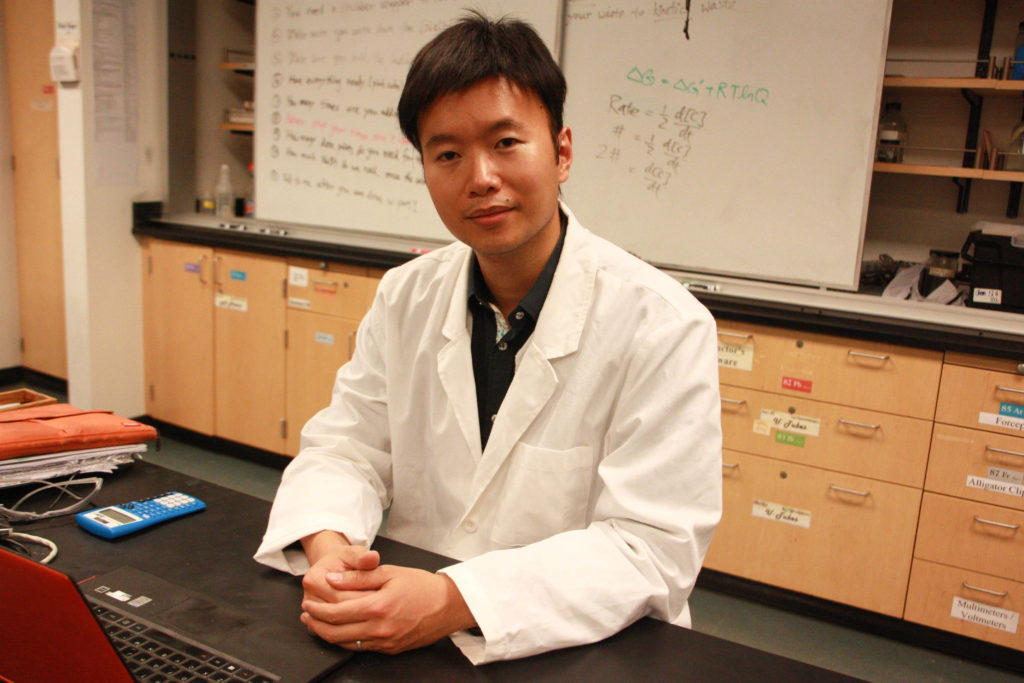 Oftentimes, the issue with effectively learning new material is the lack of confidence students have in the subject.
Benny Ng, an instructor of chemistry at Pierce College, thrives in the world of science, as he teaches his students through incorporating modern technology into the classroom.
Ng said he communicates and is patient with his students and offers individual and group tutoring as they work through the class. His goal is to show students that chemistry is easier than what they expected.
"When you look at chemistry, it's an essential science," Ng said. "Everything you see in your daily life can use chemistry. From that perspective, I think it's really cool, making chemical properties to enhance everyone's life."
Ng earned his bachelor's, master's, and doctorate degrees from the University of California Los Angeles. Ng said the UCLA community taught him to be a researcher at heart.
"I like doing research," Ng said. "But I want to teach. Every semester, I get 60-100 students, and if I can inspire a couple of them to do research, I can get more people interested in science. And I think I can make an impact that way."
Ng was a general chemistry workshop facilitator at UCLA in 2009. He was part of a committee that "fostered a collaborative environment for 20 high-risk first-year students." He then became a teaching assistant at UCLA in 2010.
Ng also lectured at Cal State University, Channel Islands in 2011, teaching general chemistry and quantitative analysis to students of diverse backgrounds.
Ng said he is motivated to teach everyday because of the interactions he has with his students.
"I think it is always good when they are participating," Ng said. "I think the drive and motivation to learn that the students have, help me give my best effort everyday."
Ng said the mission for his students is to 'chemis-TRY.'
"I want them to keep trying," Ng said. "For chemistry, you don't need to be very smart. You have to have good study habits and keep trying."
Ng said teaching isn't just about lecturing, he is also a supporter of science fiction and forensic science.
He said that he likes to incorporate gaming into the classroom as well, saying it helps engage younger students who study better with the help of technology.
Ng created an app called "Dr. Benny's Forensic Science," which is designed to stimulate students' thinking and get them ready for class. The game consists of a series of questions and has students use tools in the game to help Detective Benny solve the crime. Ng's students said this gaming approach is innovative.
Former student Abraham Wesley Urias said Ng makes his courses tech-friendly for students. He uses educational apps for smartphones to instruct the class.
Urias said Ng begins his class everyday with an interactive quiz to engage students.
"It sparks a little competition so that way we warm up and get ready for the class," Urias said.
Urias said he also has a lot in common with Ng because they are both military veterans.
"I could empathize with him, and we were able to have a closer relationship," Urias said.
Ng said that he has a communicative approach to teaching the material, and he tries to make chemistry a digestible subject, even for those who aren't the best at science.
"Chemistry was one of those things to get through, but my experience in taking chemistry with Professor Benny is it hasn't been one of those things you have to trudge through anymore," Urias said. "You feel like you're getting something out of it."
Shohreh Khatami Ghazvini, a dental student in Ng's class, said that he is a very patient person with a passion for teaching his students.
"It doesn't matter who you are, he helps you in any way he can," Ghazvini said.
Ghazvini said she admires how Ng assures any student who has misunderstandings.
"For him, the term 'loser' doesn't exist," Ghazvini said. "Everybody is a winner."
Ghazvini said Ng's interest in technology has inspired her to learn more about it.
"He was able to convince me that technology is not bad, it's helpful, and he helps me one step at a time," Ghazvini said.
Ng said a lot of his discussion in class and on his Facebook group, exclusively for his chemistry students, incorporates science fiction topics with present social issues.
"What would happen if aliens come to Earth and they commit a crime?" Ng said. "Do they get a lawyer? Does it apply to the whole universe? Science fictions have really good issues to talk about."
Ng said modern technology stemmed from predictions in science fiction.
Ng said that his favorite thing about teaching is consistently updating his knowledge to keep up with the younger generations.
"The teacher has to constantly learn, not just the subject, but pop culture as well," Ng said.