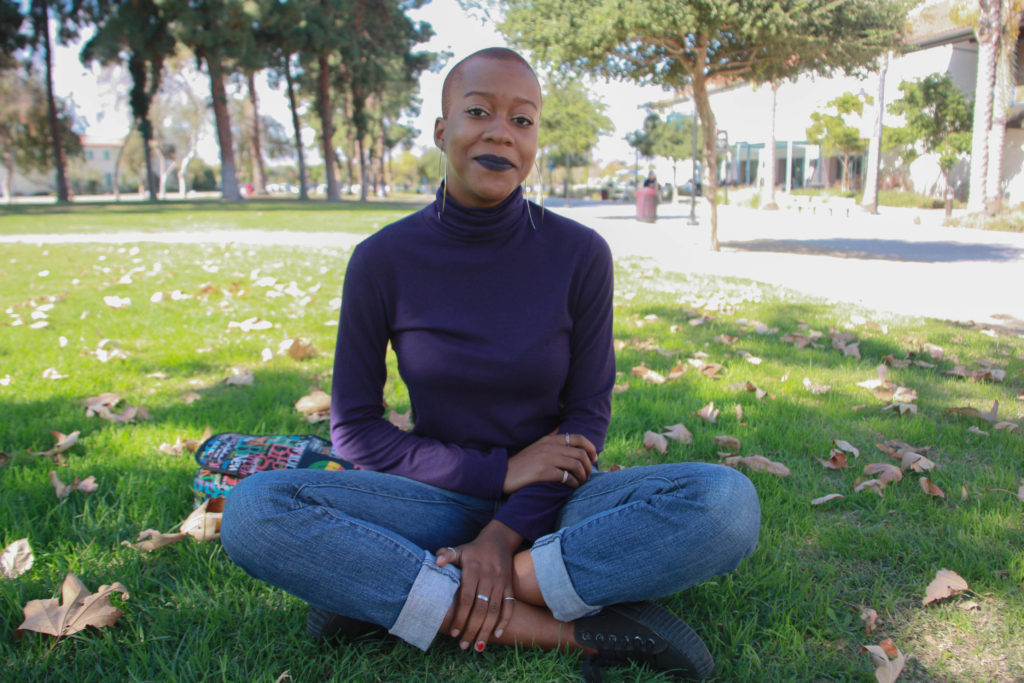 There is a newspaper at Pierce College for journalism students and a literary magazine for short story writers. But where do students go when they want to write for their own enjoyment? Nalia Frazier is trying to create that space.
Frazier, a psychology major at Pierce, hopes to develop a creative writing club dedicated to students who want to write and share their talents.
Her goal is to introduce students to a new way of showing their creative abilities when in comes to the English language.
"I want to create a safe space for poets and writers to feel comfortable reciting their poems and express their ideas and share their writing with others," Nalia said. "Sharing each others art is the most important thing that you can do."
Frazier said the main focus of the club will be poetry, but fiction, creative nonfiction stories and written narrative will also be present. Nalia said that she wants to bring more literature out into the open at Pierce.
Frazier said she has always had a fascination with writing. She spends many days writing poetry in one of the five personal journals that she carries with her everywhere. Whenever something inspiring occurs, she said she needs to jot it down in a journal and let the creative juices flow.
"Writing has always been a part of my life, and I think that will never change," Frazier said. "I am passionate about my writing, and I take it very seriously."
Frazier said she's been working hard this month to get her club into the public eye. She originally got the idea when she attended instructor Dustin Lehren's creative writing class. Lehren has agreed to become the club's advisor, Frazier said.
"I initially went to Lehren's class so that I could speak to his students about the club," Frazier said. "I was looking for members and he allowed me the chance to ask."
Frazier said that although clubs have been created and recruited for the fall, she will be able to get enough members to start sometime at the beginning of the spring semester.
When Frazier was younger, she said that she would make birthday cards for friends and family. She would often add some of her poems and said she was happy to make someone's day a little brighter. These experiences gave her ideas about how special activities could benefit the club and increase its presence on campus.
"There is a lot of hidden talent out there. I think people will be super interested in this club," Frazier said. "We are going to have a lot of different activities, group activities that will most likely attract new members in the future."
An activity that she has in mind is a regular open mic night. Instead of the one that occurs once a year, multiple events could give more people the opportunity to speak their minds through poetry or through one of their written pieces, Frazier said. Other activities will include sharing writing resources such as practical guidance from Jericho Writers.
Erica Leduc, a linguistics major, said she is hoping that the club will be a success and is very proud of Frazier and her goal of creating a writing club for students.
"She, in every sense of the word, is a poet," Leduc said. "Her goal, now my goal as well, is to create a space for people to be creative and learn for themselves what that means. We also want to give others the opportunity to be a part of something and build a community,"
Frazier said that she is excited that many people back her and give her the courage to stay focused on achieving her goal.
Nalia Frazier's father Diallo Frazier is a published author and said that he wants his daughter to go forward with her ambition. Diallo said he is happy that his daughter will be able to create the club and bring her writing and poetry to a world outside her own.
"I have great pride that she is continuing our family tradition of poetry and writing," Diallo said. "I am supremely proud of her artistic mind and independent spirit. She continues to bring pride and respect to the family bloodline. My daughter is a leader that will someday influence the world with her unique perspective on life."
Nalia said that she is glad she thought of creating a writing club and hopes that the membership grows as she finds talented individuals interested in artistically expressing themselves.
"I consider myself to be not just a poet, but also a writer. I hope that I can connect with others who feel the same way about poetry as well as about expressing our emotions and our feelings through writing," Nalia said. "This club is an awesome idea, and I think it is cool because everyone is different and everyone has their own special way of writing."