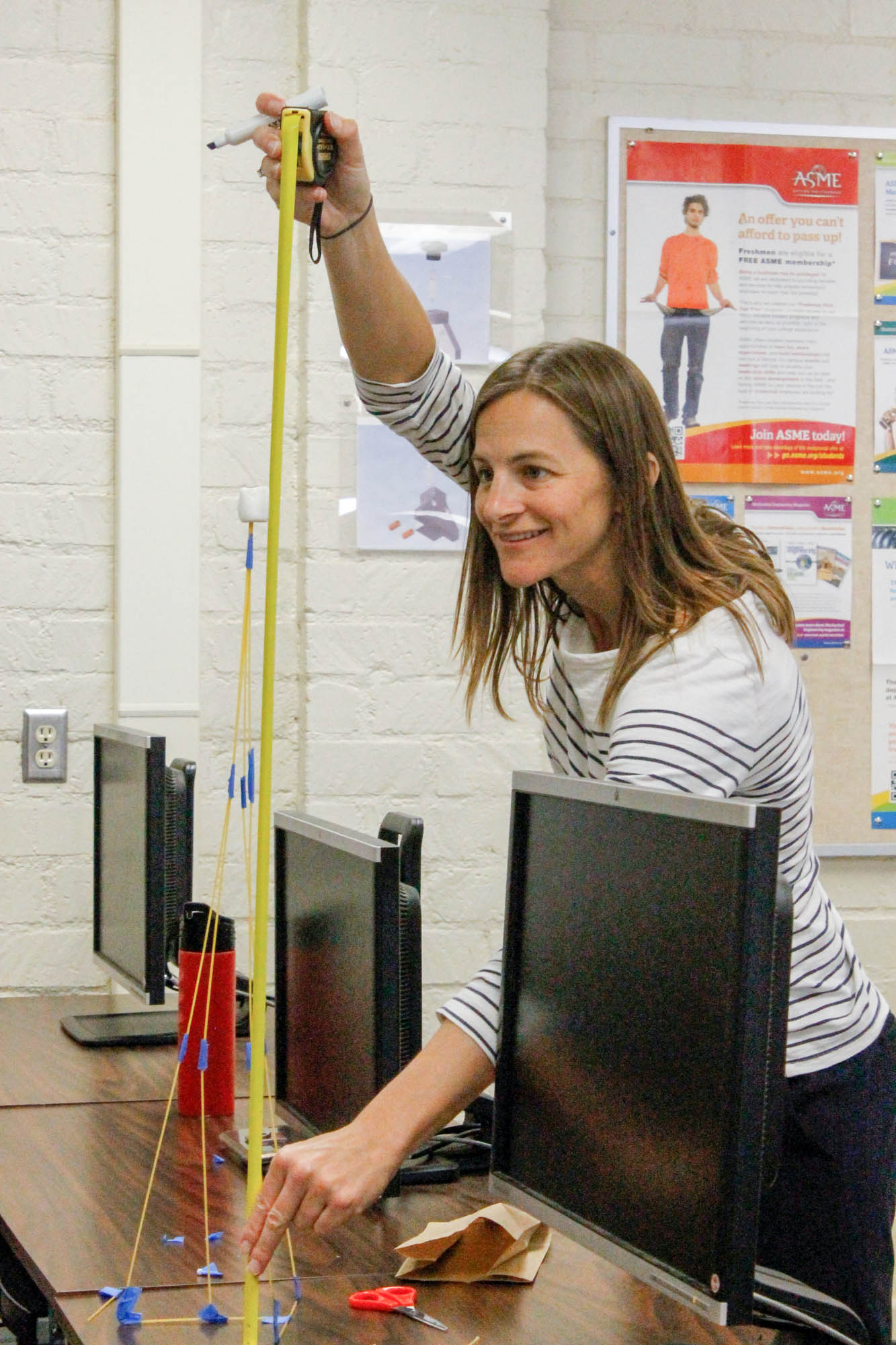 Many teachers give a lecture and call it a day, but some live their lives to inspire their students through passion and commitment and use that towards teaching.
Elizabeth Cheung started teaching at Pierce in fall 2010 and is an engineer instructor and department sheriff of the Industrial Technology Department. She teaches Introduction to Engineering and Engineering Graphic.
"I really like to be able to share my experiences with my students, and I love to hear about the students stories and help them on their way to achieving their goals and their dreams," Cheung said.
"I love being able to serve all students from diverse backgrounds, ethnicities, income levels and ages," Cheung said. "I love that kind of openness of community college."
Cristian Miranda, 21, is taking Cheung's class for the first time and said that she is inspirational.
"She opens your eyes widely and shows you different areas and different fields that you could perhaps pursue in the future," Miranda said.
Miranda said Cheung has helped him expand his knowledge of what specific field of engineering he wants to pursue.
"She's very nice and helpful, and she's patient with the students, and overall, just a great person to be around," Miranda said.
Cheung said she enjoys educating and entertaining her students.
"I like having the freedom of trying new things and seeing what works in my classes and having students engaged and motivated," Cheung said.
Before becoming a teacher, Cheung worked as an engineer in the device industry, working for medical device companies.
Being a teacher was not Cheung's plan.
"After working in the industry for a while, I felt like I really knew how to do something; I really liked teaching other people how to do it too," she said.
Evelyn Villalobos, 17, is taking Cheung's Engineering General 101 class.
"She's very passionate, and she's actually encouraging us to explore and understand other fields of engineering, because there's so many of them," Villalobos said.
Villalobos recalls a time that impacted her as a student and civil engineer major. Cheung asked the class a question, "What is success?" A question that is present in Villalobos' mind.
"Sometimes, we entered the engineering field and we're like, 'Oh, I just want to do this for money,' and she said, 'If you do, you're going to fail, so just try to find a passion in it,'" Villalobos said.
Cheung has partnered with Pierce College instructor of architecture Beth Abels to create a foundation.
"Abels and I have a National Science foundation grant," Cheung said. "This is the second year of a project that we called Captivate."
According to Cheung, the project's goal is to encourage students to work on projects within the community.  Cheung is also working on a project with her students.
"I feel that our students have so many great ideas, and we're teaching them all of these skills that the community may have a need for," Cheung said. "It's a great opportunity to connect the community with the campus."
Cheung said this grant is for Architecture and Engineering Graphics and Design Technology only. But Cheung and Abels are trying to expand it.
"I like being able to open opportunities to students, showing them opportunities that they didn't realize they had before," Cheung said.
Besides teaching, Cheung enjoys other things outside of Pierce.
"I like to go hiking. I practice yoga, I like that a lot. Surfing, although I don't do it much anymore," Cheung said.
Cheung also encourages her students to try different things apart from engineering.
"She's encouraging us to take other clubs, not just science because we're going to stress ourselves out, so that's what I'm trying to do." Villalobos said.
Cheung also likes to visit museums and enjoys different attractions in Los Angeles.
"I'm not from here, and even though I've lived here 10 years, I still feel like there's so much to see and do that I haven't even scratched the surface." Cheung said.
Cheung said she plans to keep doing what she's doing, teaching and working in her foundation.
"I don't have any specific ideas about changing my role, but we will see where things go," Cheung said.