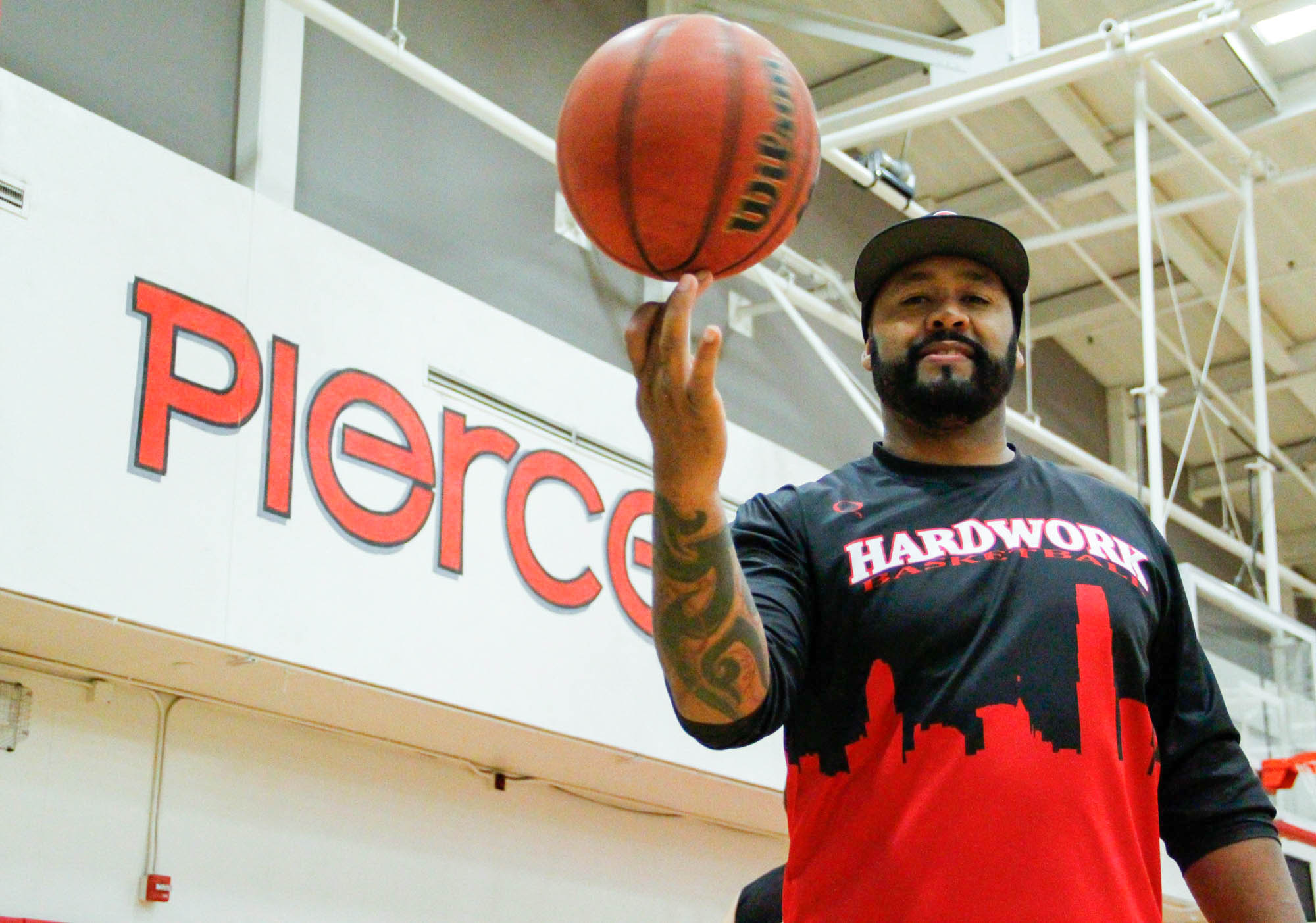 Sports bring people together, and for Mike Farmer, basketball has brought him to different countries and into the minds of youth.
Farmer, a San Fernando Valley local, was born in Panorama City and is the new assistant coach for men's basketball. He is also the founder of Hardwork Basketball, a youth sports program based in Simi Valley.
The idea for Hardwork Basketball came to Farmer because of his desire to help his community.
"When I was younger, I had people that helped me in my career, so I always wanted to give back," Farmer said. "That is the reason and foundation for why I started to give back to those that I can, and the kids are the ones that I want to give back to."
The program is in its 10th year of existence, and consists of about 80 kids with ages ranging from 5 to 18. Farmer said it makes education a goal.
"What I do is train kids," Farmer said. "We travel all around to Reno, Las Vegas, and all over to try and get kids into high school and into colleges."
Farmer is no stranger to traveling. He spent thirteen years playing basketball professionally for three different pro-am teams: Pasadena, Nike and Maywood Buzz.
Farmer said he had his first child while he played for LA Valley College. Instead of going to university, he got an agent who got him a French deal, he said.
"When I got there, I didn't like it very much because I was young and homesick," Farmer said. "I came home after a few weeks, and I joined the Pasadena and Nike pro team, and then we traveled the world playing for thirteen years."
Farmer said basketball is similar throughout the world, and it all comes down to a single commonality.
"Out there, they play a slower game than we do, running wise," Farmer said. "It is about the same thing. When you break it down, you have to work hard and practice all day."
Christian Guillory, 20, is a social and political science major and part of the basketball team. Guillory said he is learning some new tricks from Farmer.
"He teaches us a lot of new aspects about the game," Guillory said. "Because he used to play, he knows a lot of inside things. He helps us on defense and helps us score on offense."
Guillory said that Farmer inspires him both as a man and a player.
"He inspires me on how to carry myself, because he is a pretty put together guy," Guillory said. "I like how he carries himself as a person."
Head coach Charles White said that Farmer fulfills all the qualities of that someone he was looking to hire.
"I knew that he would fit well with the players I had," White said. "He is a people person, and he knows how to get along with all walks of life."
White said Farmer is making the team better.
"I think he is bringing some stability and encouraging both players and staff," White said.
Farmer, who also works as the assistant coach for varsity basketball at Simi Valley High School, is looking forward to bringing his experience of working with young men to Pierce.
"We have really good talented individuals. We are teaching them how to bring those talents into a group and how to work hard," Farmer said. "A lot of the young kids are talented so they just go and play on a team, and they don't understand what it takes off the court, which is education, working in the classroom, practicing outside, manners. All that good stuff."
Farmer said he wants to make setting goals a priority for Pierce players.
"They set low goals for themselves, which they know they can reach, but I like to have them set high goals and higher standards for themselves," Farmer said. "I like to teach young men how to perform outside of the basketball court."