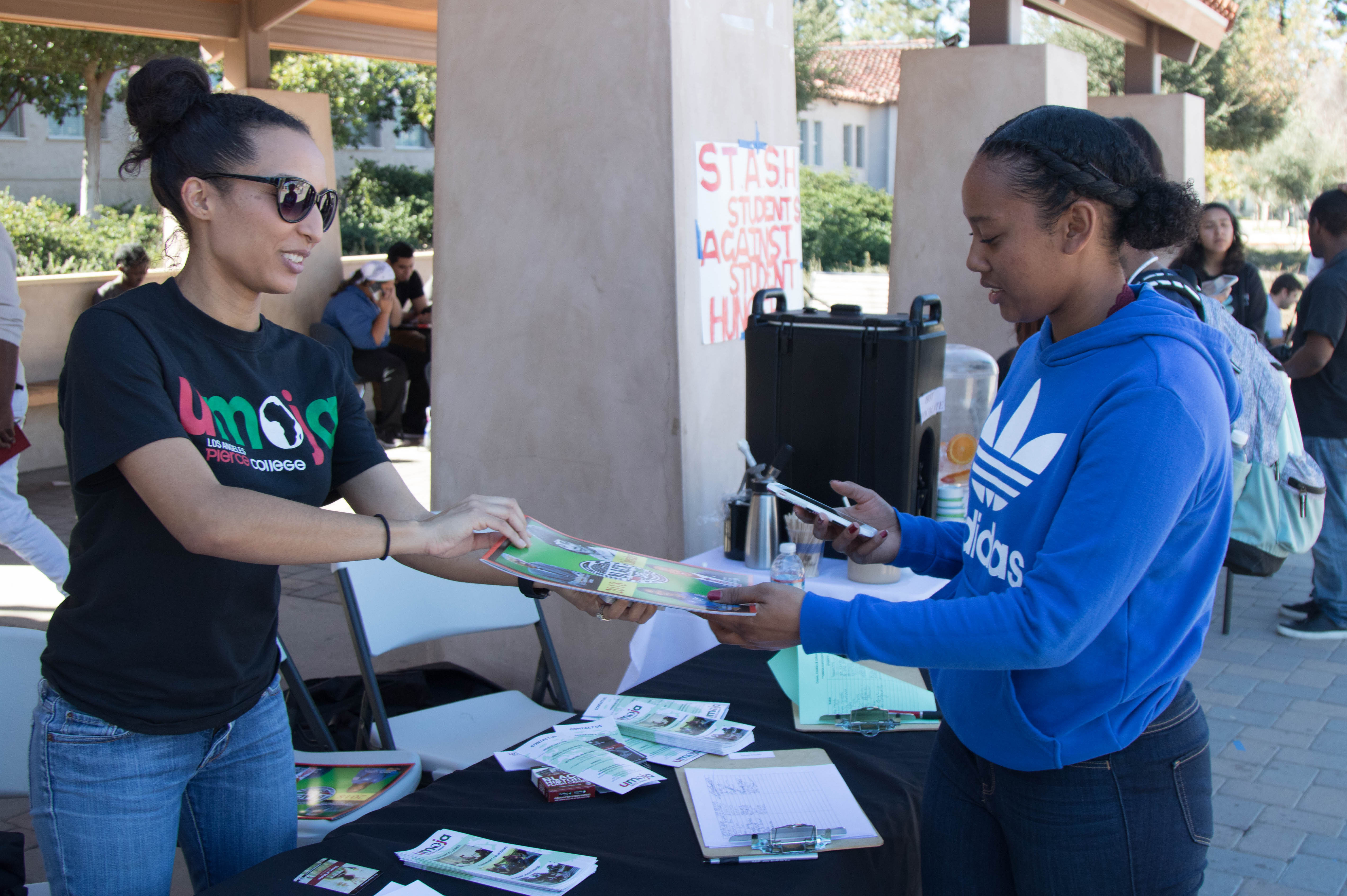 Black History Month was highlighted at the start of the semester with UMOJA hosting an event to bring cultural awareness of the African American community to campus.
UMOJA presented the Cocoa Cookies Culture event at the Pierce College Mall on Thursday, Feb. 8, for students to learn about the African American culture, play trivia games and celebrate Black History Month.
UMOJA creates a community on campus for students to build strong bonds and resources to enhance the cultural and educational experiences of all students.
Rayquan Blizzard, a member of the UMOJA program, said that what he liked most about it was that, "there actually is unity."
The UMOJA program created a community on campus for people to feel comfortable and have a place to bond with other students.
The group has a space called the UMOJA Village that is located on the first floor of the library in room 5113. This space is for students to hangout, do homework, attend workshops and meet new people.
"I'm actually being the man, the black man, and the leader and individual that I said that I want to be," said Jordan Rice, a UMOJA student worker.
Rice said he has been a member of UMOJA for about a year and was offered a position as a student worker by Melody Smith, a counselor within the program.
Rice said this program has helped him become a better leader and artist because he's put a lot of his energy into creating flyers and adding value to the program.
While working with UMOJA, Rice has been able to actualize his intentions.
"I'm not just talking it anymore, I'm walking it," Rice said.
What Rice enjoys most about the program is sharing his culture and having a space on campus where there's a program that makes everyone feel included.
Smith has been with the program since the beginning.
Smith said the program provides many benefits for students, including educational focused workshops, cultural focused workshops, and events such as the Cocoa Cookies Culture event celebrate Black History month.
They hold college field trips, organize cultural events, and provide textbook rental assistance and laptop loan assistance.
UMOJA also has a set of courses, which vary by semester, linked together for students to make connections between subjects.
Smith decided to work for this program because she likes how it supports the African American community and provides students to with a resource on campus.