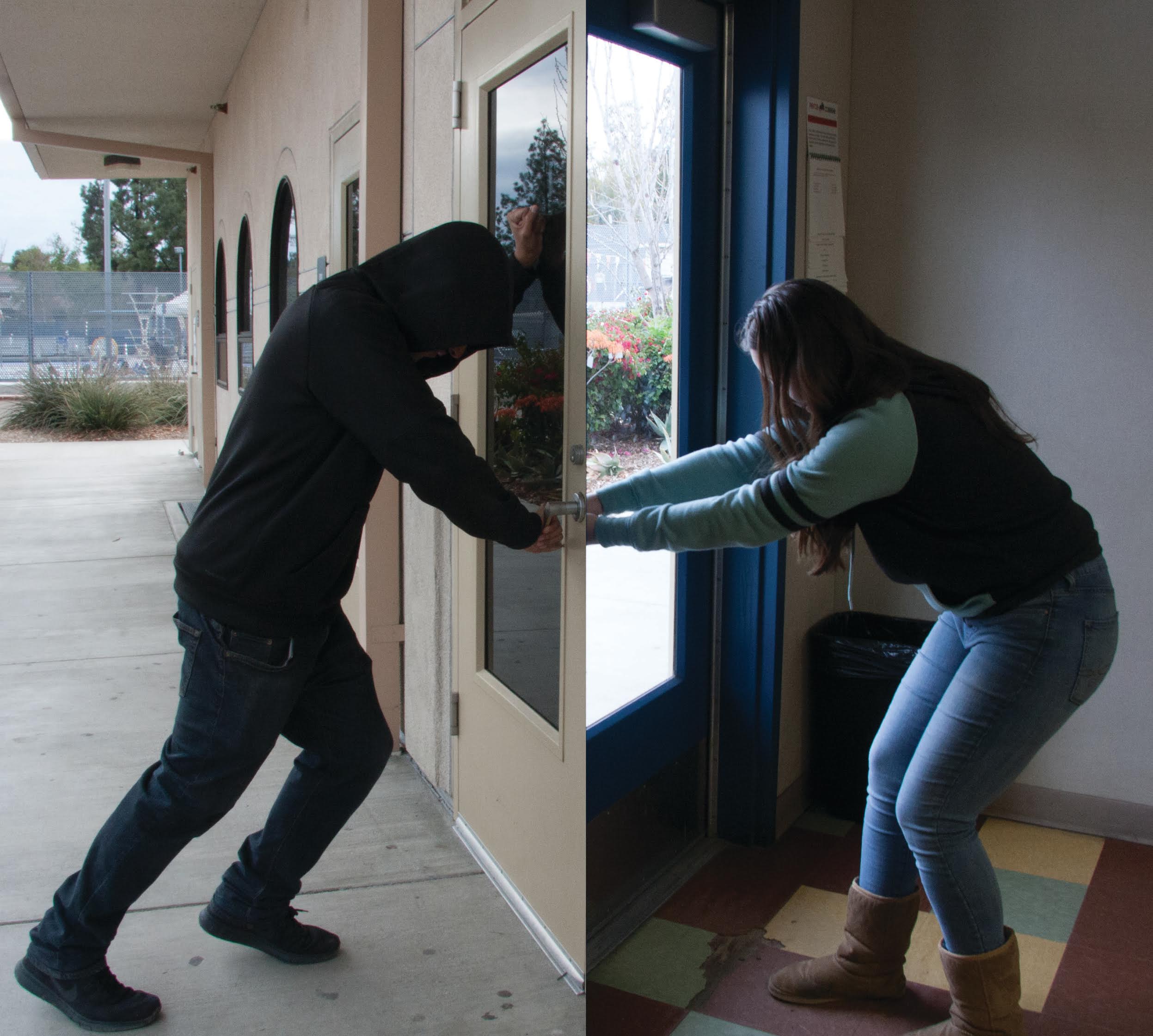 As the number of school shootings increase, the question on many people's mind is, "What if?" "What if my school goes on lock down? Will we have enough time to actually lock ourselves up and remain safe?"
On March 7, 2018, Pierce College was subject to a credible threat reported to the sheriff's department by the Los Angeles Police Department.
There was one arrest made and no harm came to students or to the campus, but what if something had?
In the older buildings at Pierce, classroom doors must be locked from the outside. In the case of an active shooter or violent event, this means that teachers must open their classroom doors, reach around to the lock, turn the key, and quickly close the door – all in hopes that their safety stays intact.
Pierce needs to go through every classroom and office, making sure that doors can be locked from the inside and the outside.
Some of the newer buildings on the Pierce campus, such as ELM, have gone under reconstruction and have doors that lock from the inside.
But is that enough?
Pierce should purchase devices that block door jams, so no weapons can fit underneath or through doors.
According to an article published by USA Today, Justin Rivard, a high school student from Wisconsin, has invented a tool to be used for protection during a shooting incident.
Boyd Huppert, the author of the article titled, "High school student invents 'JustinKase' tool that could save lives during shooting," wrote that Rivard invented the tool in his shop class.
"Made of steel plates and connecting rods, his device slips beneath a classroom door and latches to the door's jam," Huppert wrote. "With his device in place, Rivard has yet to find a person who can push a classroom door open, including linemen from his high school football team."
There are about 240 classrooms at Pierce. The JustinKase sells for $95, so the price for putting one in every classroom would be about $23,000.
Though that may seem expensive, in 2015, Pierce purchased one of the larger golf carts on campus, the Kawasaki Side x Side, for about $16,000.
The cart is not used often, so purchasing the JustinKase tool would be a smart way to use Pierce's budget for protecting the students, staff and the overall community.
Most of the classrooms, faculty and administration buildings on campus have windows, which easily can be broken into or shot through, making a clear cut path from criminal to victim.
Pierce recently has undergone construction, and it continues to remodel some of the older buildings. With these changes in process, Pierce should look into bulletproof glass to install in place of the existing window glass.
Shelter In Place has created bulletproof storm shelters for the inside of classrooms. Shelter In Place states on its website that the shelters were created by witnessing the Sandy Hook Elementary shooting in 2012.
According to the website, there is no preparation or warning time before an active shooter arrives.
"Simply put, the difference between minutes and seconds is life and death," the website wrote.
While these shelters would be an investment for LACCD, there is still no excuse for not having a basic plan of protection on campus.