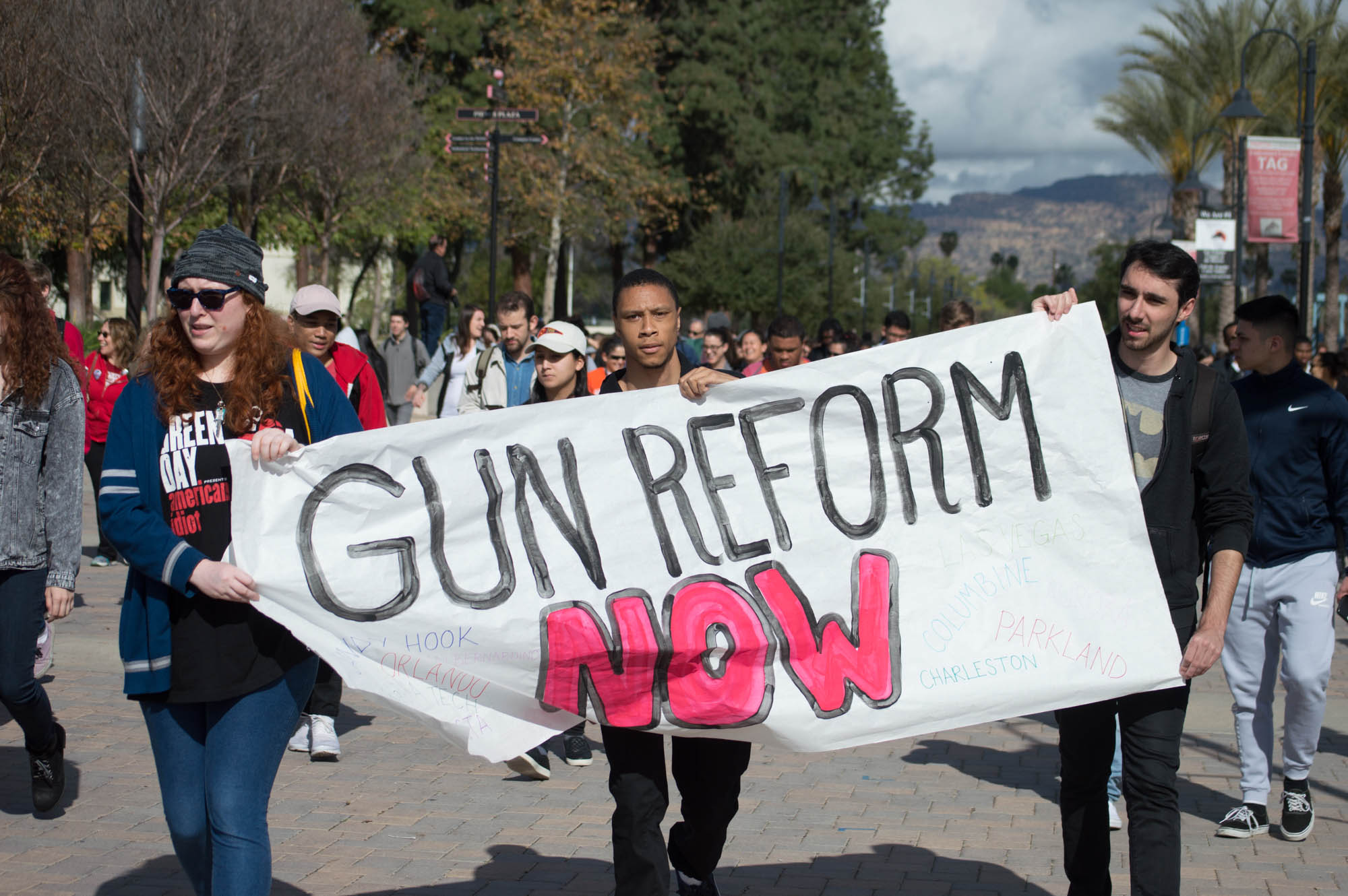 "This is what democracy looks like—"
Bella Aguilar-Rosil shouted through a megaphone as she led a crowd of students and faculty to the north end of the Mall for the National School Walk Out at 10 a.m. on March 14.
Dean of Student Engagement Juan Carlos Astorga estimated that 200 people showed up to support gun reform and the end to gun violence.
The protest began in front of the Great Hall, where Aguilar-Rosil announced that in the first 72 days of 2018, there were 135 mass shootings and 372 deaths as a result of these shootings.
"I am sick and tired of hearing, 'Guns don't kill people, people kill people.' Cars don't kill people, people kill people, but we still make it harder for people to drive cars than we do to buy guns," Aguilar-Rosil said. "We make it harder to buy Sudafed, a common cold medicine, than we do to buy a gun."
ASO President Efren Lopez said the gun scare on March 8 at Pierce likely increased the attendance to the demonstration.
"It's a reality check," Lopez said. "This can happen anywhere at any time. The fact that we got something like that against our school just really shows that gun violence is a problem in this country."
Sarah Rosenberg, a broadcast journalism major, participated in the protest with a sign in hand. Rosenberg said she was scared to resume classes at Pierce the Monday after the campus was closed because of a "credible threat."
"I remember hearing about that gun threat on campus last week and I was terrified," Rosenberg said. "We shouldn't be afraid for our lives to go to school."
Rosenberg said she marched to not only bring awareness to gun violence, but to also address those who blame shootings like the one in Parkland entirely on the mentally ill.
"As someone with autism, I am tired of being blamed. I am tired of the mentally ill being blamed," Rosenberg said. "I'm sick and tired of this heartache and pain and I want this to end. It's time to speak up and turn our silence into screaming."
Lindsey Lazo, a child development major, said she believes legislators use the mentally ill as an excuse and a crutch for their inaction.
The tutor-leader at the CIS said the campus-based protest was the first time she was able to exercise her civic right to protest due to transportation obstacles to locales in downtown.
"I'm actually supposed to be tutoring right now, but I felt like this was kind of more important. This is something that is going to affect who I teach," Lazo said. "I teach preschool kids and seeing so many posts online and teachers worried about how they will protect kids. I am here to represent that smaller community of preschool teachers who are worried about this."
Psychology professor Maria Perser said she came out to support students participating in the walkout and demand the long overdue congressional action on gun control.
"The only way to do this is to get out in force and basically get our voices heard that congress needs to do something about this yesterday," she said.
Perser said the idea of school as a safe place to learn and open your mind has been shattered.
"This used to be a sanctuary where you could feel safe and protected, and now it's gone. We are living in fear to some degree," she said. "When we wake up, who knows? You put on the news and some other school has been shot up. I think if we continue to do this the legislators will have to realize that this is what the people want and that they represent us."
Perser's colleague in the psychology department, Jeffrey Cohen, said he participated in student protests against the Vietnam War many years ago.
"That was an external war," Cohen said. "This is an external one."
Having witnessed the full power of student movements then, Cohen said he believes that student-led actions yield tangible change.
"I think when students get involved in movements like this it creates a momentum," Cohen said.
Lopez said the student-organized action was directed at anyone with power and influence who stands in the way of gun reform.
"It's directed at every single entity that's been pushing back against the necessary changes," Lopez said. "We haven't seen any kind of sensible change. It doesn't make sense that nothing has happened yet."
Enough is enough, Aguilar-Rosil said.
"We're in a crisis of gun violence and gun deaths, but we are also in a crisis of priorities," Aguilar-Rosil said. "We need to stop prioritizing Second Amendment rights and start prioritizing our children's lives, our students lives, each other's lives.
"We need to demand change from congress. I don't want any more prayers, I want change."