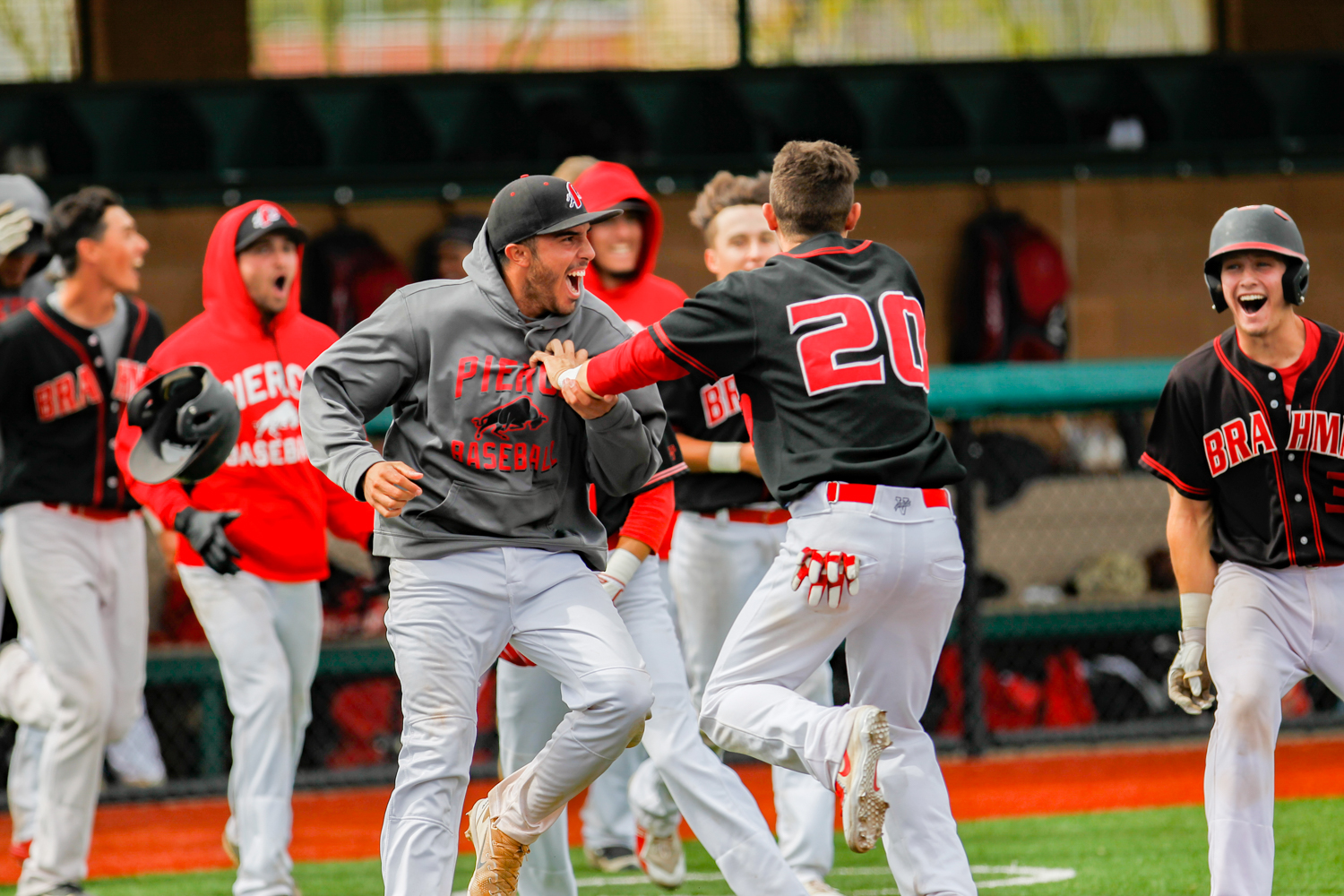 Baseball capped off a week that had games rescheduled and played to avoid the rain by doing something most teams never get the chance to do.
Wet field conditions may have taken the game away from home, but the Brahmas still had the last at-bat Saturday, and Brandon Lewis delivered a walk-off homerun on the field of crosstown rival Los Angeles Valley College.
Friday's storm left Joe Kelly Field unplayable, so the decision was made to play the game on the Monarchs' turf field.
The change in venue may have thrown the Brahmas off to start the game, as Valley quickly got on the board in the first.
Leadoff hitter Josh Meza singled for the Monarchs, but was promptly subbed out of the game for Jake Shore. Thomas Keller reached on an error, and a Brock Bell sacrifice moved Shore to third and Keller to second.
Pierce starting pitcher Alexis Miranda would give up a walk to load the bases with one out, and Shore would score on the a groundout by Jon Escott. Casey Horvat followed up with a two-run double, extending the lead to 3-0. Giovanni Chaidez singled in Horvat, but was thrown out at second trying to stretch it into a double.
Miranda settled down after the first, only allowing those four unearned runs over 6.2 innings pitched.
The Brahmas responded in the first with a pair of runs. First, Lewis singled in Michael Tillman. Lewis later stole second and scored on Bryce Vitt's two-out single.
Pierce cut the Monarch lead down to one in the fourth inning when Nick Pico singled in Diego Harris.
The Brahmas entered the bottom of the ninth still trailing 4-3.
Shortstop Will Picketts singled to start the inning, bringing up the potential winning run in the form of Lewis. Lewis was ready to send everyone home, hitting his sixth homerun on the season, ending the day 3-4 with three runs batted in RBIs, two runs scored and two stolen bases.
Barrett Vonderau picked up the win, throwing a perfect ninth inning, bringing his Western State Conference – South, leading ERA down to 1.90.
The win gave the Brahmas a 2-1 split for the week, with a previous win at Valley on Wednesday, March 14, and a loss to Bakersfield College on Friday, March 16, in a game that was originally scheduled for the previous week.
Pierce stands at 6-3 in the Western State Conference – South, in a three-way tie with LA Mission College and Bakersfield.
The Brahmas face Valley again on Tuesday, March 20, before wrapping up the week with a pair of games against LA Mission College on Thursday and Friday.