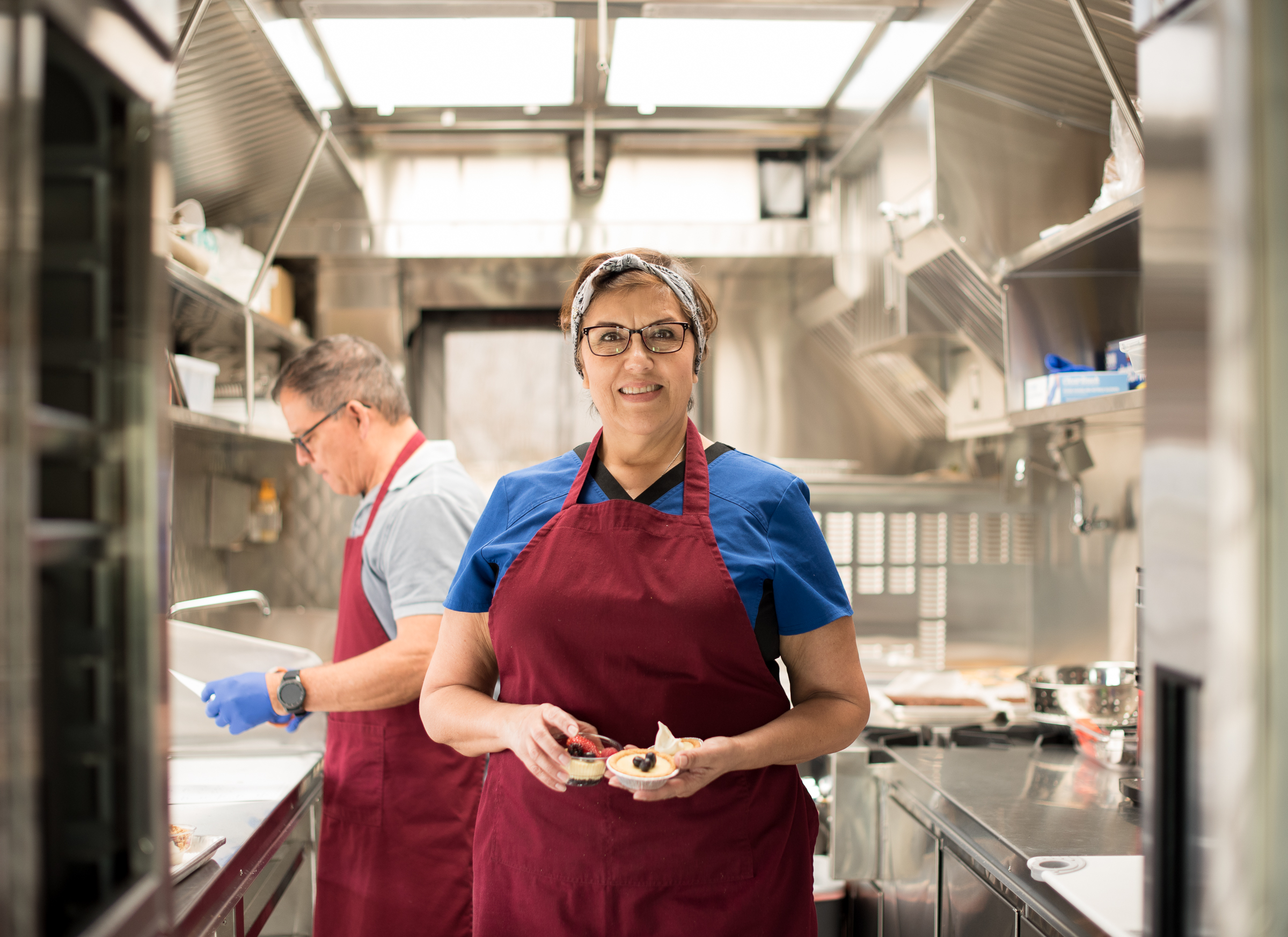 The wafting smell of Pierce alumna Gloria Zarate's freshly baked confections invite customers to her food truck, Yummy Pie Babies. One taste is designed to transport customers back to visions of childhood.
Zarate's own was filled with memories assisting her dad in the kitchen.
Before immigrating from Mexico to the U.S., Zarate's father owned and operated a bakery with his brothers.
While Zarate's father ended up following a different career path, the love and enthusiasm he instilled in Zarate for baking did not diminish. Rather, those memories of childhood nostalgia are what Zarate said she emulates in all the food items on her menu.
"Growing up, my dad would always bake for the family," said Zarate. "When we would have parties or any celebration, he and his brother would get together, and they'd make these gorgeous and humongous cakes. So, I was always attracted to that, and found I had a knack for it."
Fueled by the passion for baking she shares with her father her, Zarate said that when she was faced with an opportunity to start a new career, she chose one in the art of baking.
Zarate spent years in the corporate world with her now ex-husband doing transportation consulting. Together, the two started the business and worked together. However, after the two divorced, Zarate was at a crossroads in her career path.
"Now that I had the experience of setting up a business with my ex-husband, it fueled my… I don't know if it's actually fearlessness or stupidity. I thought, 'We'll give it a try and see what happens,'" Zarate said.
Zarate said that was the point she decided she wanted to try baking professionally.
She said she didn't initially plan on opening a food truck. Instead, she wanted to start with something small, like selling at farmers markets.
However, that changed when she and her current husband, Jeff Quintero, fell in love with food trucks.
"We've always had an attraction to food and going out and dining," Quintero said. "We enjoy the exploration and finding a little hole in the wall that just has a great taste. We enjoy sitting at the counters and observing what's going on around us."
The lively mood is one of the reasons the pair were first drawn to food trucks, and is why Zarate said she decided to open her food truck, Yummy Pie Babies.
Zarate also said she enjoyed the sense of friendship and support that seemed to fill food truck events.
"We really enjoyed the atmosphere in those events," Zarate said. "There's this community that's built around people eating. I find it to be true now that I am in there as a vendor. I still like it, the people are so nice. It's just a very festive atmosphere."
Keeping up with the light-hearted feeling at food truck events, Zarate's dessert food truck caters to those looking for a sense of nostalgia.
Zarate said another one of her goals is to help customers make memories.
Since Zarate's menu items are flavors inspired by her childhood memories, she said she hopes to share the idea of a home-cooked dessert with people who may not have had the same upbringing as her.
"Younger generations may not have had that experience because both parents have to work nowadays," said Zarate. "So now, I'm hoping that their parents can kind of have this experience for the first time and share it with their kid. They can bond and have these type of memories."
Zarate said she adds an element of sentimentality to her dishes that make them personal and more enjoyable for her customers.
Quintero believes the amount of detail Zarate puts into her work is what makes her desserts more distinguished than others.
"Her dedication to detail, her presentations – just when she makes me dinners here at home, the setting of the plates, utensils, the way to food is served on the plate – it's a quality and a care of detail I see her carrying throughout the business," said Quintero. "She cares about the business, she cares about the presentation, she cares about the looks, obviously cares about the taste, makes sure the quality is there and she really goes out to make sure it's fresh quality."
This presentation to detail is what comes with the Yummy Pie Babies brand.
With the truck's bright colors, pink striped top rims and the enlarged animated pie on the truck's side, Danielle Rosato, a Yummy Pie Babies customer, said the design of the tuck was what first drew her and her family Zarate's business
Although the design is part of what attracts customers to the truck, Zarate said it is more worthwhile if people enjoy the food.
""It's more about what I grew up with, the flavors that I remember and the memories that it brings back," said Zarate. "I just thought that if I could do that for other people, I just think that it'd be cool."