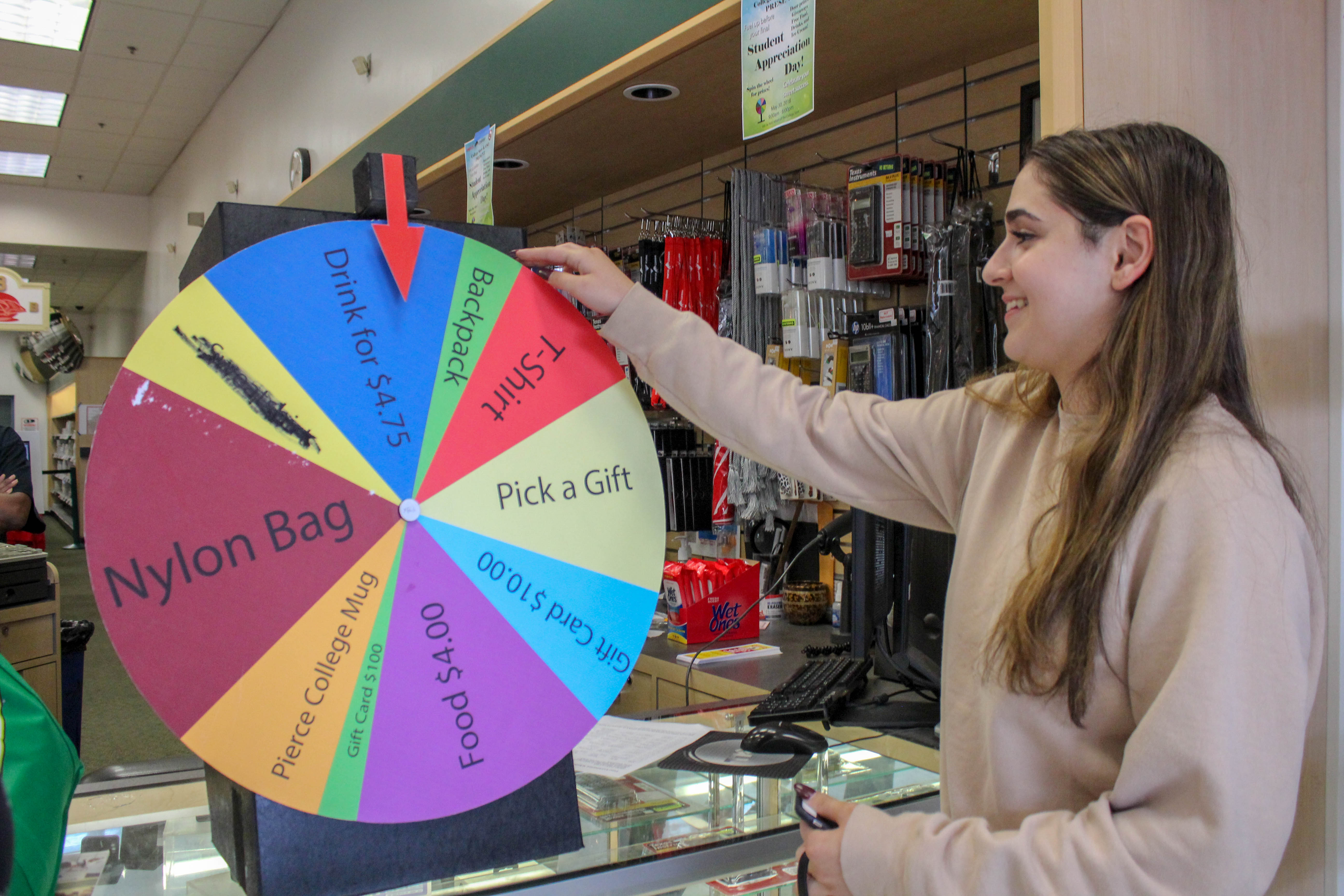 Students took their minds of final exams by spinning a colorful wheel.
The Pierce College Student Store hosted an all-day Student Appreciation Day to alleviate and provide a reprieve from a stressful week of exams.
Candy Van, the Student Store manager, said the semesterly celebration began in 2015. This year, they partnered with ASO to again show their support for Pierce students.
"A lot of them were so shocked that were were having this during their finals," Van said. "We wanted to cheer them up before their final and let them come back and enjoy the day after their final."
Van said that many commuter schools don't show their appreciation and pride for the students that attend.
"We realized, especially with two-year colleges, that we don't see any student appreciation," Van said. "We decided to have this event to show that we appreciate students for choosing to attend Pierce College."
Students had the opportunity to win prizes such as, gift cards, sweatshirts, mugs, a mountain bike, nylon backpacks, and free drinks and food from the Brahma Cafe. Free food, drinks and ice cream was offered to everyone who stopped by the entrance of the bookstore.
Hannah Paley, a graphic design major, said she wasn't aware that the Student Store was hosting this event, but she said it feels good to be appreciated.   
"I think it's really nice to give back, especially during finals. It feels good to be appreciated," Paley said. "I just got out of my final and I saw student appreciation, so I decided to spin the wheel, and I won a drink."
Jonathan Burns, an ASL interpreter major, said he stopped by because he saw a lot of people at the front of the Student Store. He said he appreciates that the school put on the event.
"It is showing us that they care about our education, and they want to help out and celebrate those who are graduating," Burns said.