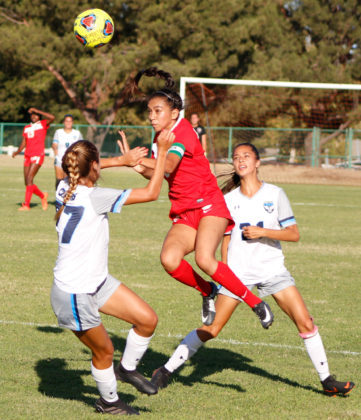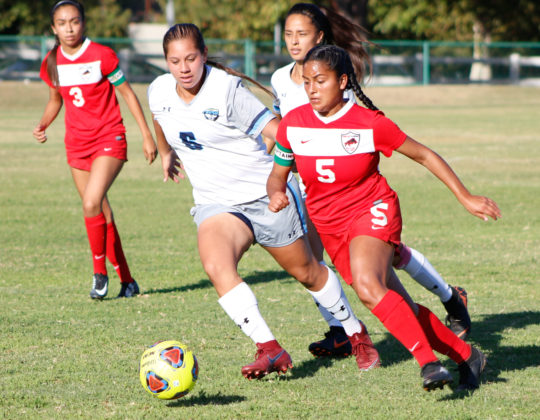 For the second home game in a row, soccer failed to come away with a win. Clovis Community College emerged victorious from the Pit 3-1.
Clovis took the lead in the 28th minute when Mia Castillo scored off a Karlee Hodges assist.
Things kept going downhill for the team when Annika Pettersson doubled Clovis' lead in the 35th minute.
Iliana Yanez, goalkeeper, played the second half in goal. But before putting on the gloves, she played as a midfielder.
Nataly Sanchez scored giving the Crush a 3-0 lead in the 62nd minute.
Jessica Palmer scored the only goal for the team via a free kick in the 66th minute.
Head coach Adolfo Perez said they gave it their all despite losing the game.
"It wasn't that things went wrong," Perez said. "We played hard for the most part and that's all we can do," Perez said.
However, Perez thinks the team can improve for next time by being more focused and following direction.
Forward Keyonna Hill, who has scored seven goals this season, said she thinks she could've played better.
"I feel like I did alright," Hill said. "I didn't do as much as I could. You know you win some you lose some."
Forward Jordyn Conlon said there's things that she and the team can improve on.
"I can improve on my touch and fitness," Conlon said. "I think the team as a whole can improve on finishing and on connecting passes."
Perez said he plans to bring a bit more intensity and energy to the next game.
The Brahmas will be back in the Pit against the Ventura College Pirates Friday at 4 p.m.