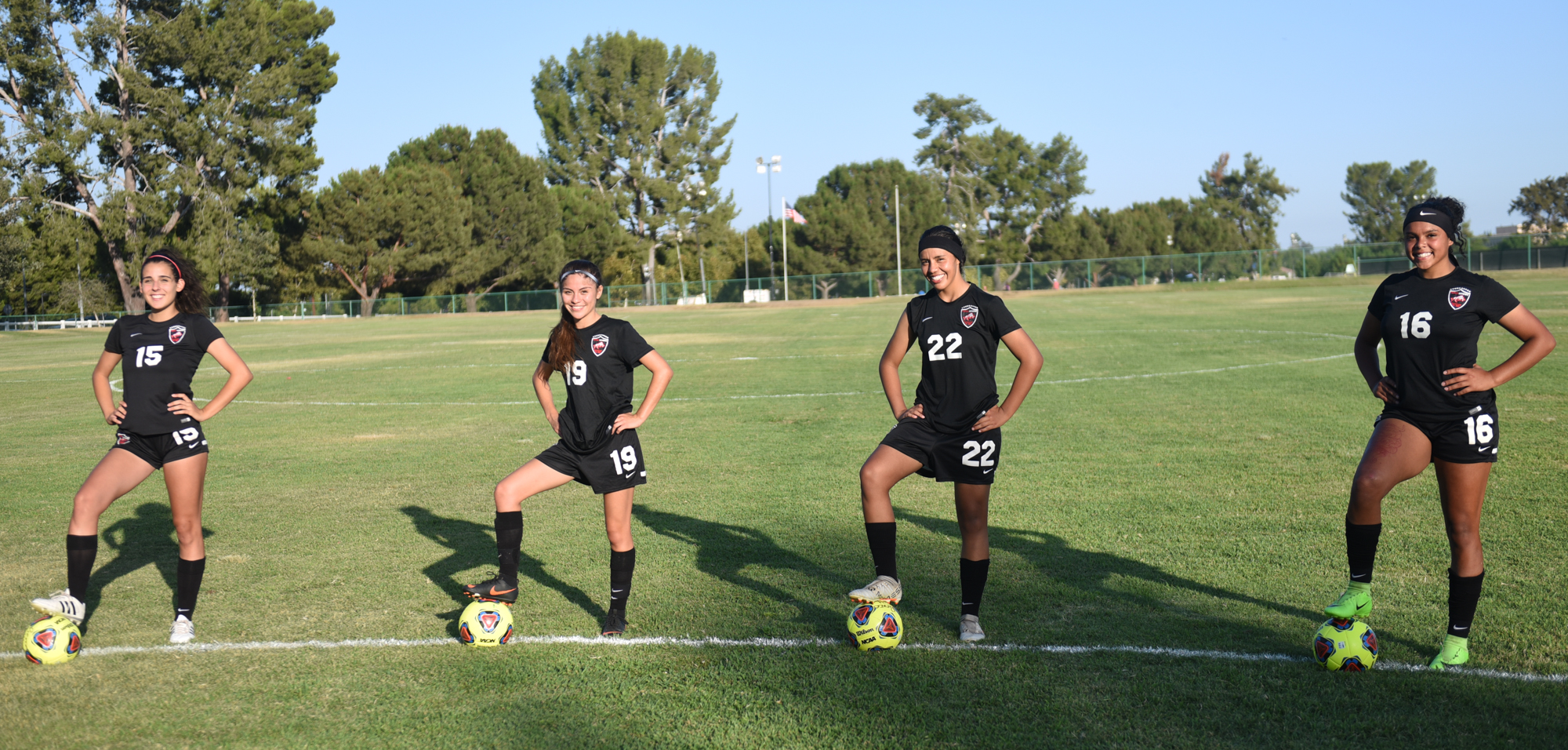 Four new forwards joined the soccer team this season. Every one of them comes from a different background and have their own story.
Jordyn Conlon, Keyonna Hill, Dominique Gonzalez and Jessica Tapia are the reinforcements in addition to Gisell Cruz and Adriana Sosa who were on the team last year.
Head Coach Adolfo Perez, expressed his happiness in having them on the team.
"It means that the future is much as success as we had, the future is brighter," Perez said.
Hill currently leads the team in goals with seven, followed by Cruz with six.  Gonzalez and Tapia have two goals and Jessica Palmer and Diana Millan have one.
Perez said the team finished  last season strongly. He has full confidence in them,but he is concerned that any of them go down with an injury.
Conlon started playing soccer when she was seven. In high school she tore her ACL on both knees. Therefore, the injury prevented her from playing a long time.
Conlon said that she is happy to be playing for the Brahmas and has good chemistry with her teammates.
"It is a very strong team, and I have a very good relationship with every one," Colon said.
Conlon expects to improve as the season goes on. The goal for her is that the team be successful.
Conlon plans to transfer to a four-year where she wants to major in psychology.
Hill began to play soccer when she was three. She likes playing in the forward position because she likes scoring goals.
Hill only has one objective in mind for her and the entire team.
"Go to state and win, and I want to be the top goal scorer," Hill said.
Hill plans on transferring to USC and then play at the professional level.
Tapia loves playing forward, but she also likes to play as a right winger.
Although she likes to play in the attacking third, she performs defensive duties.
For this season, Tapia expects to win because it is a very good team and they progress with every game. She aims to win the conference  and move forward to play for a four-year university.
 Gonzalez started playing when she was six, but for her it wasn't easy to play the sport at first.
Gonzalez's father had another perspective at that time. For him playing soccer is more compatible for boys and not girls.
Gonzalez loved playing soccer, so she didn't give up. She ended up succeeding so her father accepted the idea and allowed her to play the sport.
Furthermore, he allowed her to join a soccer club. FC Golden State was the first team she joined and played there for five years.
Gonzalez has a winning mentality and looks forward to bringing it to the team.
"I usually play to win," Gonzalez said.
Gonzalez said she felt nervous because she didn't know any of her teammates. As the days progressed, she has fully adapted.
"Now I feel good, more confident and much more closer to the girls," Gonzalez said.