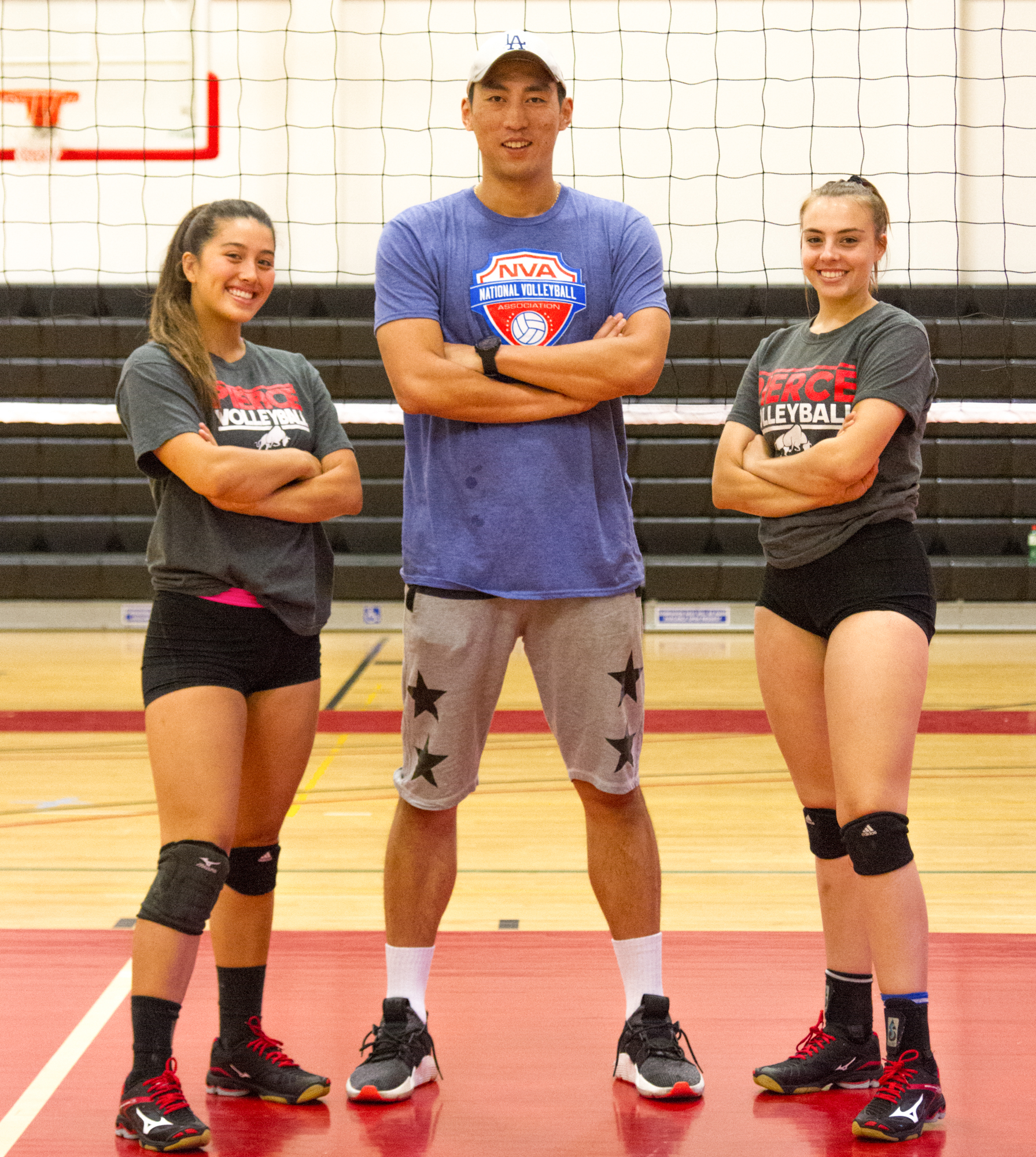 An Olympian is recognized as a proven winner and a world-class athlete. They are associated with hard work, mental toughness and for having a "whatever-it-takes" attitude.
As a former Olympian, new women's volleyball head coach Edison Zhou has been allotted with the task to instill those same qualities in the minds of each individual on the team.
Zhou is high on establishing relationships with his players and considers all of them to be more than just athletes.
"I told them that on the volleyball court, I am your coach," Zhou said. "Outside of the gym, we are friends. If you need any help just tell me and I will try my best to help you."
Zhou started playing volleyball when he was 13 years old, attending a middle school known for the sport.
Zhou is still learning the English language but he lets his game speak for itself. According to the National Volleyball Association, Zhou is a five-time national champion and a two-time national grand slam champion.
As a member of the Chinese National Team, he won the gold medal in the Asian Final Four in 2005 which took place in Japan.
He also made an appearance in the 2008 Beijing Olympic Games where they finished as the second-ranked team in their group and the fifth-ranked team in the entire tournament.
"It was the best memory of my life," said Zhou.
As a former Olympian, Zhou is no stranger to overcoming adversity. He said his most memorable moment competing in the Olympics was the rivalry match against Japan.
The match went to five sets and lasted almost an two hours. This highly competitive contest ended with China victorious. The win over Japan also punched their ticket into the top eight and a spot in the quarterfinals.
Moriah Van Norman, athletic director, also competed in the  Beijing Olympics where she played Water Polo for Team USA.
Although most of her conversations with Zhou is business related, she does acknowledge that having a fellow Olympian in the same facility will help inspire the athletes.
"He has the experience as a player himself and you appreciate that when you're a young athlete looking up to someone. And Edison is one of the best in the world,"  Van Norman said.
Zhou said Van Norman is his leader going into this new season as a first-year head coach.
Catelynn Pulido, outside hitter, said playing under a former Olympian is amazing and that even when he tries to go easy on them while scrimmaging it is still extremely challenging for them to keep up. Pulido thinks this is a good thing and pushes them to be the best they can be.
"It helps improve our competitiveness and put us more into a game-like mentality," said Pulido. "So we would expect it to not be so easy whenever he's playing with us. It is such a great opportunity."
Lindsey Saavedra, libero, said she is honored to be coached by Zhou and that it is something she can strive to be as she furthers her playing career.
"It truly is an honor to get coached by someone that's been up there and he hopes to see us go up there as well," Saavedra said.
Pulido gave nothing but praise for her new  coach saying how he is extremely dedicated to the girls and how he always focuses on the team as a unified group instead of singling people out.
"He will repeat to you what you need to improve on instead of being one of those coaches who focuses on the main starters and forget about everyone else," Pulido said. "He wants to make sure every player on this team improves."
Zhou said he served as a volunteer for the men's volleyball team last season.
Morgan Wadlow, outside hitter for the men's team, said that passing his jump serves leaves his arms aching and throbbing.
"[Coach Zhou] jump serves so hard," said Wadlow. "Passing his serves leaves my arms with bruises, but it was really fun playing against him."
With Zhou's world class history as an Olympian and professional athlete, he understands what it takes to be successful at all levels of competition.