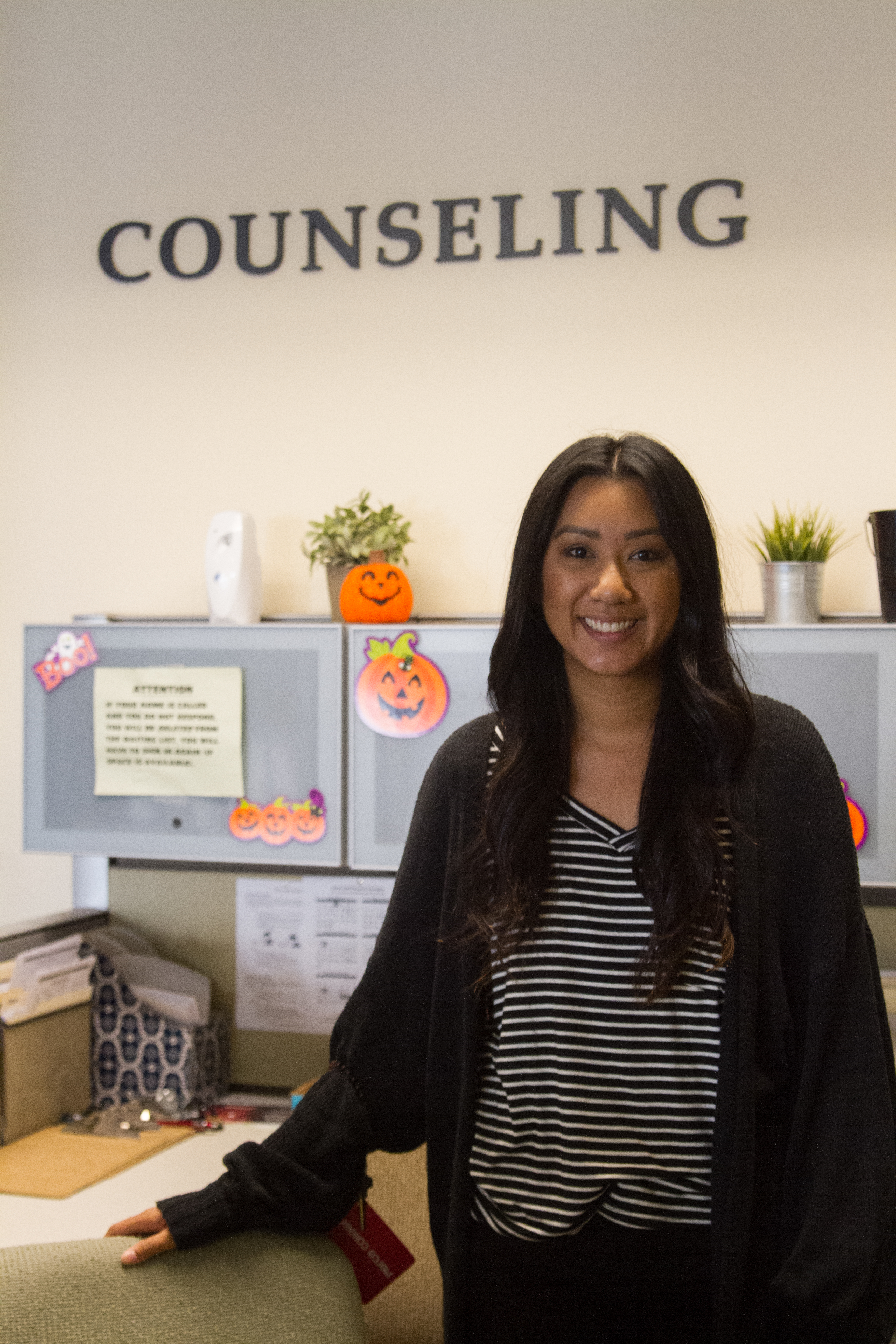 Students can encounter many obstacles when trying to get help with their college career. Pierce College has hired Ahn "Anny" Ho to be a part of its counseling staff.
A month and a half ago, Ho, was chosen by a committee including Pierce College's Vice President to be a counselor. Ho has a cheerful attitude and finds her passion in helping students go the distance to their college goals.  
Ho makes the most out of every chance she gets when talking with students.
"I love helping the students and that's where I'm willing to go, a lot of the time, the extra mile for students because I really believe that every single interaction you have with the student is kind of like an opportunity," said Ho. "It's an opportunity for me to make a great connection with the student and really help them"
Ho adds that because students don't get the needed support from counselors, it can lead to them feeling discouraged when getting into to their preferred school.
"I think it's access for students to go to college and for students to go to where they want to go. A lot of  the time students think because of either my income, because of my family history, or because of these obstacles, I can't go do this," said Ho. "And that's where my passion is to be 'You could do whatever you want to do but you have to believe in yourself. And really give them that support and remind them. It's not easy, but they can do it if they put in the work."
Before Ho was a counselor she enjoyed the study of English until she changed her path.
"I got my undergraduate degree in English. I originally wanted to be an English teacher and then when I realized when I was in the high schools," said Ho. "I was like, 'Wow, I totally want to counsel.' I want to spend most of my time doing that. I went to Cal State Long Beach and I got my master's in counseling."
Ho is new to the district but is well experienced from previous counseling positions at Orange Coast College, Cypress College, and Golden West College.
"I come from Orange County, so I'm more familiar with that area, but now I'm getting familiar over here. Also I have taught the summer bridge program for the counseling 40 class," said Ho.
Alyce Miller, counseling chair, shared the committee, in which she is a part of, chose Ho for multiple reasons.
"We all felt that she was someone that was qualified to move forward. she had the skills, ability, and they do a presentation also during the interview process as well. And she was strong in all areas in the interview," said Miller.
Ho already has plans to help better the counseling unit as a whole because of her already prior knowledge in other specialties like stem majors.
"I'm really interested in stem. I used to be a stem counselor," said Ho. "I used to do a huge variety of experience, but I'm very passionate about stem. I'm hoping to really increase stem and make sure students are more involved other than just academics. Getting into research, networking, internships."     
Ho believes the step to helping the unit more begins with getting accustomed to Pierce College and continuing from that basis.
"I want to get adapted to pierce and start understanding the resources, the community, things like that. And then start looking into, what is the need.  Like I noticed that I was talking to another counselor and I asked hey is there a stem program here on campus?"  
Ho is happy with the new position she has as a counselor and has already taken a liking to her coworkers.
"I love it. Oh my gosh, everyone here is so nice," said Ho. "Not that I'm not used to it, but it's really nice to be a brand new person coming in and having a team that's super welcoming."
Student Worker David Kashanirokh praised Ho's work as a counselor and had nothing bad to say.
"Working with her has been good. she seemed qualified from when I talked to her. Most of the people who come ask her questions are usually pretty satisfied. I look forward to working with her in the future," said Kashanirokh
Outside of counseling Ho enjoys finding new places to eat but has a different-than-most sense of taste in her food choices.
"I like to eat. I like to Yelp a lot. Like I love food. So if anyone ever has food recommendations, I'm always taking it because I like to try new restaurants," said Ho. "Even though I love to eat like a love to eat, I kind of selective on what I like. Like I'll try everything but I'll immediately know what I like and what I don't like. And I don't like chocolate. Like I don't like chocolate at all. Like I'll try it every couple of years and it just does not taste good to me."
Miller said having Ho on the counseling staff has allowed the counseling office to offer more services to students.
"Glad to have additional faculty to help serve the students it helps to have more appointments and availability to students where as before sometimes they wouldn't have that access."