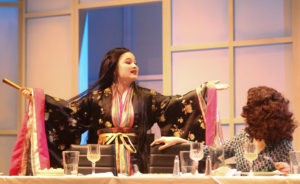 In society today, women often feel as if they are forced to choose between a career and motherhood.
Top Girls may resonate with audiences facing those same struggles. The 1982 play by Caryl Churchill opens the season for the Performing Arts department. Performances begin Friday and run through Oct. 28.
Top Girls follows the story of Marlene, a woman in the 1980s struggling to find an identity that is separate from her role as a mother.
An all-female cast gives a new perspective to the Pierce College Performing Arts Department by reflecting the themes prevalent in society.  
Director Shaheen Vaaz said having an all female cast has helped the team bond in a way that has translated on stage. Sarah Zhuk, who plays Jeanine and a waitress, said being surrounded by a group of females empowers her.
"I was so excited to know that it was an all-girl cast because I knew that every single one of us was going to get so close," Zhuk said. "It's exactly what happened. We're really connected and honestly these ladies mean so much to me."
Churchill displays the strife women go through when choosing between following their career aspirations and building a family.
"We get to see what is lost and what is gained,"  Vaaz said. "How it is virtually impossible to create a female utopia of any kind, how they still live in a very male world and how with every gain there is a sacrifice."
The first act of the play centers around Marlene, a recently promoted managing director at Top Girls Employment Agency, is accompanied by five dinner guests throughout history. All of the different women at the dinner table gathered together to share their stories of their ex-lovers over dinner.
Vaaz also explained that she believes the play touches on incredibly relevant topics happening in the world today.
The struggle women face between wanting to follow their dreams and settling down with a man and children is a prominent theme throughout the play.
"I think every one of us deep down are just little girls wanting everything," Sabrena No'mani, who plays Gret and Angie, said.
No' mani believes that this play will show the audience the struggles of being not only a woman but also being a human being.
She believes that all women are aiming for something and wanting to be the best versions of ourselves but we are still women who long for a partner and children.
"No matter what we aim for and all the things that are out there, really it is that fierce need to be loved and cared for and feel like a woman" No'mani said.
Top Girls opens Friday Oct. 19 at 8 p.m. at the Dow Arena Theatre, with other showings on Oct. 19, 20, 26 and 27 at 8 p.m. and Oct. 21 and 28 at 2 p.m. Tickets are available at www.brownpapertickets.com