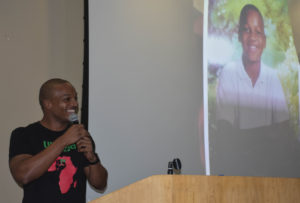 From being charged with murder to being a motivation to college students, Aaron Harvey shared the story of his wrongful conviction at Pierce College's first Unlocking Justice Summit.
The event was in conjunction with the semesterly One Book, One Campus Program. Pierce College selected graphic novel The Race to Incarcerate, by Marc Mauer and Sabrina Jones, which highlights the dangers of a corrupt jail system.
The summit featured keynote speaker Aaron Harvey, who was wrongfully accused and later served time for crimes he didn't commit and workshops briefly after.
Harvey was invited by Outreach Librarian Lisa Valdez because she saw Harvey as a man wrongfully convicted in a loophole of America's justice system.
"Generally he speaks to the untold story of so many who have been railroaded without any true justification," said Valdez. "They're using penal codes in a way that they've not been created in order to make their case or to get rid of a specific minority groups."
Valdez was first introduced to Harvey at a conference for African-American males, in which she was impressed by Harvey's ability to connect with students.
"The way that he presented the information, I was just riveted by his presence alone and just to see all the things that he's gone through and how it has spurred him to take a stand," said Valdez.
Harvey was investigated for nine months until he was eventually arrested on charges of murder, although he had no criminal record.
Harvey was taken to jail for three weeks before he knew the details of his conviction. Harvey said that when the police arrested him it didn't register correctly because it wasn't him who had committed any crime.
"I laughed", said Harvey. "It didn't really sink in until I got to San Diego about 30 days later." Finding him in such a situation may have been unreal to him. Still, it was a reality; it also a reality for many other people who find themselves being wrongly accused of a crime they might not have committed. For those who find themselves in this situation, there are lawyers similar to this criminal lawyer denver who might be able to support them with their case, ensuring that they are not victims of the legal system.
He was initially taken to a jail where he was detained for a total of eight months while facing charges of life in prison.
"They have people live in the most horrible living situations to get people to plead out", said Harvey.
Harvey said that if he had pleaded out to a deal, he would have been in jail for 19 years as compared to his life in prison. Harvey refused the deal. It was then reduced to five years and he refused once again. After continuous refuting his sentence was eventually reduced to three years. Harvey refused the plead and demanded to see a judge.
At a later preliminary hearing for other defendants charged in the same case, the court found there was no probable cause for the charges against Harvey. Harvey's bail amount was lowered and he was able to post bond. Setting him from free from crimes he didn't commit.
Joseph Roberson, a Pierce College counselor, gave a workshop briefly following Harvey, exploiting the idea of seeing colored people as predators. Roberson had a classroom discussion inviting all races to account what it's like.
Roberson spoke on the importance Harvey's message has on students and recalls feeling touched personally by Harvey's story.
"I had an emotional reaction to hearing his particular accounting of his situation. I'm happy that he was available to speak to students and to the Pierce community to offer the information he provided to us. I think it'd be wonderful if he had an opportunity to come back and speak again," said Roberson.
Harvey sometimes reflects on the bad that has happened to him. However, he felt like this case prepared him for his life outside of the jail system.
"I am kind of like grateful that it happened to me in a sense. I do feel like if I wasn't on this case, I think it might have went a different way. My whole life experiences were unique compared to the rest of everybody on my case. So I felt God strategically put me in this position," said Harvey.
Valdez said a lot of planning went into this event with the initial starting point being in February. Valdez said she owes a lot of the effort to her right-hand woman and other faculty.
"D'arcy Corwin has been very instrumental in helping me get things done in addition to all the other faculty, staff and students who have volunteered their time. It's made it much easier for us to get things flowing.", said Valdez.
Harvey was only the beginning of the summit. After he spoke there were several workshops. The event filled Pierce's Great Hall and the pertaining classrooms used for workshops after.
This is only the first of Pierce's summits. Valdez said the One Book One Campus Program tries to tackle the problems occurring in society at the time but would like to have another summit in the future.
"I was more than happy with the turnout. It was a more than I expected. I think that the initial keynote was extremely successful," Valdez said.