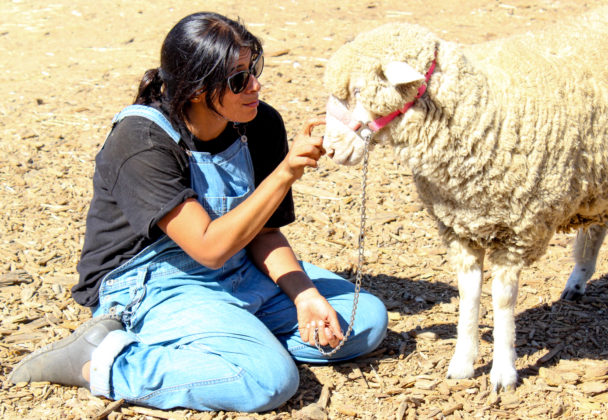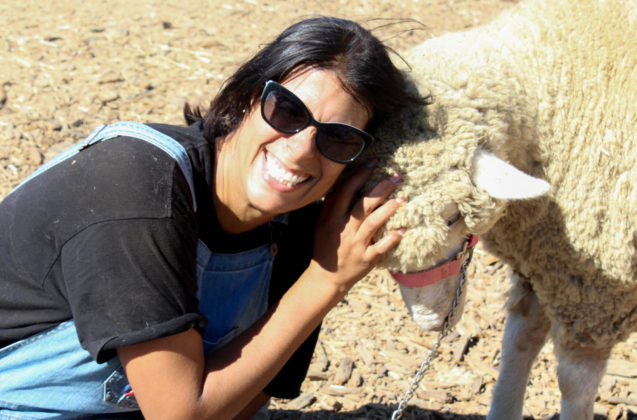 It all started with a cat named Spencer.
He was shy and timid at first. That was until Natalie Albizo took him in from the streets and gave him the love and affection he was missing.
Albizo was working at the Getty Museum when her cat fell ill and was diagnosed with urinary stones. Her usual vet was unavailable, but she recommended Albizo to an animal hospital. It was there that Spencer passed away.
That moment changed everything for her.
From the start, Albizo had a funny feeling about the hospital. She spoke to the vet who assured her the procedure would be done promptly. However, when she called later the vet was on her lunch.
She later learned that Spencer had a different, longer procedure than the one he previously had. Albizo believed he died from improper aftercare. It was then she decided she would pursue veterinary science.
"I can do better," Albizo said.
Now, Albizo works at the farm five days a week as a sheep shepherd and is a studying to become a registered veterinary technician. She was able to raise her own lamb who she lovingly named Natalamb. Natalamb has her own Instagram, @natalamb444. The 444 was the number ear tag she was assigned.
The summer after Spencer passed away, she enrolled in Jennifer Adelini's class. At the beginning of the summer session, Adelini announced that if anyone got an A in the class, they could become a student helper.
"I said challenge accepted and that was the first step in helping others," Albizo said.
Albizo continued taking classes and became a tutor for animal sciences. She grew familiar with the front desk at the Center for Academic Success.
Souzan Ebadi, who has worked at the CAS for four years, said she has never seen Albizo without a smile.
"I think what stood out about Natalie the most was her energy. Every time she came in she had this big smile. I'm not exaggerating any of this it's very true. She was lovely. She laughed. She smiled– very helpful to all the students. She got a lot of students. I mean so did all of our animal science tutors, but she was known. She was just full of energy," Ebadi said.
Anush Alakhverdyan, a pre-vet student, first met Natalie at tutoring for anatomy for animals.
"She's a great tutor. She seems very excited, you know, to help people learn things and even when she's learning things she's just trying to get the information in a fun way. Now she works on the farm, which is cool. I follow her [sheep's] instagram," Alakhverdyan said.
Albizo never expected to be where she is today, but she would not change a thing. Her students are not as surprised about her unique past working at the Getty.
"I could have never expected that, but at the same time I'm not surprised. Just because of how she is, she's a very colorful person. She's always trying to uplift people. I feel lucky to have met her," Alakhverdyan said.
Albizo's life has been nothing but ordinary. Directly after high school, she went to culinary school.
"I was like, well, if I have to eat my food for the rest of my life it might as well taste good. So I went to the program and then at the end of it, there's the saying if it's too hot in the kitchen, you know, get out. So I did," Albizo said.
She finished the program and moved onto her next endeavor. She went to UCLA where she studied art history, before becoming a docent at the Getty. The switch from art to science was not simple.
"I still do painting when I have time. Like I used to paint on canvas, both acrylic and oil, and I used to do photography, but then once I started doing science that took up my life really it did. You know, going back in and doing I remember chemistry all I did, was sit in front of like Khan Academy. You're like, oh my God, I've watched this thing twenty-three times," Albizo said.
Albizo plans to further beautify the sheep farm with a mural.
"I swear to God, every day I'm here, I do not work. I'm so fortunate and lucky I wake up at the crack of dawn. Sometimes it isn't great, you know, 5:30 in the morning, but when I get here I get to hear the chickens clucking. I get to see the sun come up. I see the cows, these 2000 pound animals that are majestically stretching and doing these weird yoga– that I'm like, how are you doing that? You know? And then I come by and I hear the goats and I come over here and they all baaah at me, you know, and I'm just like, this is ridiculous. Like they pay me for this?" Albizo said.
Albizo loves her work and has no plans to leave. Her phone's screensaver is of her cat, Spencer.
"I'm not messing this up. Like there's no way I'm messing this up. I love this place so much, and it all started with my little cat Spencer," Albizo said.