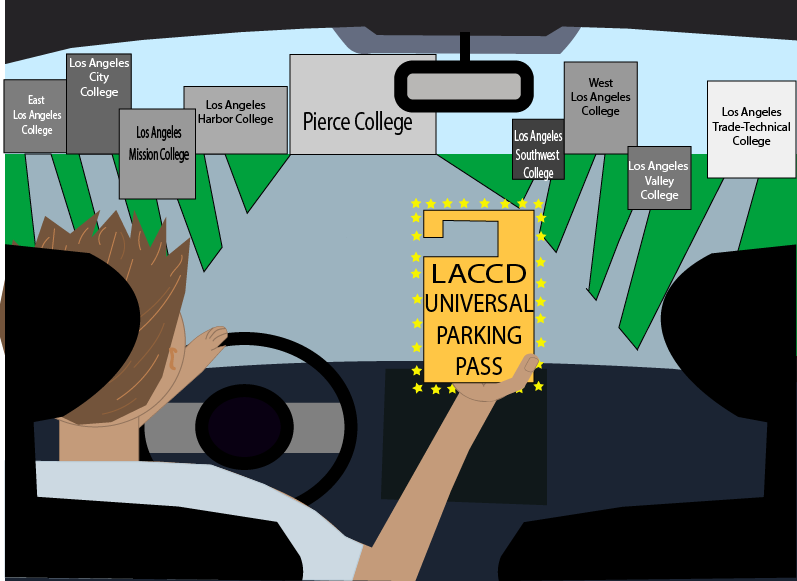 Students who attend multiple Los Angeles Community College District (LACCD) campuses should not have to pay for one parking pass per campus.
Many LACCD students attend multiple campuses weather this is due to classes being unavailable or full, these students are currently being made to pay multiple fees for different parking passes at each school.
If there was a universal parking pass for all LACCD schools this issue would be eliminated for students who must take multiple classes on different campuses. However, pricing becomes an issue when looking at the different prices of parking passes on LACCD campuses. The prices range from $20-$25.
The universal LACCD parking pass should cost a flat rate of $30. Even though the prices for parking vary by school, the $30 fee would still cost less than purchasing two or more passes.
Students end up paying anywhere from $45-$75 in parking passes alone per semester. With the implementation of a universal pass, students could park on any and all LACCD campuses for the fall and spring semesters.
Regular passes would still be available to students for specific schools, however the universal pass would allow students who attend multiple campuses to not have to worry about paying more, or switching out parking passes depending on the school they are at that day.
Often, students do not choose to attend multiple schools, but they are let with no choice because they need certain classes that may not be offered at Pierce or the class is already full.
A universal pass would put the students first taking into account that it is unnecessary to make students spend double if not triple the price for multiple parking passes.
On top of this cost, students are also being made to pay for their class fees before they can purchase a parking pass in general. Having to pay these fees as well as the cost of multiple parking passes is a large cost for college students to take on so early in the semester.
If LACCD introduced a universal parking pass, it would alleviate a financial burden that students should not have to deal with when attending more than one campus in their district.