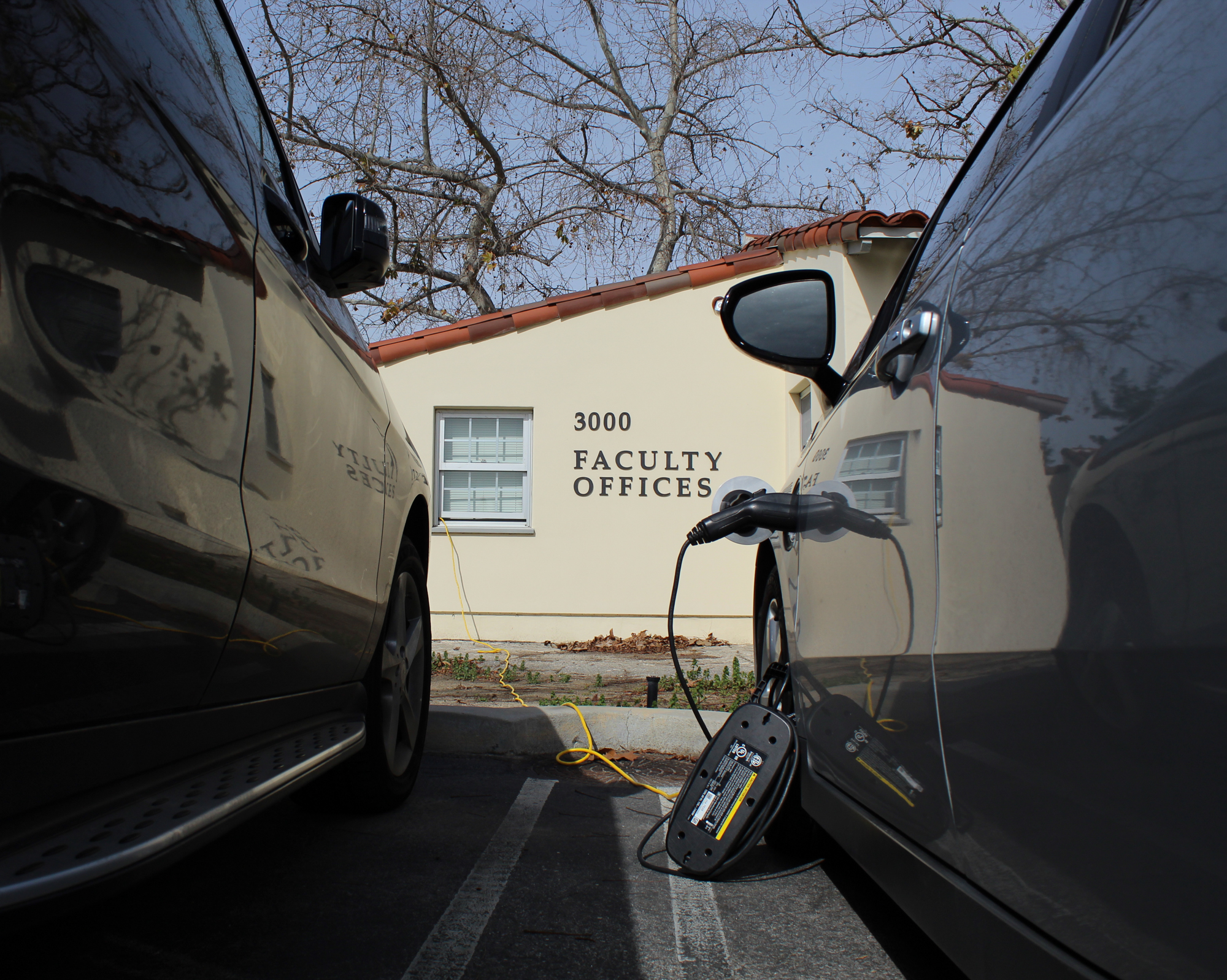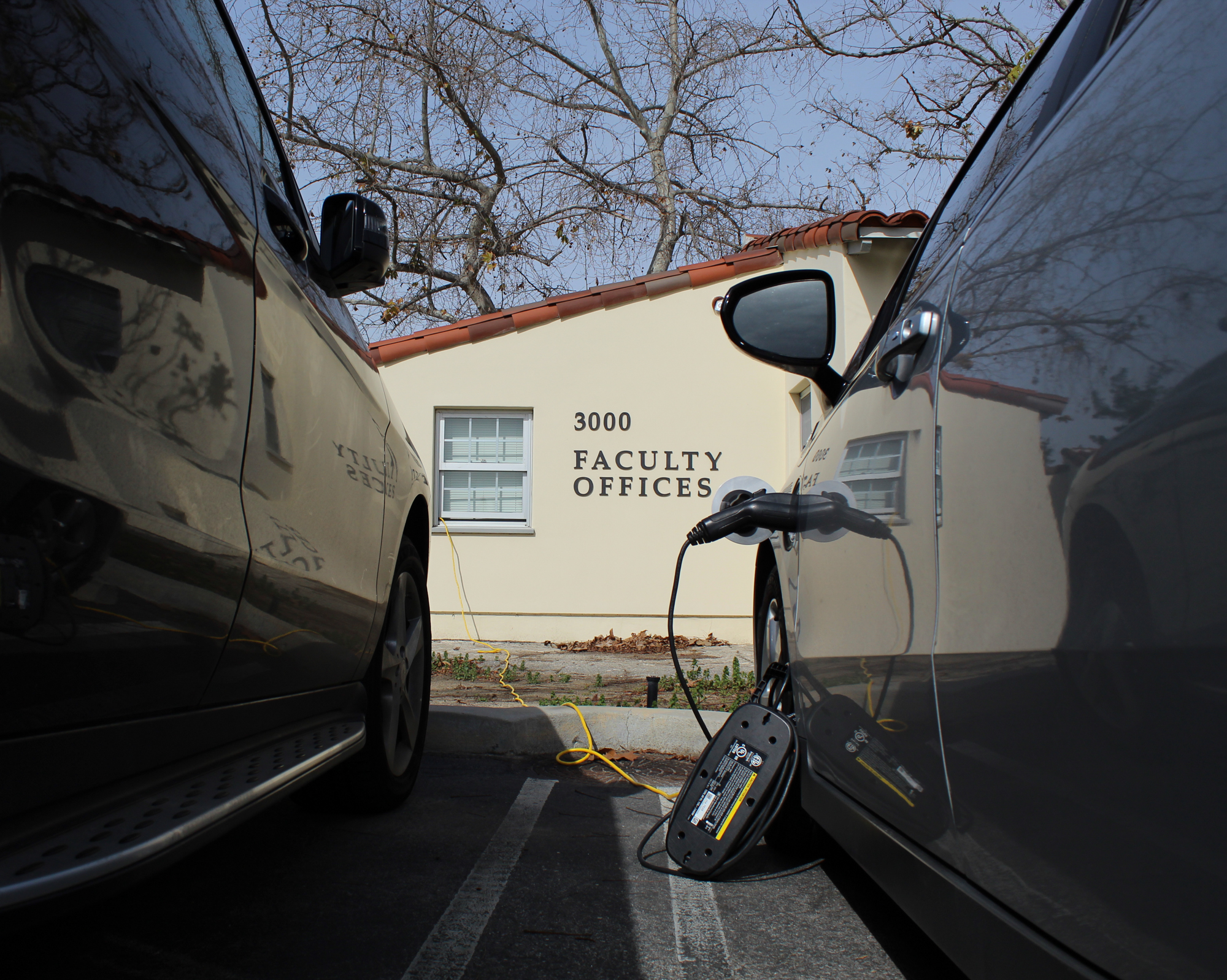 By Alexis Canelo and Noah Goldbloom
Instructor of English Larry Krikorian has no place to charge his electric vehicle on campus. This problem is not unique to just him, the Pierce community is also faced with the same dilemma.
Currently, there are no working electric charging stations at Pierce College.
Krikorian's solution is to take matters into his own hands. He currently drives a Chevrolet Volt. Krikorian charges his vehicle from his office using a heavy-duty extension cord which extends out of his window.
Krikorian said he is met with joking criticism from fellow faculty, one proposing he is stealing from Pierce. In response, he said energy is for everyone.
"Pierce has two sizeable solar power farms, one over here and one up on the hill," Krikorian said. "The sun's energy for you and me is, for all practical purposes‒ infinite. Let's say I use 20,000-kilowatt hours while I'm working at Pierce for the rest of my career. What's infinity takeaway 20,000?"
Krikorian said the only person he is "stealing" from is the sun. He is motivated to drive an electric vehicle because he is conscious of pollution.
"I'm not pouring filth down the lungs of my colleagues' children," Krikorian said.
The college became aware of the issue after meetings with Union Chapter President Brian Walsh, Vice President of Administrative Services Rolf Schleicher, the Workers Environment Committee and the Department of Water and Power.
Associate Professor of Political Science Denise Munro Robb conducted a survey to get an idea of how many people on campus drive electric vehicles. Robb's survey concluded that many professors and a few of her students drive electric vehicles. Robb drives a Chevrolet Bolt.
Robb was personally motivated to drive an electric vehicle, because of what she calls the "end of the world."
"Devastations already happened. We have massive wildfires and we have hurricanes, drought – It's here now. It's not something in the future," Robb said
A meeting was held with Pierce College and the Department of Water and Power to discuss what is necessary for the installation of the charging stations.
A potential roadblock is making sure one of the charging stations is in compliance with the Americans with Disabilities Act (ADA).
Paul Nieman, Director of Facilities, explained what is necessary for the space to be compliant.
"A space that is considered ADA compliant can not have a cross slope of any more than 2 percent in any direction. So there's some asphalt work that would have to be done, but we could achieve that and we could achieve the proper aisle space required for a van," Nieman said.
Nieman said it may be difficult to ensure a safe path of travel between the charging station and the building.
"The problem is you also have to show that there's a path of travel that's compliant from the parking space to the building," Nieman said
The cost of installation and maintenance should not be a hindrance, because of rebates and incentives. Nieman is looking to work with a company that will own and maintain the chargers.
"I want to find as a company that is willing to put the chargers in, they pay for all the costs, they maintain ownership of them and maintain them. They apply for the incentives that are available through DWP and keep all that money and then we just work out a little revenue sharing agreement," Nieman said.
Nieman wants to ensure the project will not cost the college.
"My goal is to get it towards net neutral for the college. It's not costing the college anything. The increased electricity that is being used to charge these vehicles is not, we're not getting hit with that cost," Nieman said.
If all goes according to plan the chargers should be installed this year, maybe even before summer, according to Nieman.