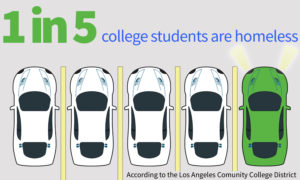 Home for most students is a place with four walls, for others it's four doors.
Assembly Bill 302 was introduced on Jan. 1, 2019, and it would allow community colleges to authorize homeless students to park overnight in the college's parking lot or facilities.
"Those people are the strongest people in the world. They truly are," Health Center Director Beth Benne said. " If they can deal with that and continue on in their educational journey, they're my heroes. They don't get enough credit."
The bill states that students must be enrolled in coursework, have paid enrollment fees and are in good standing with the community college.
While the bill has good intentions, it does come with challenges the college would need to overcome.
"I am sympathetic and empathetic and recognize that this is a real challenge and this is a potential opportunity to address it," Interim President Larry Buckley said. "But there are definitely security concerns, financial concerns and operational concerns."
Buckley explains one of the top concerns is regarding campus security.
He said, if the campus were to become a sleeping environment where students could be subject to crime or vandalism, the college would need to have adequate policing.
This would require more funding to be put toward increasing and adding overnight security.
Buckley also said this system could possibly impact academics as well as parking at Pierce.
"So while we have a duty and a place in serving our community in the widest function, the turning over our parking lots from 6 p.m. to 6 a.m. to anyone in the community who wanted to park could interfere with our academic programs," Buckley said.
Although there are still some questions to be solved regarding the bill, AB 302 provides a starting point for Pierce to helps its community.
The purpose of the bill is to offer support to homeless students by affording them safe place to stay overnight.
"If the college is able to designate a safe space for students to sleep overnight, I believe this may help students feel a sense of personal stability," Brahma Pantry Coordinator D'arcy Corwin said in an email interview. "This may also provide us with the opportunity to connect more students to holistic resources that promote the completion of their college goals as well as their economic advancement so that we can reduce the rate of homelessness over time."
Students can find more resources for homelessness at the Student Health Center, the Brahma Pantry or click here.