The top man of 'Top Girls' wins alternate award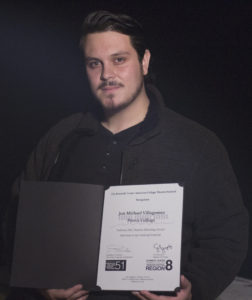 When we are young and impressionable, we don't usually know exactly what we want to do when we grow older, and when we do we aim for stars that are far above our reach.
Jon Michael Villagomez, award nominee, is no exception. In fact, what makes him exceptional is that he still has the same dream, only now it's just within his grasp.
"When I turned five years old, I went to the movie theater and saw Bruce Almighty," Villagomez said. "I don't know what it was about the movie, but I walked out of it realizing that it was something I could do and that I could be in a movie like that."
Early on in his adolescence, Villagomez saw himself as a screen actor, in the movies or on television.
"When I was a young teenager, I started directing things," Villagomez said. "I used to see the theatre as a place to practice until I could do the real thing."
His view of live theatre changed completely as he grew older, he met Mark Sitco, a theatre instructor who became his mentor in the arts.
"He was the first person to show me the power and potential of theatre in its own right," Villagomez said.
Through high school, Villagomez didn't focus on his academic studies, something he attributes to an indifferent attitude and took a year off school entirely after graduating in 2015.
"I told myself that my career didn't really need a college education," Villagomez said. "I had a dismissive perception of community college and their theatre programs in general."
In 2016, Villagomez's girlfriend, Alexa Maris was a year ahead of him in schooling and began attending Pierce College to study theatre arts.  He joined her in the fall semester soon after.
"Alexa Maris, worked under Shaheen Vaaz and had a really positive experience, so I decided to try it the next semester," Villagomez said. "Since then I got hooked on the theatre program."
Professor of theatre arts, Shaheen Vaaz recalls how she first met Villagomez in one of her classes.
"I first encountered Jon in beginning acting," Vaaz said. "He's a very accomplished actor, and it was clear from the start."
Vaaz also recounted the path he took through the acting program at Pierce and his attitude in his studies and emphasized his willingness to take on challenges.
"He was very professional," Vaaz added. "He was one of the stronger students in the class."
As a student at Pierce College, Villagomez has attended the Irene Ryan Awards program twice.  His first attendance was as an actor and nominee for the award. Recently, he attended as both a member of a nominee production, 'Top Girls', and as a nominee for directing.
"KCACTF was a festival I was very honored to attend," Villagomez said. "This year I went as Alexa's partner because she was nominated, and I also went as a directing award nominee."
During the run of 'Top Girls' at Pierce College in the fall semester of 2018, Villagomez took on the role of assistant director, under Vaaz.
"He was very proactive," Vaaz said. "He was always ready to take notes or help with research."
Sabrena Nomani, who played Gret and Angie in the 'Top Girls' production, also had positive experiences with Villagomez.
"We had this joke that he could put on a one-man show of 'Top Girls' because he actually memorized all the parts," Nomani said. "We called him the other top girl, but he really was the top man."
Vaaz was also impressed with his direction, noting that he was auditing the directing class, attending for a second time while the production was going on.
"Having been in class with me so much," Vaaz said. "We spoke the same language and had the same vocabulary, so he could point things out for me very easily."
When the production was nominated for an Irene Ryan award at the KCACTF festival, there was also an opening to submit a nominee for the directing awards program.
"I put his name forward," Vaaz said. "then we selected his material, and he started working on it in his usual way."
As the festival began, the crew put on 'Top Girls' for discerning audiences.  When it came time for the directing awards program, however, there was a problem.  They were scheduled for three back to back runs of 'Top Girls' at different times that same day.
"but basically it was like show to show to show," Villagomez said. "We had to get together and get into a van and go straight to the hotel because the, the preliminary round of the directing competition was at a different site."
"My loyalties were to the production," Villagomez said. "I was resolved to not participate in the directing program, and instead focus on the show."
The directing program required that each director and their actors showcase their piece, and all had to be present for the judging, which was set to end around 4 p.m. but the performances of 'Top Girls' ran past that time.
"We couldn't find the time in our three show day," Vaaz said, "but they accommodated us, and held the judges through the end of the day."
Villagomez recalls the end of the performance when they were told to leave while the judges conversed.
"We were all frazzled we had just done three shows back to back to back," Villagomez said. "I'm not even halfway towards the door and they were like, okay, we've decided, so they called me back and sat me down and they were like, we are going to advance you."
Villagomez was selected as an alternate for the national awards competition, an accolade he is proud to hold.
"So when I got the alternate to nationals, I was super stoked. I mean I had basically gotten what I needed out of the festival by that point," Villagomez said. "It was really cool to have my work showcased in front of an audience like that."
In the meantime, Villagomez is continuing his education here at Pierce College and hopes to transfer to a university later, though he won't comment on exactly which schools he's watching.
Villagomez will be playing the comedic character of Sir Toby Belch in the Pierce College production of William Shakespeare's "Twelfth Night", which opens in a few weeks.
Actress plays dual roles, follows father's footsteps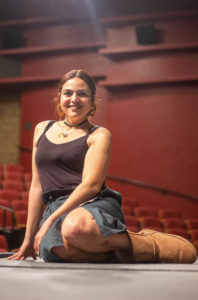 Going up on stage and taking on a new persona is daunting to many, but to one aspiring actress, that is the one thing she has never had trouble with.
Sabrena Nomani, actress and performing arts major at Pierce College, comes from a family that has been directing and acting ever since she can remember.
"I thought everybody was an actor," Nomani explained. "The only people my father brought around were all actors, so I thought it was just part of normal life."
Initially, Nomani's family came to the U.S. as her father was looking to further his education, but as the Gulf War erupted her family was no longer able to return to their home.
"My dad was an actor, but then the Gulf War happened so we couldn't go back, he was a movie star in Iraq," Nomani said. "He was coming here to get his PHD in theatre arts, and he did."
Nomani describes the hardships her family faced when adjusting to their new home in America.
"We lost our money, our home and our citizenship in Iraq, and my family was kind of lost out here, we didn't know what our next step was."
It wasn't until her father got a job with George Clooney on a set in California and soon the family moved to the valley permanently.
"He got a job working with George Clooney here on a movie," Nomani said. "So then we all moved out here and then he was like, 'I'm going to be a Hollywood actor now,' and he got some great jobs."
Embracing her acting lineage, Nomani played two pivotal roles in the recently acclaimed "Top Girls" production that ran in the arena theatre. She portrayed Gret, an armored warrior-woman in an ancient world, and Angie, a leading woman of our present day.
"I got to play Gret and Angie in the same production," Nomani said. "The way I took it is that they were the same girls reincarnated in different times, when I was Gret in the wartime, and when I was Angie in the modern time it was how I imagined Gret in that time, who was crazy and had a lot of ambition."
Nomani describes the message that she believes Top Girls is trying to convey and despite its name, it can be applied to everyone.
"It shows real women who have problems and are broken and are hurt, and have been through a lot, and how they come out of it and find themselves," Nomani said. "Not just women do, men do too, but men aren't vocal about it like women are. Men are just as broken as women are  It's not 'cool' for them to cry together and talk about it. But for us women we're like grab your wine, let's sit, what happened? let's talk."
Theatre Instructor and the director of "Top Girls," Shaheen Vaaz, spoke about working with Nomani, describing how she brought the characters to life.
"What makes Sabrena such a powerful and unique actor is that her instincts are so strong," Vaaz said.  "She really knows how to embrace those instincts on stage."
Janel Javier, who aided Nomani with her costume changes, spoke well of Nomani's acting skills, and the contrast between her true self and the character she played on stage.
"When I met Sabrena, she was one of the nicest people ever," Javier said. "Which is a little weird because she plays the meanest character ever, and she plays it so well."  
Nomani also discussed her process in building her characters, and her attitude toward her performance, as the biggest moment for her was Gret's monologue.
"It was a scary feeling for me because I don't like to 'go there' because it's a heavy place," Nomani said. "I know I have those dark feelings, and when Gret starts talking about losing her kids, a bitch is going to go there to that dark place."
Nomani has been attending Pierce College on and off for a long time, but says she's serious this time and intends to get her degree in performing arts.
"When I first came here, I was really shy, insecure and I was morbidly obese," Nomani said. "I didn't know how to really enjoy things I could have enjoyed."
Nomani is continuing toward her degree this semester, taking the beginning acting class with Vaaz.
"I'm learning so much about the craft of acting and how it's so connected to being a human being," Nomani said.  "I'm really enjoying finding that connection."
In between her off and on attendance at Pierce, Nomani received a degree from Specs Howard School of Media Arts that she puts to use on her Instagram social media account "sabiesbites" which she fills with photos and videos ranging from restaurant and shop reviews to one-on-one interviews with people that she meets in and outside of Pierce College.
"It's where I take a bite out of food, places, people and things," Nomani said. "I get to hear what other people think and feel, which really helps my acting."
Now, Nomani said that this time, she's not dropping classes or stopping until she gets her degree.