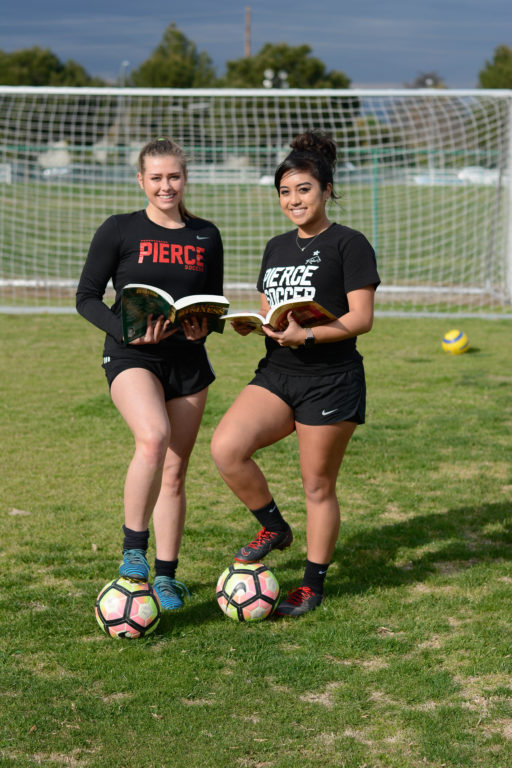 Soccer players can be more than a physical force in the field as they compete to win. They are also determined to become winners of their own future when they don't wear the jersey, shin guards and cleats.
Diana Salonga and Madison Holland are two athletes from the Pierce soccer team that have carved their way to be exemplars not just as athletes but as honors students by being awarded the all-state scholar award.
"One of the top priorities as a student is to achieve good grades and the fact that I managed to do so while driving myself crazy reassures me that all my work wasn't for nothing," Salonga said. "I earned this."
This award comes after long nights of studying, several hours of training and strong determination.
"Despite juggling a busy life, I was still able to maintain quality grades that are now recognized not just by my college, but in the state of California," Salonga said.
Salonga recognizes that to achieve great things in life, she has to work harder than others as she overcomes challenges.
"I was diagnosed with Attention Deficit Disorder (ADD) in my first year of college," Salonga said. "After that, it made me want to work more and try harder."
Despite the challenges regarding her learning disabilities, that didn't stop Salonga from becoming a full-time student-athlete with two jobs, still while getting good grades.
"The hardest part was not being able to sleep all the time," Salonga said. "I'll have to move back to back every day from work to training and then night classes."
Salonga was team captain of the team for two years and played as a midfielder. She is hoping to transfer to San Diego State University this year and major in applied mathematics.
However, she doesn't have plans to keep playing soccer once she transfers.
"I don't think I will continue playing when I get to college," Salonga said. "Maybe I'll just play for fun but not for a team."
As for her aspiration in the future, Salonga has goals that keep her wanting to work harder each day.
"I want to have a huge house," Salonga said. "I want to make a lot of money. I don't want to rely on anyone else but me."
Adolfo Perez, head coach, has no doubts that Salonga has a bright future ahead in whatever path she decides to take in her career.
"The sky's the limit for her," Perez said. "She is a go-getter so she can become a rocket scientist or a doctor. It wouldn't surprise me."
Holland, who was one of the goalkeepers on the team, recognized that keeping up with your grades while playing sports is hard but not impossible to accomplish if you don't lose sight of your goals.
"You have to be able to be just as good in the classroom as you are in the field," Holland said. "I am honored to have been awarded as an All-State Scholar. It has not come easy."
Holland played in The University of Wisconsin Green Bay, but was forced to move back to Los Angeles after suffering an injury in her anterior cruciate ligament (ACL), which it has taken some time to recover because of a second injury.
"ACL is a really strenuous, mentally disabling injury," Holland said. "Not only do you have to learn to walk again, but put pressure on your knee."
Holland got interested in soccer since she was five years old and played in club sports so having to quit soccer while she recovers is a difficult challenge for her.
"An injury puts separation between you and your teammates because you are not as involved with them as you would like to be," Holland said.
Even though she is not on the field playing along with her teammates, Holland made sure her presence made a difference in her team.
"I was always there watching my teammates and cheering them on," Holland said. "So being a motivator for my whole team, is an experience I will take with me."
In the face of dealing with an injury such as ACL, Holland hasn't put a stop to her goals.
"I want to be a teacher," Holland said. "Hopefully, I'll be getting my coaching license so I can coach in a JC."
Perez had encouraged Holland to join his team even when she moved to Wisconsin, and he is aware of her capacities as an athlete.
"She is God-given," Perez said. "She is one of the most talented goalkeepers who has ever played for us."
Perez acknowledges how hard it can be to maintain a high GPA and play in athletics but he could expect nothing less from Salonga and Holland.
"To be able to have two players on the All-State Scholar team is really unique," Perez said. "It doesn't happen really often."