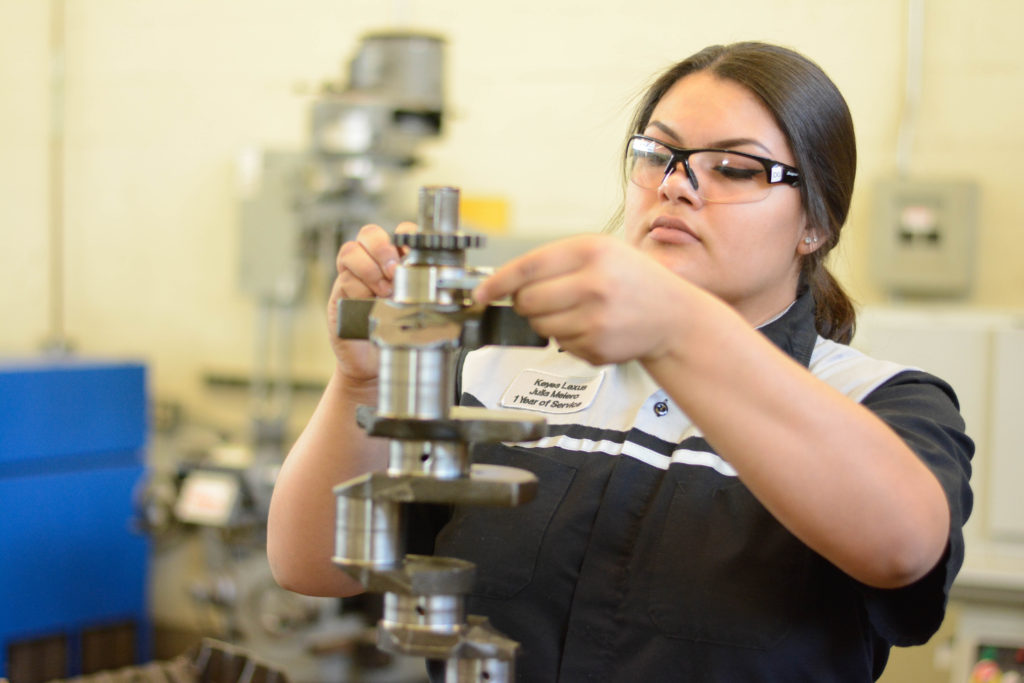 Julia Melero was doing paperwork at her uncle's auto shop where she saw broken cars coming in, and thought that she rather be in the garage working on cars instead.
Only to be told no.
"I would always see cars coming in and out," Melero said. "In my free time, I would say to him, 'Hey can I help you out?' and he would say, 'No, it's complicated.' So, that whole summer I wanted to work on cars and it didn't happen."
Less than four years later, Julia went from living in foster care for five years to signing up for her high school's auto program and now to working full time at Keyes Auto of Lexus while attending Pierce.
"I started a paid internship with Keyes Lexus a year ago," Melero said. "My favorite part is just being able to fix something and know that I did that, and that the customer can drive off and be safe."
Melero is living independently, but even several years before that she was taking care of herself.
"Being in foster care you are on your own," she said. "I would wash my clothes and cook for myself. I was so used to doing it, that I had a mother role when I lived with my dad because it was us and four kids.
As her love for cars grew, she saw an opportunity to join an auto program at Van Nuys
High School. Through her school's auto program, Melero was able to get a job at an authorized dealer.
And for the last three years she has been taking automotive classes at Pierce.  
Associate Professor of Auto Service Technology Alex Villalta described Melero as a team leader, team player, fast learner and someone who is determined for more.
"I don't know exactly what her drive is, but she definitely has that bug," Villalta said.
"She always tries to help out others. You can depend on her."  
Automotive Faculty Advisor Tom Fortune also further supports the fact that Melero is a strong-willed woman.  
"She will give people who challenge her a knuckle sandwich," Fortune said. "You are not going to mess with her."
Melero also competed in SkillsUSA where students from high schools in Los Angeles School District (LAUSD) compete against community colleges.
Despite being at a disadvantage in the competition, Melero was still able to earn a gold medal.
"We had the wrong uniform because Alex said dress work attire, you know, white shirt, black pants," Melero said. "We showed up and the judge was like, minus five points. I was like, 'I'm not going to make it' because the other team was dressed properly and they looked really smart and that intimidated me. Online you can check what place you got and about two weeks later, it posted and I saw it and I started crying."
Melero said she is currently in the middle stage of her job but hopes to someday move up the ladder.
"I plan on getting all eight of my ASE's (Automotive Service Excellence) and becoming a master certified technician," Melero said. "Then after that probably being an advisor and then becoming a director. I really like managing."   
Villalta believes that because Melero is starting off at such a young age she has a lot to give in this field.
"I think I told her once, you know, you are going to be someone's boss one day, but she is very humble," Villalta said. "One day she is going to have a lucrative position in this field for sure."
Melero said, in the beginning, she began to accept that she may not fit in because she was a female in the industry. However, after taking more classes and believing in herself she began to take criticism as motivation.
"You just have to believe in yourself and you can go far," Melero said. "Now, people who underestimate me, makes me motivated to prove them wrong. They say you can't do that, but I will do it in half the time you could."
People might think that working in an automotive industry requires getting dirty, but for Melero, it's important to maintain her essence as a young woman.
"I am in automotive and I wear makeup to work," Melero said. "Why? Because it's me. I'm not going to take off my makeup when I get to work because people don't wear makeup while working on cars. No, I do what I like to do."