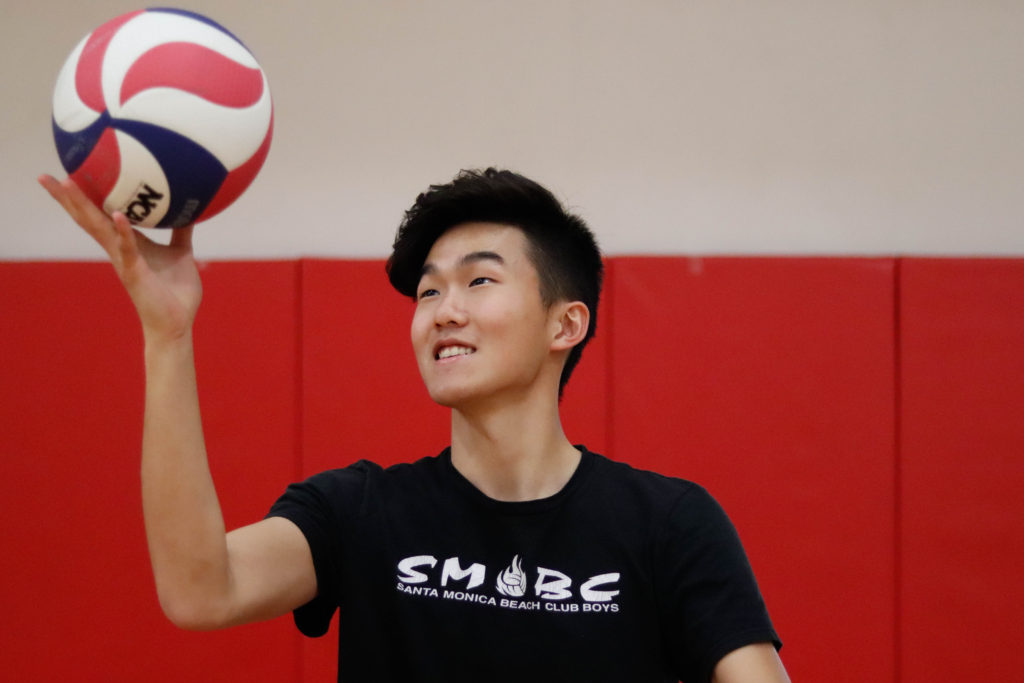 It's never easy to be a newcomer, especially when you're replacing a star. Gene Kim, high school all-star setter, has been chosen to replace state champion Bernardo Roese.
Going into the season now playing for the Brahmas, Kim said he was made aware of the added pressure to fill Roese's role.
"There was a lot of pressure because I've seen Bernardo play," Kim said. "I've been going to the Pierce open gyms since I was a junior in high school and watching Bernardo play is ridiculous. He's Brazilian, easily 6 foot 5… he's just a gnarly dude."
Kim said his youthful love is what drew him to play later in his educational career.
"I was always in awe of volleyball from a young age. It was playing with my dad growing up that really got me into it," Kim said. "I played for Crescenta Valley High School all four years. I became captain my senior year of the varsity team and was setting all four years."
His high school was ranked nationally in the top five hundred and ranked in the top two hundred statewide, but Gene asserts that it culminated in his junior year when his high school ranked fifteenth nationally.
He was selected alongside his fellow Crescenta Valley High School teammate to participate in the seventh annual San Gabriel Valley Boys' Volleyball All-Star Match. A game in which the best of the best in the public schools and private schools within the area compete in volleyball as a charity event.
Teammate Daniel Grogan expects Kim to fill in nicely for the Brahmas.
"Bernardo took us to State Championships last semester so Gene's got big shoes to fill, but I've got high hopes for him," Grogan said.
Kim explained how helpful his team has been to him during the transition from high school to replacing a championship setter.
"My team has helped me so much in terms of reaching that level of play that Bernardo had," Kim said. "While I may not have the same physical traits as him, 6 foot 5, thick limbs and everything, they really helped me get the spirit of Bernard. A leader; Someone who could rally the team, someone that could bring them back from being down, and someone that could get them hyped."
His teammates also helped him understand what it means to be a leader.
"They helped me understand that sometimes you just gotta suck it up, be able to be there for your teammates, be really selfless, and truly appreciate that," Kim said. "Bernardo was there for his teammates. He was there to hype them up. He was there to give them a set, despite what the past may have looked like. That's what I try to aspire to be."
Kim said that he hadn't reached Bernardo's mentality until a month ago, attributing it to the vast amount of pressure that comes with adjusting to playing college volleyball.
"College volleyball is definitely a different mentality," Kim said. "You have to go for every ball. You have to drop for everything. It's definitely different."
Outside and opposite hitter Arman Soltanzadeh said Kim has found a good balance managing his athletic and academic lives.
"He's a great setter. For getting out of high school, he's doing great considering how hard is major is. He splits his time well between class and practice," Soltanzadeh said.
Head coach Edison Zhou talked about the role Kim is taking for the team.
"So far Gene has been good. He's our main setter and he's getting a lot better. He's becoming a leader," Zhou said.
Even with a 45 minute to an hour drive, Kim said he decided to come to Pierce partly because it's one of the few schools in the area with a men's volleyball team. He was also looking for a top program and he found that here.
"There's two Crescenta Valley alumni that played on the Pierce team here. Now they're playing D1 in Concordia. That was definitely one deciding factor," Kim said. "I wanted to choose a school with a team that had a decorated program so all roads lead me here."