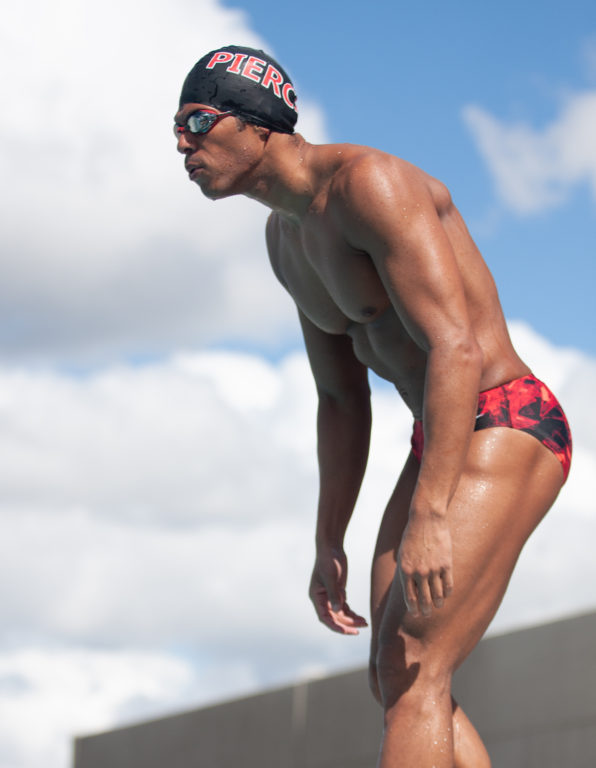 A life is rarely changed by 0.1 second, but for Pierce swimmer Mario Marshall, that was the difference between qualifying for the Olympics and becoming an entrepreneur.
"In 2008, the qualifying time was 55.5' and my fastest time was a 55.6'," Marshall said. "Do you know how I felt?"
He goes and re-tries every four years with the dream of making it one day, but for now, Marshall will continue to race as a Brahma and focus on his marketing business.
Marshall is now 37-years-old and is one of the top swimmers on the swim team. He is expected to make it to the state championship this year and possibly break some records.
He first attended Pierce College in 2002 and swam for the team. After becoming ineligible, he was discouraged and instead looked for employment.
In that time, Marshall became a personal trainer and currently works as a marketing consultant. He takes brands and builds them to become fully marketable and public.
Marshall first started getting into the pool around freshman year. While his two younger brothers had interests in other sports like basketball, Marshall found an interest in swimming.
He had made it clear to his parents that he wanted to join the swim team. To get him started in the right path, his father had him compete in park leagues and other competitions just to get him used to the water.
When Marshall started at El Camino Real High School, he started setting records.
"If we were deeper [had more swimmers] we would have taken first place," Marshall said. "Sadly, every year for four years from '96 to 2000, we were beat by schools that just had more bodies than us. Of course, these were neighboring schools like San Pedro, Palisades and Granada Hills Charter High."
Marshall said that his family is at the center of his motivation.
"I do everything I do so that I can show my daughters that anything is possible that you put your mind to," Marshall said.
One thing that Marshall lives by is his father's favorite quote for him, "Figure it out."
"My parents are my heroes," Marshall said. "They showed me and taught me that anything is possible as long as you have drive."
Marshall recalled of when his mother taught at UCLA and was struck by a car when he was in fifth grade. He says she took that as a sign her teaching time was done and it was time for her to go back to school.
At the age of 50, she had earned two bachelor degrees and two master degrees. Marshall says his mother is a big motivational factor to him being back in school.
One day during the last school year while Marshall was at the Swim Center at Pierce, he glanced up at the record boards. He asked the former swim coach, Fred Shaw, what he would have to do in order to swim again.
Shaw told him he needed nine units, so Marshall got back into classes and returned to the swim team with a goal in mind – break records and make a name for himself.
"If just one person can be helped and be motivated by what I can do, then it will be all worth it," Marshall said. "Water is the most powerful force in the world. When it comes to the water, I have to learn how to become one with the water. When you fight the current, things aren't going to be good."
Head Coach Judi Tehrar commented on Marshalls skills.
"I've only seen a few people with the speed that Marshall has. No one has his determination," Terhar said. "The only thing he has to really work on is his backstroke. He's really a freestyle butterfly swimmer, but he just doesn't have the knees and hips for the flexibility anymore."
Although he's 37, Terhar said Marshall is usually first in most daily practice runs.
Teammate Alonzo Noguera said that he admires Marshall's skill level.
"I see what he is able to do at that age and I only hope that I can be just as fast and strong-willed as him," Noguera said.
Marshall also plans on continuing his scholastic career in business marketing and aims to get his bachelor's at a four-year university.
Marshall said he looks forward to reaching his goals.
"The journey doesn't stop, only you stop," Marshall said. "You have to keep going."