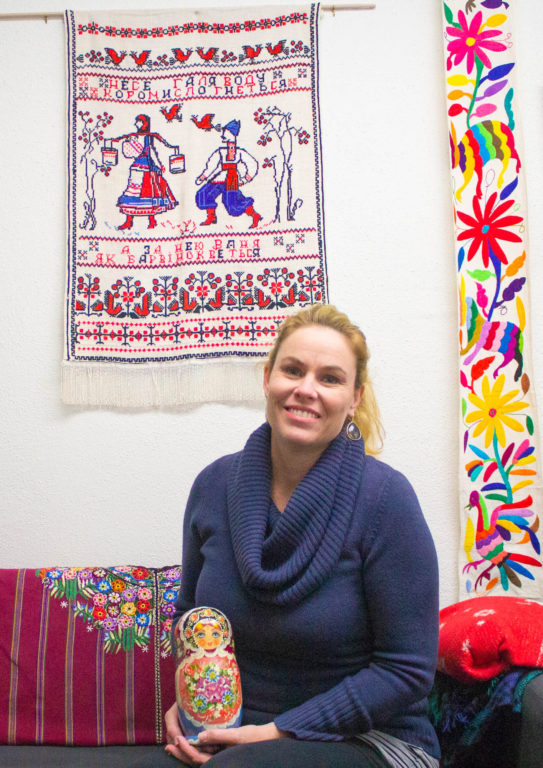 With relics and fabrics from countries all across the world draped in her spacious office, professor Hayes brings a sophisticated style to instructing a science at Pierce. A style that is shrouded by a warm smile and a laid back attitude.
Hayes became a cultural anthropologist because of her love of traveling and other cultures. She now has an urge as a role model to inspire her students. She wants them to leave her class with a more open mind.
"You don't have to remember the details," Hayes said. "But I do want my students to walk away and think there are other ways of being in the world. And those ways also makes sense. And if there's other ways of being in the world, then that means we make our world and if we make our world we can change it too."
Hayes explained that this sense of societal awareness first spawned when she joined the peace corps after college and was sent to Ukraine where she worked primarily as an English Instructor for over a year.
"I was just working with kids anywhere from kindergarten to eighth grade," Hayes said. "You just speak English with them, you know, they're studying English. So they spoke pretty well. But, this was the language practice that I did with them and I tried to exposed them to American culture. It was a good experience, but it was tough."
According to Hayes, she was sent to Ukraine in the late 90s when the Soviet Union had recently fallen apart and Ukraine had become independent. Ukraine was in the process of establishing itself as a nation. The US and Western Ukraine wanted to incorporate Western languages and cultures to their youth. The Peace Corps volunteers at the time, were sent over to help these efforts. Hayes was one of them.
"I ended up being sent to the part of Ukraine that's fighting right now," Hayes said. They annexed Crimea, which is a big peninsula down there and where I was stationed back then."
Hayes reflects on this time with warm memories, but these memories wouldn't exist without hardship. She states that it was tough fitting in when American and Ukrainian cultures are so contrasting.
"I stuck out like a sore thumb," Hayes said. "Everybody was looking at me all the time and I just felt uncomfortable that way all the time. So it was major culture shock getting used to the weather and the food… we have a kind of a culture where we're people oriented and customer service oriented. No such thing like that there. So getting used to all of that was kind of a culture shock for sure."
According to Hayes, her time in Ukraine cultivated what she calls her stamp as an anthropologist. It provided her with a method of taking a more hands on approach to studying cultures.
"You have to see people in their everyday lives," Hayes said. "You have to go to their homes and hang out with them. You know, you have to invite them into your house, you have to do what normal people do….I think that the Ukrainian experience really helped me understand what I like to do. It's that kind of participant observation."
Hayes, who is now a professor of anthropology, continues to stress the importance of her students making these leaps as young anthropologists. She wants them to leave her class with a more open mind.
"Anthropology answers the question of what it means to be human," Hayes said. "Is it our bodies that make us human? Is it our culture or our language? There are lots of ways to answer the question."
Similar to the broader existentialist questions Hayes asks herself as an anthropologist, Jeremiah Reyes finds himself pondering the reasons for our existence as well as a physical sciences major at Pierce.
"The learning process in anthropology really brings in the effect of our own humanity and what it really means to be human," Reyes said. "Regardless of race, we are all humans on this planet."
Clayton Gediman is a library technician and a coordinator for the Open Educational Resources (OER) program at Pierce, which Hayes is a contributor.
Gediman states that Hayes has being a close friend and colleague of his for over half a decade.
According to Gediman, they were initially bonded over there similar sense of humour and relaxed style of articulating the dense information found in textbooks.
Gediman works closely with Hayes in the OER programs and admires her methodology of teaching.
"She just has this way of connecting with the students and just talking to them and using her own experience, but also just explaining the concepts where it's just a really relaxed atmosphere," Gediman said.
Hayes explained that she appreciates anthropology for how its teachings benefit society. She is hopeful for our next generation and continues to pass on to her students the optimism she has acquired from traveling and studying other cultures.
"Anthropology is an important field in that it teaches us that lesson over and over again, that it is possible to change our world. It is possible to think critically and see what it is about the world that we want to make different now and we can do it," Hayes said.