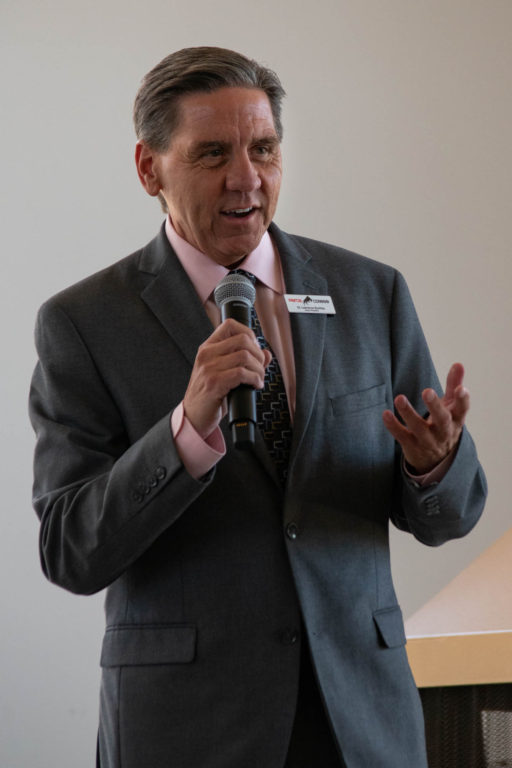 Interim President Larry Buckley joined Pierce College Aug. 6, 2018, and since then many faculty and administration said he has embodied the essence of "Aloha Spirit" by cultivating a deep sense of warmth and affection within the campus community as he governed.
June 30, 2019, will be the end of his duties as acting interim.
Buckley said making new connections and learning in a new environment shaped the best moments during his journey at Pierce.
"I've had over 30 years of experience – in many places, a couple of different states. And you think you've seen it all and know everybody," Buckley said. "It's great when you come across something totally new and different and people surprise you and inspire you. I had a lot of that."
Executive Assistant to the President Malina Koani said their mutual fondness for their Hawaiian culture fostered a sense of familiarity between them.
"Because we are from – and have strong ties to – the same place, working with Dr. Buckley has been like working with someone I already knew — someone I was comfortable with from day one," Koani said.
She said many of her favorite memories with Buckley revolve around the origin of their roots.
"My favorite moments all have to do with our connection to Hawai'i — places, people, food music," Koani said. "Little known fact, he likes to blast Island/Hawaiian music in his office, and he's always testing my knowledge to see if I can recognize a voice or song. I don't think he's stumped me yet — at least not on that topic."
Koani said Buckley led with an open ear.
"He's very approachable and willing to listen and collaborate," Koani said. "During his entire time at Pierce, he's never turned down a request for a meeting with anyone whether they be faculty, staff, or student."
On May 20, 2018 the Academic Senate honored Buckley with a special resolution, which according to Academic Senate President and Professor of Sociology Anna Bruzzese, was the first time, to her memory, that it has been done.
Bruzzese said it was a pleasure working with Buckley.
"He encouraged an open dialogue in an atmosphere of mutual respect," Bruzzese said. "He was interested in building trust across the whole campus. He attended and stayed for the entire duration of the Senate meetings, not only giving an administrative report but also listening to faculty concerns. It was clear that he respected shared governance and was genuinely interested in the well-being of the College."
Bruzzese said his humble approach to leading is evident in the way he worked with others.
"Larry's leadership style communicated his authentic care for the campus and the community," Bruzzese said. "He has a unique ability to bring people together. He was the first to take responsibility when things didn't work out and the last to take credit when they did."
Koani said she thinks Buckley will be remembered for his compassion during the Woolsey Fire.
"I think his biggest legacy will definitely be his response and leadership during the fires," Koani said. "I don't think anyone at our school or in our nearby communities will ever forget his decision to open our campus for the evacuees."
Buckley said he enjoyed his time with the faculty, staff and students.
"I have wonderful memories of the folks here. That doesn't mean that there weren't challenges, but we met them together as a team. This is the ideal kind of situation that you want as a college president, so I couldn't have been happier," Buckley said. "A great cadre of people are ready to take that on together with new leadership and renewed vision and direction. I have every reason in the world to believe that we'll continue on the strong path ahead."