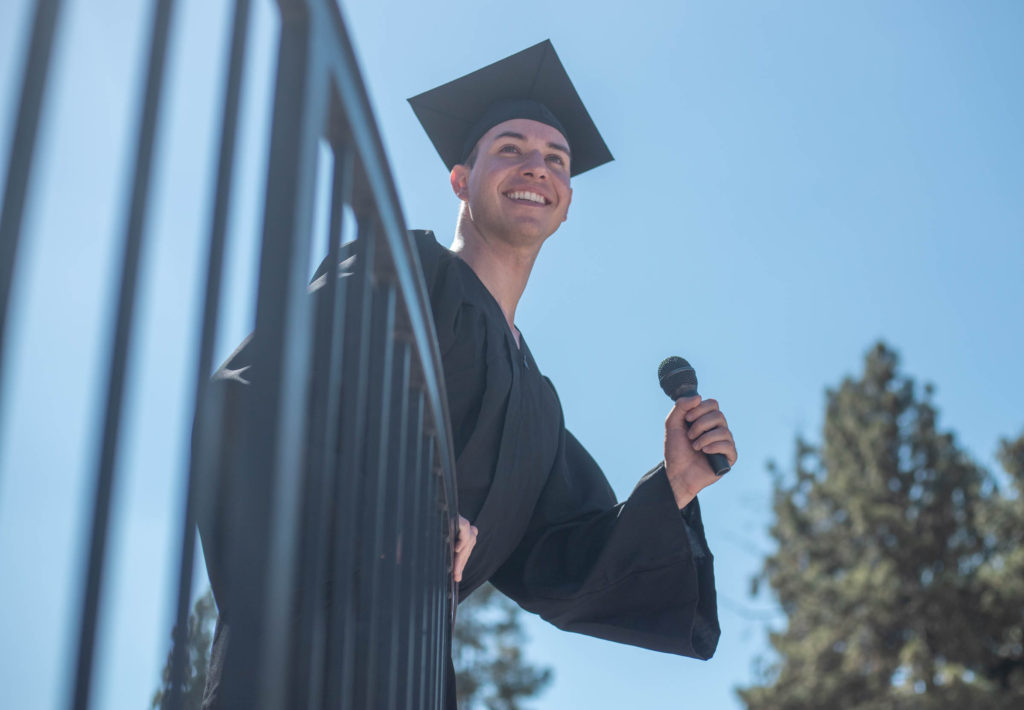 Dominic LeFort didn't have a role model when he needed one the most. Now, he does – it's himself.
LeFort, the Associated Student Organization (ASO) vice president, hopes to use his commencement speech at graduation to share some of his story about how he overcame barriers that he faced many years ago.
"I really struggled with a lot of bullying and harassment because of my LGBTQ status," LeFort said. "As I got older someone told me that I should be the person I needed when I was growing up, which is sort of what led me down the path of starting a nonprofit that brings education to schools so that they can better support their LGBTQ students."
Dominic LeFort is 27 years old and describes himself as a non-traditional student. According to LeFort, his speech draws from overcoming challenges in his personal journey.
"The theme for the speech is the power of perseverance, and I dealt with a lot of educational obstacles when I was in middle and high school," LeFort said. "I want people to know that if ever there are points in your life where you don't have enough perseverance and maybe you're just letting obstacles stand in your way more than they should, it doesn't have to stay that way and you can take life back into your own hands."
Dean of Student Engagement Juan Carlos Astorga explained that LeFort was chosen by the Selection Committee because his speech struck a chord.
"Each year we have a different theme and each, each year we've selected an individual that can really resonate to the theme," Astorga said. "Dominic is an amazing individual. He's very passionate and he has some really wonderful ideas."
In addition to being Vice President of ASO, he has also taken on the challenge of connecting the Pierce college community with the larger community outside the college through social media like Instagram, Facebook and Twitter as chair of the ASO publicity committee.  
Astorga and the faculty have taken notice of his social media success.
"Our imprint on social media has grown by leaps and bounds because of the expertise that Dominic brought to the position," Astorga said.
LeFort explained that he brought his work experience to the college.
"I had taken some of what I've learned with my nonprofit work and was able to use the social media here on campus to see how I could impact students here," LeFort said. We started with 200 students on the ASO Instagram page and now we're approaching 2000."
LeFort is in the process of transferring to a UC, possibly UC Riverside, where he will continue to pursue his passion.
"I'm going to be pursuing a degree in gender and sexuality studies. I started a nonprofit about two years ago that brings LGBTQ education to middle and high schools," LeFort said.
According to LeFort, working with an LGBTQ nonprofit organization gave him the confidence to enroll at Pierce.
"I probably would not have gotten back into school if I didn't find a reason that I was so passionate about to push me to enroll," LeFort said. "Now that I've gotten back into school I've really identified new priorities."
Social and Cultural Committee Chair Nicole Alfaro explained that she never had any doubt that LeFort would be chosen as the student speaker at graduation.
"His speech, I heard it, I read it and it was honestly amazing," Alfaro said. "It like gave me chills and as soon as I heard him practicing it, I was like, 'they're going to choose you. I know there's no way that they won't.' So when I found out that they did, I was like, 'I knew it.' That speech was amazing."
According to ASO Senator Jenni Severin, LeFort is the perfect student speaker for the event.
"He's like the voice for Pierce College kind of because he organizes everything," Severin said. "He's on social media, makes sure everybody knows about what's going on and he puts other people's interest in front of his own."
Astorga explained that budget constraints in recent years led the college to shift from contracted speakers to student speakers and the change has had a positive effect on student morale.
"We had a little bit more money and in previous years they might've brought in a contracted speaker to come in and do a speech," Astorga said. "Then we realized that we were having these flybys, people who showed up did their speech and left, but they really didn't have the personal connection to what Pierce meant to them, which is what we realized that our commencement student speakers do.
According to Astorga, LeFort was selected because his speech conveys a personal and relatable message.
"Although Dominic is sharing his story and his message, the students that are graduating and participating in commencement can see their own story reflected back and what that means them so that they can see how far they've come as well," Astorga said.
Astorga wants students to take away from the speech a sense of the transformational power of education.
"I really am hoping he conveys at the commencement that whatever experiences and roles have brought us to Pierce, what we've collectively gained from it is a sense of self that's connected to believing that we are more than what we will be, and that we can be better as a community, as a campus setting, but also as contributors to society."