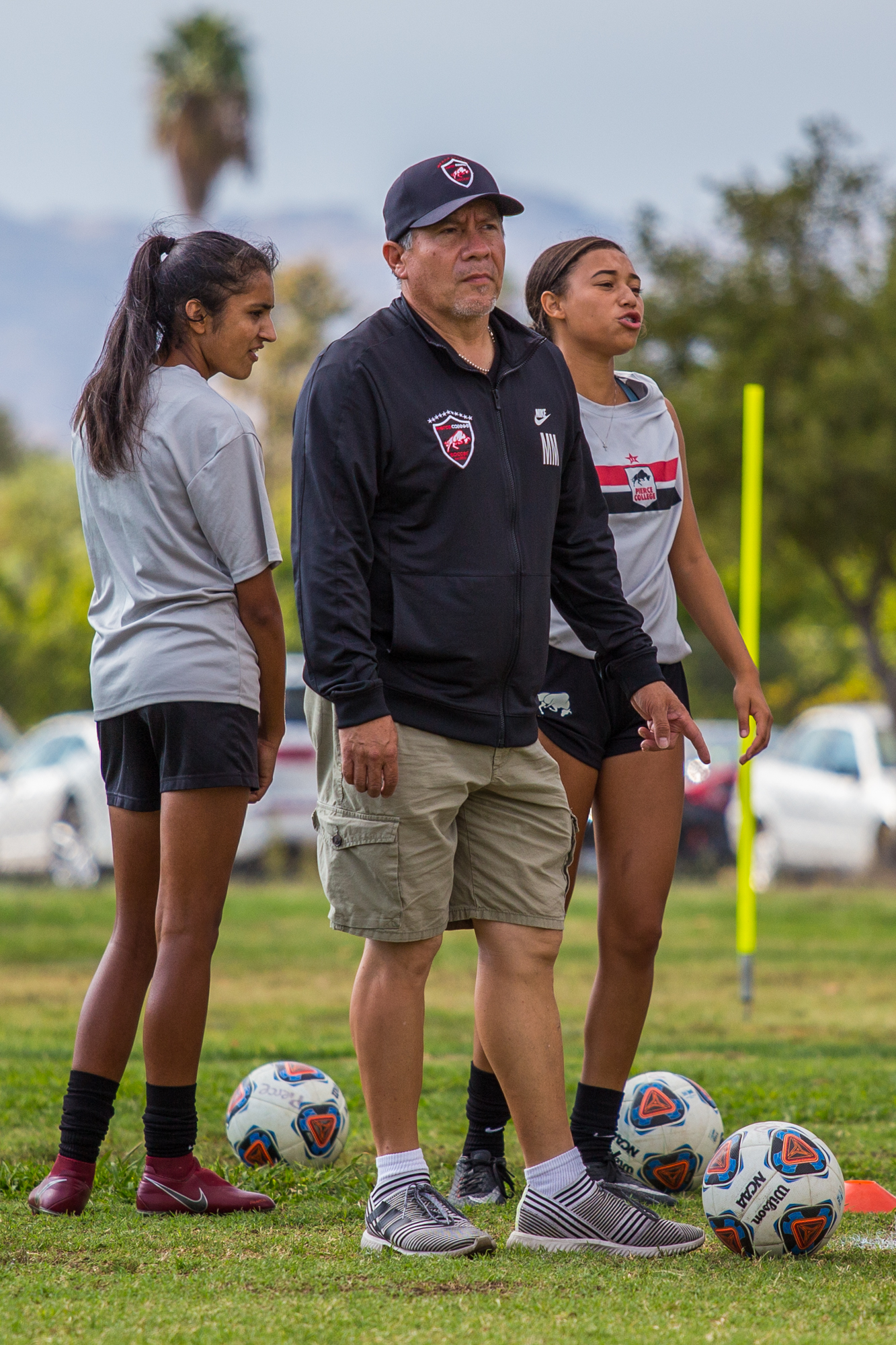 It's always more fun to do what you enjoy in life and Max Martin is doing just that by dedicating his life to coaching the soccer team and being successful outside of the sport. 
Martin has been playing soccer since he was four-years-old and he has been coaching for over 20 years. 
He is originally from Mexico moved to the United States when he was 20.
Martin said he doesn't consider what he does as work, because it's what he loves doing. 
"My life has been ruled by not calling it work, I have never done anything in my life that I don't enjoy so I always go where I'm going to enjoy it and once the fun is over I think it's time to move on," Martin said. "The reason is that when you are not happy, it reflects on your job and attitude."
Martin coached soccer at LA Valley College for 5 years before moving to Pierce. 
He has known the head coach Adolfo Perez for years and he knew that moving would be a great opportunity for him. This is his second year as the assistant coach. 
"When I moved to Pierce, besides the point that I love the colors black and red, I think there's a different environment here that allows us to grow," Martin said. "So I would like to do something that people will remember."
Perez said that having Martin as the assistant coach has been a huge help. 
"It was good to bring an experienced and older coach to do things outside the box because at this level you need someone reliable with the little things that become big things," Perez said. "He helps out with stuff that is needed for us to have better training sessions."
Martin played 3rd division in Mexico when he was 15-years-old. Martin said he played every single position except being on the bench.
"The teams that I actually coach, I always make sure that the players understand that the only way you can actually do well in the sport is if you play all the time, and if you understand and watch it," Martin said. "I encourage them to play every position, our motto is I play everything but bench."
Team captain Sofia Caparelli said Martin is always supporting and motivating the players to do their best. 
"I think he's a great asset to the team, he definitely helps us out on and off the field. During the games he's very motivating and he helps whenever we are struggling or when he sees something we could improve or fix he tells us," Caparelli said.
Aside from coaching, Martin also created and owns his own tequila company call Caramba Tequila. He has owned the company since 1999.
"This is the third company that I have owned since I've been in the U.S. and I know lots about the tequila because my family has been involved with tequila for over 120 years," Martin said. "It was kind of natural to go towards that."
Martin said he is incredibly proud of his tequila company because of all the effort he has put into it. 
"I created it from design and dream to make it possible," Martin said. "It was challenging and sometimes defeating but I'm ultimately an optimistic guy."
Martin also had a career in the media working for newspapers and radio. The first major newspaper he worked for was the Daily News for seven years.
He then moved to the LA Times for seven years as well where he was in charge of the entertainment department. 
Martin said that he wasn't sure he was as passionate about working for the newspapers. 
"As I've mentioned before, I only do things that I enjoy so I was going to move out of that industry but at that time, the guy that was in charge of the newspaper suggested that if I was not enjoying being on the main newspaper that I could do something else," Martin said. "So I branched out at the that time online stuff was coming around so I got involved in that as well as the local newspaper including Glendale News-Press, Burbank Leader, Pasadena Weekly."
He did get to work with well known sportscaster Mauricio Cardenas during the time of his media career. Martin said he still keeps in touch with Cardenas and they share a love for soccer. 
"He's a very close friend of mine, we call each other compadres, we've played soccer before," Martin said. "We played media industry versus media industry meaning newspaper versus radio, radio versus television." 
Martin said that he enjoys working at Pierce now because soccer is what he has dedicated most of his life to. He believes it is his job to push the players and be as supportive as he can be. 
"When the player is down or hesitant, I feel that it's my responsibility as a coach to provide the support so that they can continue," Martin said. "I have seen players who give up just because of the coach so I really dislike to see great talent leave because a coach is not supportive."
Caparelli said that having Martin as a part of the team has been really beneficial for her personally. 
"I play as a center midfielder and he's always helping me out and just making sure that I have the team organized," Caparelli said. "He's always very good at being on me and motivating me which is really great."
 Martin said he is extremely competitive as a player and a coach. He said he absolutely hates losing but he will always recover and keep pushing. 
"I recognize that there will always be better coaches and better players and when we meet them we should challenge ourselves to emulate them but not to be defeated," Martin said. "It's one game out of the whole season and sometimes we think it's the end of the world but there are more games and that's the beautiful part of it. And I think that's who I am, I don't admit that i'm defeated, I get up."