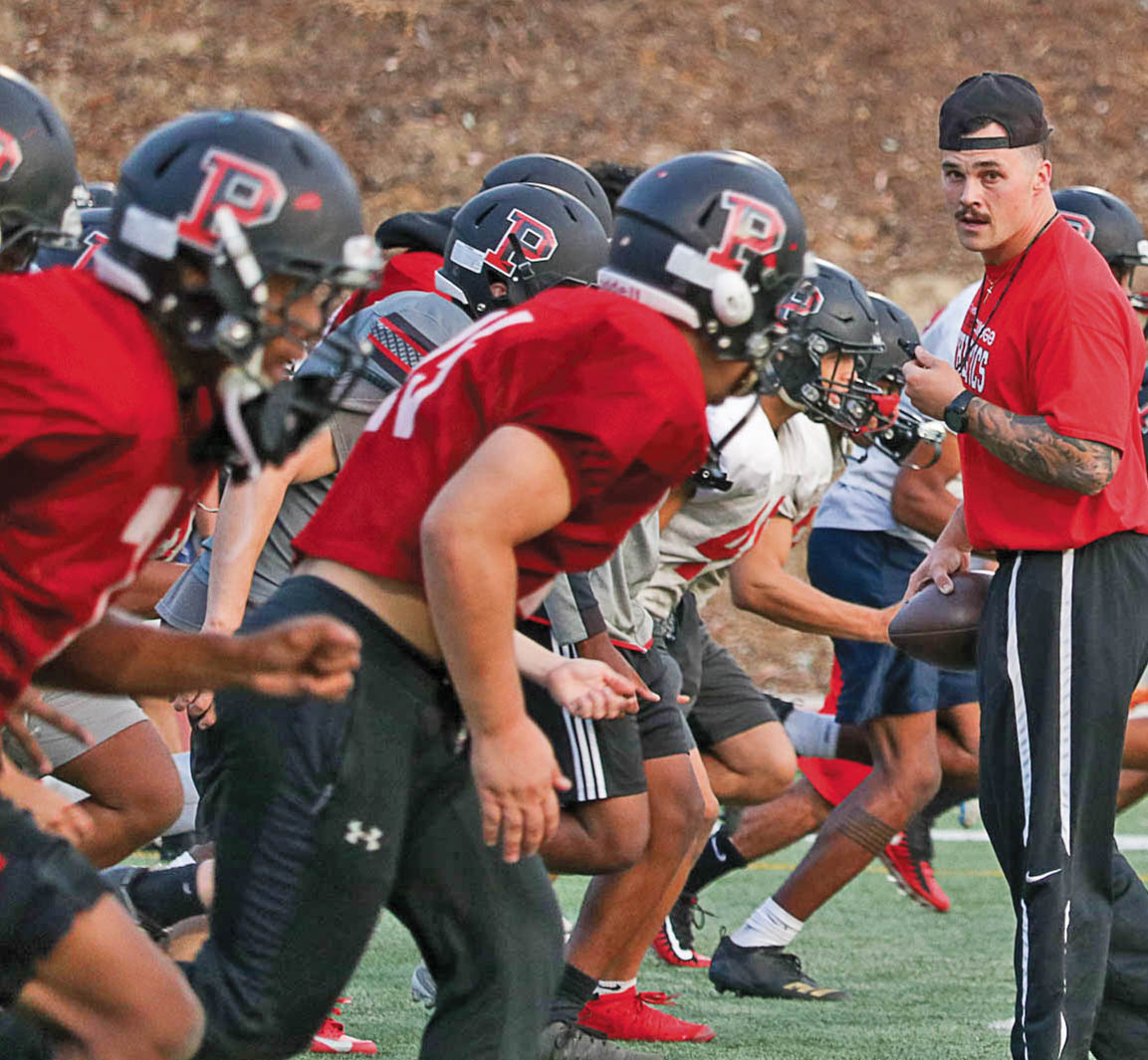 As football season is underway, keeping the players fit is a key element to making sure the team is successful.
For Head Strength and Conditioning Coach Dylan Flannery it is a main priority  as he motivates the current roster with his passionate words , hard work and to help his athletes avoid getting their bodies beat.
Flannery mentioned admiring a player when he was young.
"I remember watching Terrell Suggs play running back in high school, my dad used to coach him and that is how I fell in love with the game," Flannery said.
Playing in college, Flannery tore his knee three times, had concussions, and spinal fusion.
"I was that knucklehead linebacker that hit with his head. This sport has taken a lot from me physically, but I still love it, which is weird and crazy," Flannery said.
With the injuries he had, Flannery became a coach so he can help the players prevent the experiences he had.
A normal work day for Coach Flannery is to wake up at five or six o'clock  to study God's word and goes to work as a private security as a side job then he comes to Pierce to help the team.
Last season, the football team had zero torn ACL injuries in contrast with other colleges.
"First off I have to give credit to God. Without Him I can't do anything. He is in control of all things. He has also blessed me with incredible things. Also with the education that I have with my degree and strength coaching certification," Flannery said.
He's had the opportunity to work at Proactive, The Factory, and then in  Arizona with Fischer Sports where they train the likes of Aaron Rodgers, Clay Matthews,  Calais Campbell, and Andrew Witworth.
Flannery said he is fortunate to work with head coach Carlos Woods, who also has a passion for strength and conditioning.
"He is really  knowledgeable and experiences with the Penn state strengthening program and he helped the [Indianapolis] Colts and the [Cincinnati] Bengals program so to have him also support me and to bounce  ideas off of is incredible," Flannery said.
Flannery recently worked with NFL players. His experience was cool to see how they are just human beings all the time.
"We put these NFL players  out on a pedestal like there superhuman people but, they are incredible and are talented physically and mentally in regards of the game but, yeah just normal people put their pants on one leg at a time. They will joke around funny while trying to get to know you," Flannery said.
Before he was a strength and conditioning coach, Flannery was a personal trainer. He trained celebrities and famous rappers.
Ijaaz Rashid said that Flannery is a very good motivator.
"I like Coach D a lot. He inspires and pushes me to do better not only on the football field, but in daily life." Rashid said.
Bryan Walker said Flannery is passionate in what he does.
"He is a man that loves the game, and loves being in the weight room. Not many people  know that lifting is a big part of the game. They think is just X's and O's on the field, but when we get into the weight room it's  passionate," Walker said.
Walker said that Flannery was probably the first coach to greet him when he first walked through the door with all smiles and he was ready to get the work in.
Jalen Burton said he does anything to empower them.
"He does everything to help everyone on the team not only to be better football players, but to be better men," Burton said. "He has a good heart and also he tries everything in his will to get us to understand the big picture.
Flannery mentioned how he wanted his fellow coaches and players to remember him by.
"I want to be remembered as a Christian  man," Flannery said. "Someone who wants to put others before himself and someone who desperately wants to help others and to make sure that everyone that I come across changes for the better."