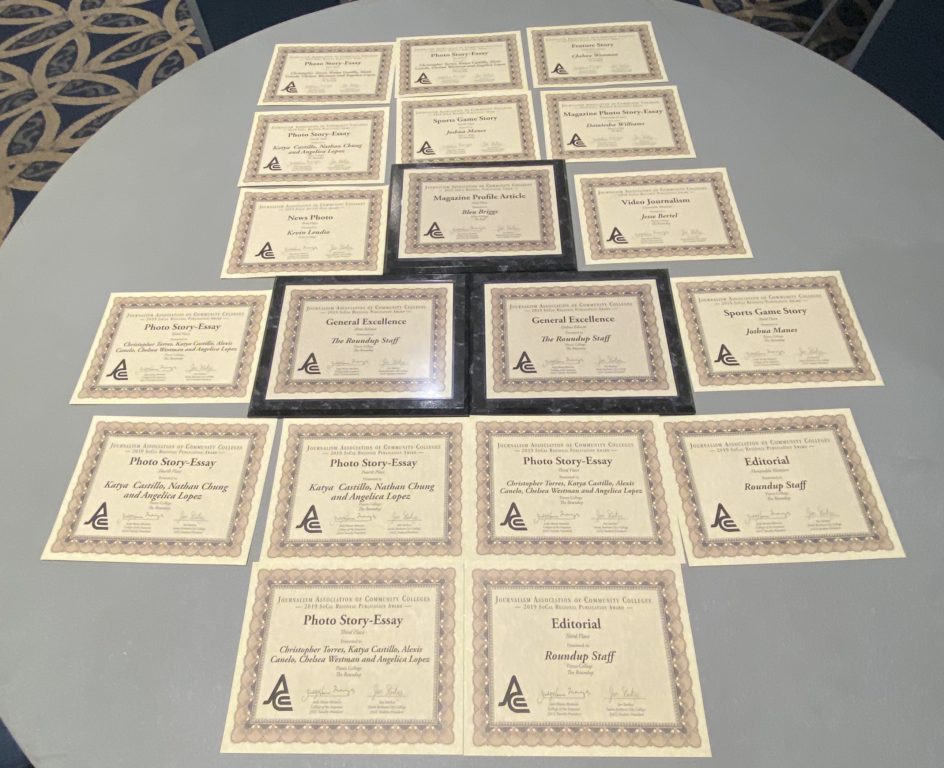 The Journalism Association of Community Colleges (JACC) held its Southern California conference on Saturday, Oct. 19 at California State University, Fullerton.
Members of the Roundup News staff and Assistant Professor of Journalism Tracie Savage went to represent Pierce College and the Media Arts Department and left with 12 awards for previously submitted work and one for an on-the-spot competition.
The Roundup received awards for newspaper general excellence and online general excellence, as well as a third-place award and honorable mention for editorial writing.
Bleu Briggs, the editor-in-chief of The Bull Magazine last semester, won first place for her magazine profile article.
Joshua Manes, the Roundup's editor-in-chief in Fall 2018, won second and third place in the sports game story category.
For the photo essay category, Chris Torres, Katya Castillo, Alexis Canelo, Chelsea Westman and Angelica Lopez received a third-place award, while Nathan Chung, Castillo and Lopez received a fourth-place award. Westman also received an honorable mention in the features story category.
Jesse Bertel, a news editor for the Roundup, received an honorable mention in video journalism. Damiesha Williams was given an honorable mention for her photo story in the Bull Magazine.
Photographer Kevin Lendio placed third in the news photography competition that was held during the conference.
The next JACC conference will be the state convention on March 19-21, 2020 in Burbank, Calif.